Note: Supplemental materials are not guaranteed with Rental or Used book purchases.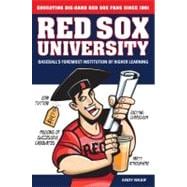 Red Sox University : Baseball's Foremost Institution of Higher Learning
ISBN13:
9781600782183
by
Unknown
Summary
Welcome to Red Sox University, the best (and only) school dedicated to teaching the best and brightest Red Sox fans in the world. Featuring an exciting core curriculum, a party atmosphere, and low tuition (just $14.95!), RSU offers a variety of courses suitable for both undergraduates seeking a B.S. in Red Sox fandom and advanced students working toward a masters degree in Fenway economics. Students at Red Sox University will receive a well-rounded education in all aspects of Red Sox fandom including philosophy, economics, architecture, biology, and literature. Upon graduation, fans will be able to maintain happy Red Sox relationships (as well as relationships with Yankee fans), choose the box seat that's right for them, discern the biological differences between new fans and "die-hahds," understand the connections between Socrates and "Soxism," plan a successful road trip, and recite the Red Sox fan's Bill of Rights.
Author Biography
Andy Wasif is a lifelong Red Sox fan, a sports journalist, and stand-up comedian. He is the author of How to Talk to a Yankee Fan with coauthor Rick D'Elia and Not the Life for Me.