Note: Supplemental materials are not guaranteed with Rental or Used book purchases.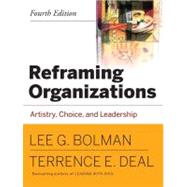 Summary
First published in 1984, Lee Bolman and Terrence Deal's best-selling book has become a classic in the field. Its four-frame model examines organizations as factories, families, jungles, and theaters or temples:The Structural Frame: how to organize and structure groups and teams to get resultsThe Human Resource Frame: how to tailor organizations to satisfy human needs, improve human resource management, and build positive interpersonal and group dynamicsThe Political Frame: how to cope with power and conflict, build coalitions, hone political skills, and deal with internal and external politicsThe Symbolic Frame: how to shape a culture that gives purpose and meaning to work, stage organizational drama for internal and external audiences, and build team spirit through ritual, ceremony, and story
Author Biography
Lee G. Bolman holds the Marion Bloch Missouri Chair in Leadership at the Bloch School of Business and Public Administration at the University of Missouri–Kansas City. He consults worldwide to corporations, public agencies, universities, and schools. He lives in Kansas City, Missouri.
Terrence E. Deal is the retired Irving R. Melbo Clinical Professor at the University of Southern California's Rossier School of Education. He now writes and makes wine in San Luis Obispo, California. He is the coauthor of sixteen books, including the best-selling Corporate Cultures (with A. A. Kennedy, 1982) and Managing the Hidden Organization (with W. A. Jenkins, 1994). He lives in San Luis Obispo, California.
Table of Contents
Preface
p. vii
Making Sense of Organizations
Introduction: The Power of Reframing
p. 3
Simple Ideas, Complex Organizations
p. 23
The Structural Frame
Getting Organized
p. 45
Structure and Restructuring
p. 71
Organizing Groups and Teams
p. 99
The Human Resource Frame
People and Organizations
p. 119
Improving Human Resource Management
p. 139
Interpersonal and Group Dynamics
p. 165
The Political Frame
Power, Conflict, and Coalition
p. 191
The Manager as Politician
p. 211
Organizations as Political Arenas and Political Agents
p. 229
The Symbolic Frame
Organizational Symbols and Culture
p. 251
Culture in Action
p. 279
Organization as Theater
p. 293
Improving Leadership Practice
Integrating Frames for Effective Practice
p. 311
Reframing in Action: Opportunities and Perils
p. 327
Reframing Leadership
p. 341
Reframing Change in Organizations: Training, Realigning, Negotiating, and Grieving
p. 373
Reframing Ethics and Spirit
p. 397
Bringing It All Together: Change and Leadership in Action
p. 411
Epilogue: Artistry, Choice, and Leadership
p. 435
The Best of Organizational Studies: Scholars' Hits and Popular Best-Sellers
p. 439
References
p. 445
The Authors
p. 481
Name Index
p. 483
Subject Index
p. 494
Table of Contents provided by Ingram. All Rights Reserved.