Note: Supplemental materials are not guaranteed with Rental or Used book purchases.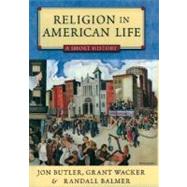 Summary
Perhaps surprising in a country without a national church, religion has played a powerful role in American life. Now, in the new paperback edition of Religion in American Life, three of the country's most eminent historians of religion offer a superb overview that spans four centuries, illuminating the rich spiritual heritage central to nearly every event in our nation's history. Jon Butler begins by describing the state of religious affairs in both the Old and New Worlds on the eve of colonization. He traces the progress of religion in the colonies through the time of the American Revolution, covering all the religious groups, Protestants, Jews, and Catholics, as well as the unique religious experiences of Native Americans and African Americans. Grant Wacker continues the story with a fascinating look at the ever-shifting religious landscape of 19th-century America. He focuses on the rapid growth of evangelical Protestants--Methodists, Presbyterians, Baptists, and others--and their competition for dominance over religions such as Catholicism and Judaism, which continued to increase with large immigrant arrivals from Ireland, Eastern Europe, and other countries. The 20th century saw massive cultural changes. Randall Balmer discusses the effects industrialization, modernization, and secularization had on new and established religions. He examines Protestants, Hindus, Jews, Muslims, New Age believers, Mormons, Buddhists, Roman Catholics, and many more, providing a clear look into the kaleidoscope of religious belief in modern-day America. Religion in American Life is an engrossing look at how religion has changed--and in turn been changed by--the extraordinary events throughout American history.
Author Biography

Jon Butler is Howard R. Lamar Professor of American Studies, History, and Religious Studies and Dean of the Graduate School of Arts and Sciences at Yale University. He is the author of Awash in a Sea of Faith: Christianizing the American People, Becoming America: The Revolution Before 1776, and, with Harry S. Stout, editor of Religion in American History: A Reader.
Grant Wacker is Professor of Church History at Duke University Divinity School. He is the author of Heaven Below: Early Pentecostals and American Culture, Religion in Nineteenth Century America (OUP, 2000), and Pentecostal Currents in American Protestantism.
Randall Balmer is Professor of American Religious History at Barnard College, Columbia University, and Visiting Professor of American Religion at Yale University Divinity School. He is the author of ten books, including Protestantism in America and Thy Kingdom Come: How the Religious Right Distorts the Faith and Threatens America (2006). His book Mine Eyes Have Seen the Glory: A Journey into the Evangelical Subculture in America, now in its fourth edition, was made into an award-winning, three-part documentary for PBS.

Table of Contents
Preface
p. xi
Religion in Colonial America
Worlds Old and New
p. 1
Religion and Missions in New Spain and New France
p. 21
Religion in England's First Colonies
p. 47
The Flowering of Religious Diversity
p. 71
African and American Indian Religion
p. 91
Reviving Colonial Religion
p. 110
Religion and the American Revolution
p. 132
Religion in Nineteenth-Century America
Prophets for a New Nation
p. 155
Awakeners of the Heart
p. 171
Reformers and Visionaries
p. 185
Restorers of Ancient Ways
p. 200
Sojourners at Home
p. 212
Warriors for God and Religion
p. 231
Fashioners of Immigrant Faiths
p. 246
Innovators in a World of New Ideas
p. 261
Conservers of Tradition
p. 273
Adventurers of the Spirit
p. 291
Religion in Twentieth-Century America
A New Century
p. 309
The Age of Militancy
p. 323
In God We Trust
p. 340
Religion in the New Frontier
p. 360
Religion in an Age of Upheaval
p. 379
Preachers, Politicians, and Prodigals
p. 395
Religion for the New Millennium
p. 409
Epilogue
p. 430
Chronology
p. 433
Further Reading
p. 437
Index
p. 464
Table of Contents provided by Ingram. All Rights Reserved.