Note: Supplemental materials are not guaranteed with Rental or Used book purchases.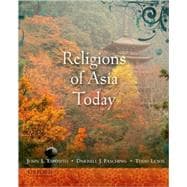 Summary
Ideal for courses in Asian/Eastern religions and world religions, Religions of Asia Today covers the same material as the second half of the authors' longer textbook, World Religions Today, Third Edition, while also featuring a unique chapter on Islam in Asia. Revealing the significance of religion in contemporary life, Religions of Asia Today explores major religious traditions--Hinduism, Buddhism, East Asian Religions, Islam in Asia, indigenous religions, and new religions--as dynamic, ongoing forces in the lives of individuals and in the collective experience of modern societies. This unique volume accomplishes two goals; it connects today's religions to their classical beliefs and practices while also focusing on how these religions have responded to and been transformed by the modern world. The authors combine thorough coverage of the historical background of each religion with up-to-the-minute discussions of its current practices. Each chapter includes an "Encounter with Modernity" section that illustrates the tension between premodern views and modernity. The text is enhanced by numerous pedagogical aids--timelines, maps, illustrations, discussion questions, and a comprehensive glossary of key terms--and more than 100 illustrations and photographs. It also incorporates "Tales of Spiritual Transformation" boxes--which relate the stories of people whose lives have been changed by religious faith--and "Teachings of Religious Wisdom" boxes, which introduce primary source material. Religions of Asia Today emphasizes the interconnectedness of faith, culture, politics, and society, providing a peerless examination of the diverse ways in which contemporary human beings are religious. An Instructor's Manual and a Companion Website at www.oup.com/us/esposito provide resources for both students and instructors. Also available to suit your course needs: World Religions Today, Third Edition (978-0-19-536563-4) Religions of the West Today (978-0-19-537361-5)
Table of Contents
Introduction
p. 3
Globalization: World Religions in Everyone's Hometown
p. 3
Understanding Religious Experience and Its Expressions
p. 5
The Great Transition: From Tribal Life to Urban Life and the Emergence of World Religions
p. 15
The Great Religious Stories of the World
p. 18
Modernization in Global Perspective
p. 25
Modern Colonialism, the Socialist Challenge, and the End of Modernity
p. 28
Postmodern Trends in a Postcolonial World
p. 31
Conclusion: We Are All Heretics in the Postmodern Situation
p. 32
Indigenous Religions
p. 35
Origins of Homo religiosus: Prehistory
p. 41
Religion's Origins Among Hunter-Gatherers
p. 42
Indigenous Religious Traditions: Soul Belief and Afterlife
p. 46
Shamans: "Technicians of the Sacred"
p. 53
Indigenous Religions Today
p. 61
Hinduism: Myriad Paths to Salvation
p. 75
Encounter with Modernity: Hindu Challenges to India as a Secular State
p. 80
Premodern Hinduism: The Formative Era
p. 83
Premodern Hinduism: The Classical Era (180 B.C.E.-900 C.E.)
p. 90
Premodern Hinduism: The Postclassical Era (900 C.E.-1500 C.E.)
p. 101
Hinduism and Modernity
p. 109
Hinduism and Postmodern Trends in a Postcolonial World
p. 118
Hindu Festival Practice
p. 129
The Religious Institutions of Contemporary Hinduism
p. 136
Buddhism: Ways to Nirvana
p. 163
Encounter with Modernity: Socially "Engaged Buddhism"
p. 167
Premodern Buddhism: The Formative Era
p. 170
Premodern Buddhism: The Classical Era
p. 184
Premodern Buddhism: Buddhist Expansion
p. 198
Buddhism and Modernity
p. 204
Buddhism and Postmodern Trends in a Postcolonial World
p. 217
East Asian Religions: Traditions of Human Cultivation and Natural Harmony
p. 245
Encounter with Modernity: Postcolonial Confucian Economics
p. 252
East Asian Religions in the Premodern Era
p. 254
East Asian Religions in the Early Modern Era
p. 285
East Asian Religions and Postmodern Trends in a Postcolonial World
p. 296
Islam in Asia
p. 335
The Dawn of Islam in Asia
p. 336
The Islamic Tradition
p. 339
Jihad
p. 349
The Challenge of European Colonialism
p. 351
Globalization: From New to New Age Religions
p. 359
New Religions
p. 361
New Age Religions
p. 366
Religious Postmodernism and Global Ethics
p. 381
Glossary
Art Credits
Index
Table of Contents provided by Blackwell. All Rights Reserved.