Note: Supplemental materials are not guaranteed with Rental or Used book purchases.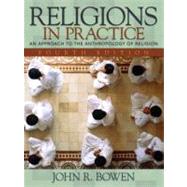 Religions in Practice : An Approach to the Anthropology of Religion
ISBN13:
9780205578610
by
Bowen, John R.
Summary
This widely used textbook offers a unique perspective on how people engage in everyday religious practices--such as prayer, sacrifice, initiation, and healing--by investigating broad-scale issues, such as transnationalism, gender, and religious laws. No other text examines the full spectrum of religions, from small-scale societies to full-blown "world religious movements." The in-depth treatment of Islam, Hinduism, and Christianity is of particular interest to students, and is easily expanded to include field projects directly related to material covered in the text. As one reviewer writes, "In our post 9/11 era, it is great to have a book whose author has done fieldwork in Indonesia and is so knowledgeable about Islam."
Table of Contents
Preface
Studying Religion Through Practice
What is ldquo;Religionrdquo;?
An Anthropological Approach to Religion
Practices, Contexts, Diversity
Social Theory in the Anthropology of Religion
Religion as Intellectual Activity
Religions in Social Life
The Psychology of Religion
Ideas and Practices of ldquo;Religionrdquo; in Europe and Elsewhere
Western Ideas of Religion
Other Religions, Other Models
Combining Religious Practices in Japan
Ritual and the Shaping of Emotions
Rites of Passage
Initiation, Secrecy, and Fear
Death Ritual and the Social Order
Grief and Ritual Form
Transforming Selves
Gender and Anthropology Creating Gender through Ritual
Producing a Pious Female Self Converting to a New Faith
Extending our Powers: Magic and Healing
Magic, Patterns, and Causes
Explaining Misfortune
The New Age
Wicca or Modern Witchcraft
Science and Religion
Does Prayer Heal?
Narrative and Pain Relief
Does Evolution Explain Religion Can Creationists Teach Evolution?
Sorcery, Witchcraft and Modernity
La Sorcellerie in Cameroon
Azande Oracles
Sorcery and Modernity
Witchcraft as Satan versus God
Worship and Hierarchy
Sacrafice, Offerings, and Deities Bathing at Benareas Muslim-Hindu Violence
Images and Faith: Focus on Worldwide Catholicism
Relics and Images in Catholicism Mary and Marys in European Societies
Sacred Speech and Divine Power
The Qur'acirc;n as Recitation of God's Speech
The Creative Power of Navajo Speech and Song
Speech and Grace in Protestant Churches
Transnational Diaspora Religions
Transnational and Diasporic Religions
The Jewish Diaspora: History and Ritual Transnational Religion
Africa and Brazil across the Atlantic Mary in Mesoamerica South Asians Overseas
Focus on Muslims in Europe
Migration and Transnational Ties Transnational Islam in Three Senses Can European Societies be Muslim?
Religion, Radicalism, and Violence
Cults, Sects, and Violence
Explaining Where Violence Occurred: The Hindu-Muslim Case Struggle and Authority in Islam Recruitment to Terrorism 1
Table of Contents provided by Publisher. All Rights Reserved.