Note: Supplemental materials are not guaranteed with Rental or Used book purchases.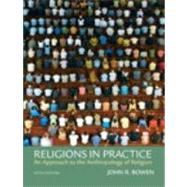 Religions in Practice : An Approach to the Anthropology of Religion
ISBN13:
9780205795253
by
Bowen, John R.
Summary
This widely used textbook offers a unique perspective on how people engage in everyday religious practices--such as prayer, sacrifice, initiation, and healing--by investigating broad-scale issues, such as transnationalism, gender, and religious laws. No other text examines the full spectrum of religions, from small-scale societies to full-blown "world religious movements." The in-depth treatment of Islam, Hinduism, and Christianity is of particular interest to students, and is easily expanded to include field projects directly related to material covered in the text. As one reviewer writes, "In our post 9/11 era, it is great to have a book whose author has done fieldwork in Indonesia and is so knowledgeable about Islam."
Author Biography
John R. Bowen is a Dunbar-Van Cleve Professor in Arts & Sciences at Washington University in St. Louis, where he teaches Sociocultural Anthropology. His research currently focuses on comparative social studies of Islam across the world, and his ethnographic studies take place in Indonesia, France, and England.
Dr. Bowen works with colleagues in several other departments as director of the Pluralism, Politics, and Religion Initiative, which holds regular workshops on questions of religious and political pluralism, and has created a collaborative graduate training program with partner universities in Europe—as of 2009, in Paris, Utrecht, and Göttingen.
Table of Contents
Preface xi
Chapter 1 Studying Religion through Practice 1
What Is "Religion"? 2
An Anthropological Approach to Religion 4
How is Anthropology Distinctive? 6
Practices, Contexts, and Diversity 7
Chapter 2 The Twin Transformations of "Religion" 9
Axial Age Transformations 9
Enlightenment Transformations 12
Social Theory and the Anthropology of Religion 15
Religion as Intellectual Activity 16
Religions in Social Life 19
The Psychology of Religion 25
Symbols between Society and the Individual 28
Conclusions 29
For Debate 29
Chapter 3 Domains and Boundaries of "Religion" 30
Combining Religious Practices in Japan 30
Practice and Belief 31
Shinto and Spirits 32
Spirits and Social Change 33
Buddhism and Souls 35
The State and Religion 37
Imposed Definitions of Religion 40
Wana Practices and Indonesian Definitions 42
The Case of Islam 43
Conclusions 45
For Debate 46
Films to See 46
Chapter 4 Rituals of Transition 47
Rites of Passage 48
The Pilgrimage to Mecca 49
Death Ritual and the Social Order 56
From Spirit to Household God in Japan 56
Regenerating Life from Death 58
Asmat Headhunting and Birth through Death 58
Secondary Burial 61
Grief and Ritual Form 63
Conclusions 66
Films to See 66
Chapter 5 Healing through Religion 67
Christian Science 67
Narratives and Pain Relief 68
Modern Magic in Japanese New Religions 70
Magic and Religion 75
Healing Muslims–and Hindus? 76
What Does Science Have to Say? 79
Conclusions 82
For Debate 82
Films to See 82
Chapter 6 Sorcery, Witchcraft, and Modernity 83
La Sorcellerie in Cameroon 84
Azande Oracles 86
Sorcery and Modernity 88
Witchcraft as Satan versus God 92
Conclusions 100
For Debate 100
Films to See 100
Chapter 7 Worship, Hierarchy, Conflict: Focus on Hinduism 101
Sacrifice, Offerings, and Deities 101
Bathing at Benares 110
Muslim—Hindu Violence 112
Explaining Where Violence Occurred 114
Conclusions 116
Films to See 116
Chapter 8 Imagery and Faith: Focus on Worldwide Catholicism 117
Relics and Images in Catholicism 117
Mary and Marys in European Societies 123
Conclusions 131
For Debate 131
Films to See 131
Chapter 9 Transatlantic Religion 132
Mary in Mesoamerica 132
Transnational Religion: Africa and Brazil across the Atlantic 135
The Black Atlantic 139
Black Carib Religion in Africa, Honduras, and New York City 140
Conclusions 142
Films to See 142
Chapter 10 Speech and Power 143
Quality and Memory 144
The Qur'ân as Recitation of God's Speech 146
The Creative Power of Navajo Speech and Song 152
Speech and Grace in Protestant Churches 154
The Letter and the Spirit of Scripture 155
Election and Signs 156
Singing and Certainty among U.S. Primitive Baptists 159
Charismatic and Pentecostal Churches 162
Conclusions 164
Films to See 165
Chapter 11 Authority and Leaders 166
Authority Figures 166
Saints 167
Prophets 172
Mormons 175
Muslims 180
Muhammad as Messenger and Prophet 180
The Development of the Shi'i 181
Masters and Disciples in Sufi Orders 182
Conclusions 183
Chapter 12 New Religious Movements 184
Revivalist Movements 184
Land, Wealth, and Religious Visions 185
Cults, Recruitment, and Violence 187
Aum Shinrikyo 187
Order of the Solar Temple 188
Why Do People Join Violent Movements? 192
Conclusions 195
For Debate 195
Films to See 195
Chapter 13 Migration and Adaptation: Focus on Muslims in Europe 196
Migration and Transnational Ties 197
Transnational Islam in Three Senses 202
Can European Societies Be Muslim? 205
Conclusions 209
For Debate 209
Films to See 209
Chapter 14 Virtual Religion 210
What Can You Do Online? 210
Creole Spaces 212
Information, Communication, and Performance 214
Experience and Community 219
Comparative Communities 223
Conclusions 225
For Debate 1 225
For Debate 2 226
Films to See 226
Chapter 15 Secularisms and Religions in Modern States 227
How to Think About "Secular States" 227
Secularism and Pluralism in the United States 229
Secularism and Public Religion: Three European Variants 233
When Religion Underlies Law 237
Conclusions 243
For Debate 243
Films to See 244
References 245
Index 254