Note: Supplemental materials are not guaranteed with Rental or Used book purchases.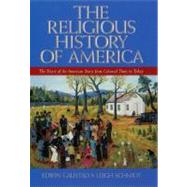 Summary
A Dynamic Account of Religion's Central Role in American History
Author Biography
Edwin Gaustad is Professor Emeritus of History and Religious Studies at the University of California, Riverside.
Table of Contents
Preface to the Revised Edition
Religion in the Colonialera
p. 1
Beginnings
p. 3
English Exploration and Anglican Establishment
p. 30
Puritan New England
p. 49
Middle-Colony Diversity
p. 74
From Maryland Catholics to Georgia Evangelicals
p. 95
Religious Ferment from the Revolution to the Civil War
p. 119
Liberty and Enlightenment
p. 121
Freedom and Revival
p. 139
Redeeming the West
p. 162
A House of Faith Divided
p. 184
Modern Prospects from Cityscapes to Bible Battles
p. 207
Immigration and Diversity
p. 209
Cities and Social Gospels
p. 231
The Church and the World
p. 255
Growth and Schism
p. 277
Faith and Reason
p. 299
Religious Transformation from World War II to the New Millennium
p. 327
War, Peace, and Religious Renewal
p. 329
The Courts, the Schools, the Streets
p. 349
Justice, Liberation, Union
p. 374
Politics and Pluralism
p. 398
General Bibliography
p. 433
Index
p. 437
Table of Contents provided by Blackwell. All Rights Reserved.
Excerpts
The Religious History of America
The Heart of the American Story from Colonial Times to Today
Chapter One
Beginnings
"I'm tired of all these pilgrims, these puritans, these thieves." So sings the pop artist Jewel on her compact disc Spirit. It is a fatigue that historians of American religion know well, finding it not just among their students but also among themselves. Long gone are the days when New England Puritanism stood as the dominant emblem of America's religious past, let alone its present. Stories of Pilgrim landings and first Thanksgivings now leave a syrupy taste, while any reexamination of witchcraft crises, religious persecutions, and Indian slaughters only replaces the yawn of those grown tired of Pilgrims and Puritans with a look of horror and disgust.
Plymouth Rock itself now seems not so much a relic of holiness -- the consecrated place on which the Pilgrim forefathers landed, the great ancestral altar of liberty -- as a quaint artifact, a tourist curiosity, perhaps more befitting a minivan side trip (the Plymouth Voyager) than the Mayflower Compact. Long fenced in to protect it from being chipped away by souvenir seekers, Plymouth Rock sits now as a half-hallowed shrine that bears witness to the very invention and historical malleability of these Pilgrim forefathers. Throughout the nineteenth century and into the twentieth, much of the magical power of the rock came from the desire of many Americans to identify themselves closely with these Pilgrims and Puritans, to cherish them in all their piety and courage as the forefathers of the nation. "Standing on this rock," as one lover of the Pilgrims wrote in 1832, ushers "us into the presence of our fathers." But, what happens now in the twenty-first century when so many have grown weary of Pilgrims and Puritans, when so many find Anglo-Americain relations with Indians to be thievish or worse, when so few in this polyglot and multiracial nation identify with them as fathers, let alone as mothers? Where should a religious history of America begin when the old New England stories of origin now seem so contrived, so narrow, so political?
Stories told about historical beginnings remain especially significant, and it is important to recognize at the outset that there are multiple birth narratives in American religious history, just as there are for the making of the nation as a political entity. Many of these stories, though certainly nol all, will be found in these pages. Among them, for example, is the prominence of Alaska as the eighteenth-century birthplace of Russian Orthodox Christianity in America. As one twentieth-century Orthodox Christian recalled, "Alaska is for Orthodox Christians the oldest part of Orthodox America and the source of their spiritual roots in this land." Other groups tell other stories of their religious roots in America -- the organization of the first Jewish synagogue in 1729 in New York City; the formation of the first independent African church in the early 1770s, a Baptist congregation in Silver Bluff, South Carolina; or the emergence of the Christian restorationist movement in 1801 out of a giant revival meeting at Cane Ridge, Kentucky, a location recurrently celebrated as "the birthplace of a faith." Then there are Roman Catholic claims about American beginnings, many of which center on St. Augustine, Florida, sealed already with Spanish adventurers and Catholic missionaries in 1565. "St. Augustine was founded forty-two years before the English colony at Jamestown, Virginia, and fifty-five years before the Pilgrims landed on Plymouth Rock in Massachusetts," boasted a recent partisan, "making it the oldest permanent European settlement on the North American continent."
There is no such thing as immunity from the past, William Faulkner wrote in Requiem for a Nun in 1950. "There's no such thing as past either. The past is never dead. It's not even past." The contentiousness and solemnity that so often surround American stories of religious beginnings show just how apt were Faulkner's observations. This religious history opens with Native American, Spanish, and French stories before turning to English colonization, but those beginnings are, in turn, nested within other beginnings that emerge all along the way. Again, these narratives range widely, whether Mormon visions of primordial origins in ancient America or African American Muslim stories of roots that go back to Africa and move through and beyond the devastation of slavery.
Native American Religions and Colonial Encounter
The "New World" clearly was not new to those who had inhabited it for tens of thousands of years before any Europeans arrived. Long before pharaohs sat on ancient Egyptian thrones, long before Moses led his people out of that Egypt, and long before Homer wrote The Iliad or Rome rose to mighty power, inhabitants of the Americas had hunted and fished, planted and reaped, loved and given birth, danced and mourned their dead. These inhabitants had also ordered their lives in accord with socially prescribed patterns of behavior and explained their existence and their universe in accord with cosmological principles of understanding. In other words, they had developed complex systems of religious ritual and belief.
The religions of these indigenous peoples were as diverse as the places of their settlement, as varied as the tribal groups themselves. If one is inclined to think of pluralism as a phenomenon of the modem world, it is important to recognize that the American continents were never so pluralistic as in the centuries before European discovery and exploration. Pluralism was reduced, not enhanced, by the "invasion of America." No single religious institution, no single sacred book, no unified priesthood or common creed, no core group of rituals can be found in the mottled patterns of the lives of these indigenous peoples. It was only centuries into colonization that a pan-Indian or Native American identity emerged and, likewise, that intertribal religious movements (such as the Native American Church, with its peyote-based ritual observance) came into being. Even then, the new encompassing identity fostered by such pan-Indian movements was fiercely contested ...
The Religious History of America
The Heart of the American Story from Colonial Times to Today
. Copyright © by Edwin S. Gaustad. Reprinted by permission of HarperCollins Publishers, Inc. All rights reserved. Available now wherever books are sold.
---

Excerpted from The Religious History of America: The Heart of the American Story from Colonial Times to Today by Edwin S. Gaustad, Leigh E. Schmidt
All rights reserved by the original copyright owners. Excerpts are provided for display purposes only and may not be reproduced, reprinted or distributed without the written permission of the publisher.