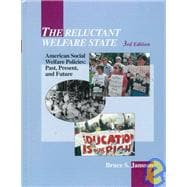 The Reluctant Welfare State; American Social Welfare Policies, Past, Present, and Future
by
Bruce S. Jansson
Summary
How can an understanding of historical events breathe new life into the study of current social welfare policies and the profession of social work? Why is the American welfare state more "reluctant" that most European ones? How have various outgroups used creative survival strategies in the face of adversity? How has social welfare policy been affected by the conflict among Newt Gingrich, "New Democrats", and Democratic Congressional liberals? You'll find discussion of these issues and more in this comprehensive, scholarly introduction to social welfare policy in the United States. This book will challenge you to think critically about issues, developments, and policies both in past eras and in contemporary society. Throughout the book, Jansson invites you to become a policy practitioner and advocate and to develop your own "policy identity".
Table of Contents
Social Reform in a Society with Conflicting Tendencies
p. 1
A Framework for Understanding the Evolution of the Reluctant Welfare State
p. 12
Fashioning a New Society in the Wilderness
p. 25
Social Welfare Policy in the Early Republic: 1789-1860
p. 58
Lost Opportunities: The Frontier, the Civil War, and Industrialization
p. 82
Social Reform in the Progressive Era
p. 109
The Early Stages of the New Deal
p. 148
Institutionalizing the New Deal
p. 169
The Era of Federal Social Services: The New Frontier and the Great Society
p. 198
The Paradoxical Era: 1968-1980
p. 240
The Conservative Counterrevolution in the Era of Reagan and Bush
p. 267
Reluctance Illustrated: Policy Uncertainty During the Clinton Administration
p. 307
Why Has the American Welfare State Been Reluctant?
p. 347
Policy Perspectives: Past, Present, and Future
p. 372
Name Index
p. 391
Subject Index
p. 394
Table of Contents provided by Blackwell. All Rights Reserved.