Note: Supplemental materials are not guaranteed with Rental or Used book purchases.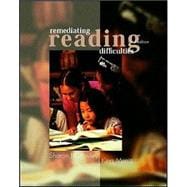 Remediating Reading Difficulties
ISBN13:
9780697377289
by
CRAWLEY
Related Products
Summary
Remediating Reading Difficulties provides practical, easy-to-implement activities and strategies designed to correct diagnosed reading difficulties. Most chapters describe a specific reading problem or skill, explain possible causes of the problem, and provide an extensive and wide-ranging variety of ideas and instructional strategies to remediate and prevent the reading problem. Remediating Reading Difficulties is also an excellent handbook of ideas for teachers in the regular classroom who wish to teach and reinforce specific reading skills and for teachers working with students who speak other languages (ESOL/LEP students). Brief, clear, student-friendly, and comprehensive, Remediating Reading Difficulties is a simple, easy-to-use quick-reference tool that both pre- and in-service teachers will want to keep ready at arm's length to motivate, communicate with, assess, and promote good reading practices in all readers.
Table of Contents
PART I: INITIAL READINGChapter 1: Improving Letter RecognitionPART II: WORD ATTACKChapter 2: Improving Sight-Word KnowledgeChapter 3: Improving Decoding Skills: PhonicsChapter 4: Improving Decoding: Structural AnalysisChapter 5: Improving Decoding: Using ContextPART III: COMPREHENSIONChapter 6: Improving VocabularyChapter 7: Improving ComprehensionChapter 8: Improving MetacognitionPART IV: ORAL READINGChapter 9: Improving FluencyChapter 10: Decreasing ReversalsChapter 11: Decreasing OmissionsChapter 12: Decreasing SubstitutionsChapter 13: Decreasing NonpronunciationsChapter 14: Decreasing RepetitionsChapter 15: Decreasing InsertionsChapter 16: Decreasing Faulty HabitsPART V: STUDY SKILLSChapter 17: Adjusting Reading RateChapter 18: Skimming and ScanningChapter 19: Memory AidsChapter 20: ListeningPART VI: AFFECTIVE AREASChapter 21: Teaching Speakers of Other LanguagesChapter 22: Improving Self-ConceptChapter 23: Developing Interests in ReadingChapter 24: Suggestions for ParentsAppendix A: Sight-Word ListsAppendix B: Developing a Skills KitAppendix C: Major Word-Attack GeneralizationsAppendix D: Word Lists for Word-Attack ElementsAppendix E: Common PhonogramsAppendix F: Language-Experience ApproachAppendix G: Neurological Impress MethodAppendix H: Kinesthetic MethodAppendix I: Guidelines for Asking QuestionsAppendix J. WebsitesAppendix K: Trade Books for Challenged ReadersAppendix L: Caldecott and Newbury Award-Winning BooksAppendix M: Commercial Books, Kits, and Workbooks for InstructionAppendix N: Multimedia, Including Games, Software, Electronics, and Writing ActivitiesAppendix O: Publishing CompaniesIndex