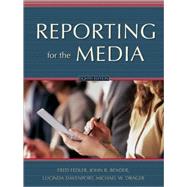 List Price: $79.95
Usually Ships in 3-5 Business Days
Questions About This Book?
What version or edition is this?
This is the 8th edition with a publication date of 8/5/2004.
What is included with this book?
The Used copy of this book is not guaranteed to inclue any supplemental materials. Typically, only the book itself is included.
Summary
Now in its eighth edition, Reporting for the Media continues its outstanding tradition in journalism education. Providing both students and instructors with a firm foundation on which to build journalistic success, it emphasizes the most important skills and characteristics of effectivereporters--how to be engaged in and curious about the world and how to articulate a good story. Reporting for the Media, 8/e, introduces students to news writing and reporting by focusing on such basics as grammar and mechanics, traditional story structures and styles, interviewing techniques, reporting on speeches and meetings, and common ethical dilemmas. Taking into consideration theincreasingly multimedia nature of journalism, this new edition includes material on broadcast writing and convergence. It also covers prewriting, using the Internet, and computer-assisted reporting. The eighth edition features new exercises in nearly every chapter, expanded coverage ofgrammar--including parts of speech--and thoroughly updated real-life examples and illustrations, many covering issues that have arisen since 9/11. As in previous editions, this book features reading lists, discussion questions, suggested projects, five useful appendices, and end-of-chapterchecklists. Reporting for the Media, 8/e, is an ideal text for introductory news writing and reporting courses.
Table of Contents
Preface
xi

| | |
| --- | --- |
| | The Basics: Format, Copy Editing and AP Style |

1
(28)
2
(1)
2
(2)
4
(4)

| | |
| --- | --- |
| | The Associated Press Stylebook and Briefing on Media Law |

8
(1)

| | |
| --- | --- |
| | Accuracy of Names and Facts |

9
(1)

| | |
| --- | --- |
| | The Writing Coach---The Lucky 13 Ways to Become a Good Writer |

10
(1)

| | |
| --- | --- |
| | Checklist for Copy Preparation |

11
(1)
11
(1)
11
(1)
12
(17)
29
(30)
29
(7)
36
(2)
38
(1)
38
(2)
40
(1)
40
(1)
41
(1)
42
(1)
42
(1)
43
(1)
43
(1)
44
(1)

| | |
| --- | --- |
| | ``Because'' and ``Due To'' |

44
(1)
44
(1)
45
(2)

| | |
| --- | --- |
| | The Writing Coach---Acronyms Lift Your Writing |

47
(1)
48
(1)
49
(10)
59
(31)
59
(3)

| | |
| --- | --- |
| | Simplify Words, Sentences and Paragraphs |

62
(4)
66
(5)

| | |
| --- | --- |
| | Checklist for Newswriting Style |

71
(1)

| | |
| --- | --- |
| | The Writing Coach--Find the Clear Path to Writing Glory |

72
(2)
74
(2)
76
(14)
90
(32)

| | |
| --- | --- |
| | The Effectiveness of Words |

90
(1)
91
(2)
93
(1)

| | |
| --- | --- |
| | Avoiding Problems in Your Writing |

94
(1)
94
(5)
99
(4)

| | |
| --- | --- |
| | Checklist for the Language of News |

103
(1)

| | |
| --- | --- |
| | The Writing Coach---Become a Power Lifter When Picking Verbs |

103
(1)
104
(1)
105
(17)

| | |
| --- | --- |
| | Selecting and Reporting the News |

122
(24)

| | |
| --- | --- |
| | The Characteristics of News |

123
(3)
126
(5)
131
(2)
133
(2)

| | |
| --- | --- |
| | Applying the Principles of News Selection |

135
(1)

| | |
| --- | --- |
| | The Concept of Objectivity |

135
(1)

| | |
| --- | --- |
| | Details Newspapers Are Reluctant to Publish |

136
(2)

| | |
| --- | --- |
| | The Importance of Accuracy |

138
(3)
141
(2)
143
(3)
146
(35)
146
(2)

| | |
| --- | --- |
| | Sentence Structure in Leads |

148
(1)

| | |
| --- | --- |
| | Guidelines for Writing Effective Leads |

149
(5)

| | |
| --- | --- |
| | Avoiding Some Common Errors |

154
(3)

| | |
| --- | --- |
| | Apply the Guidelines to Other Kinds of Leads |

157
(1)

| | |
| --- | --- |
| | Checklist for Writing Leads |

158
(1)

| | |
| --- | --- |
| | The Writing Coach---Oh Where, Oh Where Does the Time Element Go? |

159
(1)
160
(1)
161
(20)
181
(19)
182
(1)

| | |
| --- | --- |
| | ``Buried'' or ``Delayed'' Leads |

183
(1)
184
(1)
184
(1)
185
(1)
186
(1)
186
(1)

| | |
| --- | --- |
| | Shockers---Leads With a Twist |

187
(1)
187
(1)
187
(1)

| | |
| --- | --- |
| | Words Used in Unusual Ways |

188
(1)
188
(1)

| | |
| --- | --- |
| | The Writing Coach---Too Many Words Can Muddle Writing |

189
(3)
192
(8)
200
(39)

| | |
| --- | --- |
| | The Inverted-Pyramid Style |

200
(6)
206
(2)
208
(3)
211
(4)
215
(2)
217
(2)

| | |
| --- | --- |
| | The Importance of Examples |

219
(1)
219
(2)
221
(1)
221
(1)

| | |
| --- | --- |
| | The Final Step: Edit Your Story |

222
(1)

| | |
| --- | --- |
| | Checklist for Writing News Stories |

222
(1)

| | |
| --- | --- |
| | The Writing Coach---How to Find the Endings to Stories |

223
(1)
223
(1)
224
(15)

| | |
| --- | --- |
| | Quotations and Attribution |

239
(30)
239
(4)

| | |
| --- | --- |
| | Blending Quotations and Narrative |

243
(3)
246
(7)

| | |
| --- | --- |
| | Guidelines for Capitalizing and Punctuating Quotations |

253
(2)

| | |
| --- | --- |
| | Checklists for Quotations and Attribution |

255
(1)

| | |
| --- | --- |
| | A Memo From the Editor---Descriptive Writing: Turning a Good Story Into a Great Story |

256
(2)
258
(1)
259
(1)
260
(9)
269
(23)
269
(1)
270
(2)

| | |
| --- | --- |
| | When Should I Conduct My Interviews? |

272
(1)

| | |
| --- | --- |
| | Where Should I Conduct the Interview? |

273
(1)

| | |
| --- | --- |
| | What Questions Should I Ask? |

274
(1)

| | |
| --- | --- |
| | How Should I Conduct Interviews? |

275
(2)

| | |
| --- | --- |
| | Writing the Interview Story |

277
(1)

| | |
| --- | --- |
| | The Writing Coach---Figure It: Poetry Can Be in Newspaper Stories |

278
(1)
279
(1)
279
(1)
280
(12)
292
(20)
293
(4)

| | |
| --- | --- |
| | Jim Nicholson: No. 1 in Obituaries |

297
(4)

| | |
| --- | --- |
| | Obituary Writing Considerations |

301
(1)

| | |
| --- | --- |
| | Checklists for Reporting and Writing Obituaries |

302
(1)
302
(1)
302
(1)
303
(9)
312
(31)
312
(1)

| | |
| --- | --- |
| | Covering the Speech or Meeting |

313
(1)
314
(3)

| | |
| --- | --- |
| | Internet Brings Pornography to Children, Researcher Says |

317
(3)
320
(1)
321
(1)

| | |
| --- | --- |
| | Checklists for Reporting Speeches and Meetings |

322
(1)

| | |
| --- | --- |
| | The Writing Coach---Go Beyond the Stick |

323
(1)
323
(1)
323
(1)
324
(19)

| | |
| --- | --- |
| | Specialized Types of Stories |

343
(25)
343
(2)
345
(2)
347
(1)
347
(1)

| | |
| --- | --- |
| | Checklists for Writing Specialized Stories |

348
(1)

| | |
| --- | --- |
| | A Memo From the Editor---History, Traditions and Culture: Old Glory and Noodle |

349
(2)
351
(1)
351
(1)
352
(16)
368
(25)

| | |
| --- | --- |
| | Selecting a Topic and Gathering Information |

368
(2)
370
(10)
380
(1)

| | |
| --- | --- |
| | The Body of a Feature Story |

381
(1)

| | |
| --- | --- |
| | The Ending of a Feature Story |

382
(1)

| | |
| --- | --- |
| | What does It Take to Be a Top-Notch Writer? |

383
(1)
384
(1)
384
(1)
385
(8)
393
(53)
394
(1)

| | |
| --- | --- |
| | Covering the Search for a Serial Killer |

395
(8)
403
(7)
410
(6)

| | |
| --- | --- |
| | Checklists for Public Affairs Reporting |

416
(1)

| | |
| --- | --- |
| | A Note About This Chapter's Exercises |

417
(1)

| | |
| --- | --- |
| | The Writing Coach---The ``Knows'' Have It for Police and Court Reporters |

417
(1)
418
(1)
418
(1)
419
(27)

| | |
| --- | --- |
| | Understanding and Using the Internet |

446
(21)
446
(1)

| | |
| --- | --- |
| | Journalists and the Internet |

447
(1)
447
(1)

| | |
| --- | --- |
| | Internet Addresses, Web Sites or URLs (Universal Resource Locators) |

448
(3)

| | |
| --- | --- |
| | Search Engines and Subject Directories |

451
(2)

| | |
| --- | --- |
| | Mailing Lists and Newsgroups |

453
(3)
456
(1)
457
(1)
457
(1)
458
(9)
467
(31)
468
(1)

| | |
| --- | --- |
| | Conducting Informal Polls |

469
(2)

| | |
| --- | --- |
| | Using Computers to Get Answers |

471
(1)
472
(1)

| | |
| --- | --- |
| | Checklist for Using Statistics |

473
(1)

| | |
| --- | --- |
| | Checklist for Conducting Informal Polls |

473
(1)

| | |
| --- | --- |
| | A Memo From the Editor---Good Writing's Great, but It's Not Enough |

473
(2)
475
(1)
476
(22)
498
(26)

| | |
| --- | --- |
| | Writing for Your Listener |

498
(3)

| | |
| --- | --- |
| | Writing for Your Announcer |

501
(1)

| | |
| --- | --- |
| | Leads for Broadcast Stories |

502
(2)

| | |
| --- | --- |
| | The Body of a Broadcast News Story |

504
(1)

| | |
| --- | --- |
| | Updating Broadcast News Stories |

505
(1)

| | |
| --- | --- |
| | Guidelines for Copy Preparation |

505
(2)
507
(1)

| | |
| --- | --- |
| | Putting Together a Newscast |

508
(1)

| | |
| --- | --- |
| | Sources for Broadcast News |

509
(1)
510
(1)

| | |
| --- | --- |
| | Checklists for Broadcast News Writing |

511
(1)
511
(1)
511
(1)
512
(12)

| | |
| --- | --- |
| | The News Media and PR Practitioners |

524
(37)

| | |
| --- | --- |
| | What Is Public Relations? |

524
(2)

| | |
| --- | --- |
| | Becoming a Public Relations Practitioner |

526
(1)
526
(1)

| | |
| --- | --- |
| | Elements of a News Release |

527
(3)
530
(3)

| | |
| --- | --- |
| | The Journalist's Perspective: Working with Press Releases |

533
(1)

| | |
| --- | --- |
| | The No. 1 Problem: Lack of Newsworthiness |

534
(2)

| | |
| --- | --- |
| | The No. 2 Problem: Lack of Objectivity |

536
(2)

| | |
| --- | --- |
| | Other Problems with News Releases |

538
(2)
540
(1)

| | |
| --- | --- |
| | Checklist for PR Practitioners |

540
(1)

| | |
| --- | --- |
| | Checklist for Handling News Releases |

541
(1)

| | |
| --- | --- |
| | Guest Column---Transparency Is Paramount |

541
(2)
543
(1)
544
(17)
561
(32)
561
(11)

| | |
| --- | --- |
| | 12 Steps for Avoiding Libel Suits |

572
(1)
572
(6)
578
(5)
583
(1)
584
(2)
586
(1)
586
(1)
587
(6)
593
(29)
594
(1)
594
(2)
596
(14)
610
(1)

| | |
| --- | --- |
| | Checklist for Improving Media Credibility |

610
(1)

| | |
| --- | --- |
| | A Memo From the Editor---Some Thoughts on Plagiarism |

611
(2)
613
(1)
614
(1)
615
(7)
622
(9)

| | |
| --- | --- |
| | A Journalist's Attributes |

623
(1)

| | |
| --- | --- |
| | Be the Applicant Who Gets Hired |

624
(4)

| | |
| --- | --- |
| | The Industry Needs More Women and Minorities |

628
(1)
629
(1)

| | |
| --- | --- |
| | Checklist for Finding the Right Journalism Job |

629
(1)
630
(1)
630
(1)
Appendix A City Directory
631
(15)
Appendix B The Associated Press Stylebook
646
(9)
Appendix C Rules for Forming Possessives
655
(2)
Appendix D Answer Keys
657
(8)
Appendix E Common Writing Errors
665
(4)
Credit Lines
669
(2)
Index
671