Note: Supplemental materials are not guaranteed with Rental or Used book purchases.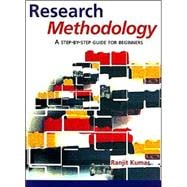 Research Methodology : A Step-by-Step Guide for Beginners
ISBN13:
9780761962144
by
Kumar, Ranjit
Related Products
Summary
This immensely practical book is designed for anyone new to research and planning to undertake a research project. The textbook is organized around eight operational steps that constitute the research process: formulating a research problem; conceptualizing a research design; constructing an instrument for data collection; selecting a sample; writing a research proposal; collecting data; processing data; and writing a research report.Ranjit Kumar has drawn on 20 years of teaching experience to demystify the research process and give students a helpful and informative guide.
Table of Contents
Preface
xi
xiii
xiv

| | |
| --- | --- |
| | Research: a way of thinking |

1
(13)

| | |
| --- | --- |
| | Research: a way of thinking |

2
(2)
4
(1)
4
(3)

| | |
| --- | --- |
| | Characteristics of research |

7
(1)
8
(4)
8
(1)
9
(1)

| | |
| --- | --- |
| | Type of information sought |

10
(2)
12
(1)
13
(1)

| | |
| --- | --- |
| | The research process: a quick glance |

14
(9)

| | |
| --- | --- |
| | The research process: an eight-step model |

15
(6)

| | |
| --- | --- |
| | Step I: formulating a research problem |

15
(1)

| | |
| --- | --- |
| | Step II: conceptualising a research design |

16
(1)

| | |
| --- | --- |
| | Step III: constructing an instrument for data collection |

16
(3)

| | |
| --- | --- |
| | Step IV: selecting a sample |

19
(1)

| | |
| --- | --- |
| | Step V: writing a research proposal |

19
(1)
20
(1)

| | |
| --- | --- |
| | Step VII: processing data |

20
(1)

| | |
| --- | --- |
| | Step VIII: writing a research report |

21
(1)
21
(2)
Step I Formulating a research problem
23
(48)
25
(9)

| | |
| --- | --- |
| | Reasons for reviewing the literature |

26
(1)

| | |
| --- | --- |
| | Bring clarity and focus to your research problem |

26
(1)
26
(1)

| | |
| --- | --- |
| | Broaden your knowledge base in your research area |

26
(1)

| | |
| --- | --- |
| | Procedure for reviewing the literature |

27
(5)

| | |
| --- | --- |
| | Search for existing literature |

27
(3)

| | |
| --- | --- |
| | Review the literature selected |

30
(1)

| | |
| --- | --- |
| | Develop a theoretical framework |

30
(2)

| | |
| --- | --- |
| | Develop a conceptual framework |

32
(1)

| | |
| --- | --- |
| | Writing up the literature reviewed |

32
(1)
33
(1)

| | |
| --- | --- |
| | Formulating a research problem |

34
(12)
35
(1)

| | |
| --- | --- |
| | The importance of formulating a research problem |

35
(1)

| | |
| --- | --- |
| | Sources of research problems |

36
(1)

| | |
| --- | --- |
| | Considerations in selecting a research problem |

37
(1)

| | |
| --- | --- |
| | Steps in the formulation of a research problem |

38
(2)

| | |
| --- | --- |
| | The formulation of objectives |

40
(1)

| | |
| --- | --- |
| | Establishing operational definitions |

41
(4)
45
(1)
46
(17)

| | |
| --- | --- |
| | The definition of a variable |

47
(1)

| | |
| --- | --- |
| | The different between a concept and a variable |

48
(1)

| | |
| --- | --- |
| | Concepts, indicators and variables |

49
(3)
52
(6)

| | |
| --- | --- |
| | From the viewpoint of causation |

52
(3)

| | |
| --- | --- |
| | From the viewpoint of the study design |

55
(1)

| | |
| --- | --- |
| | From the viewpoint of the unit of measurement |

56
(2)

| | |
| --- | --- |
| | Types of measurement scales |

58
(4)

| | |
| --- | --- |
| | The nominal or classificatory scale |

59
(1)

| | |
| --- | --- |
| | The ordinal or ranking scale |

59
(1)
60
(2)
62
(1)
62
(1)
63
(8)

| | |
| --- | --- |
| | The definition of a hypothesis |

64
(2)

| | |
| --- | --- |
| | The functions of a hypothesis |

66
(1)

| | |
| --- | --- |
| | The characteristics of a hypothesis |

66
(1)
67
(2)

| | |
| --- | --- |
| | Errors in testing a hypothesis |

69
(1)
70
(1)
Step II Conceptualising a research design
71
(30)
73
(7)

| | |
| --- | --- |
| | The definition of a research design |

74
(1)

| | |
| --- | --- |
| | The functions of as research design |

74
(5)
79
(1)
80
(21)
81
(5)

| | |
| --- | --- |
| | The cross-sectional study design |

81
(2)

| | |
| --- | --- |
| | The before-and-after study design |

83
(2)

| | |
| --- | --- |
| | The longitudinal study design |

85
(1)
86
(2)

| | |
| --- | --- |
| | The retrospective study design |

86
(1)

| | |
| --- | --- |
| | The prospective study design |

87
(1)

| | |
| --- | --- |
| | The retrospective-prospective study design |

87
(1)

| | |
| --- | --- |
| | The nature of the investigation |

88
(11)

| | |
| --- | --- |
| | The experimental study design |

89
(7)

| | |
| --- | --- |
| | Some other commonly used designs |

96
(3)
99
(2)
Step III Constructing an Instrument for data collection
101
(44)

| | |
| --- | --- |
| | Selecting a method of data collection |

103
(24)

| | |
| --- | --- |
| | Collecting data using primary sources |

105
(19)
105
(4)
109
(1)
110
(14)

| | |
| --- | --- |
| | Collecting data using secondary sources |

124
(1)

| | |
| --- | --- |
| | Problems with using data from secondary sources |

124
(1)
125
(2)

| | |
| --- | --- |
| | Collecting data using attitudinal scales |

127
(9)

| | |
| --- | --- |
| | Functions of attitudinal scales |

128
(1)

| | |
| --- | --- |
| | Difficulties in developing an attitudinal scale |

129
(1)

| | |
| --- | --- |
| | Types of attitudinal scale |

129
(6)

| | |
| --- | --- |
| | The summated rating or Likert scale |

129
(4)

| | |
| --- | --- |
| | The equal-appearing-interval or Thurstone scale |

133
(1)

| | |
| --- | --- |
| | The cumulative or Guttman scale |

134
(1)

| | |
| --- | --- |
| | The relationship between attitudinal and measurement scales |

135
(1)
135
(1)

| | |
| --- | --- |
| | Establishing the validity and reliability of a research Instrument |

136
(9)
137
(3)
138
(2)

| | |
| --- | --- |
| | The concept of reliability |

140
(3)

| | |
| --- | --- |
| | Factors affecting the reliability of a research instrument |

140
(1)

| | |
| --- | --- |
| | Methods of determining the reliability of an instrument |

141
(2)
143
(2)
Step IV Selecting a sample
145
(22)
147
(20)
148
(1)
149
(1)
149
(2)

| | |
| --- | --- |
| | Factors affecting the inferences drawn from a sample |

151
(1)

| | |
| --- | --- |
| | Aims in selecting a sample |

152
(1)
152
(12)

| | |
| --- | --- |
| | Random/probability sampling designs |

154
(6)

| | |
| --- | --- |
| | Non-random/probability sampling designs |

160
(2)

| | |
| --- | --- |
| | The `mixed' sampling design |

162
(2)

| | |
| --- | --- |
| | The calculation of sample size |

164
(2)
166
(1)
Step V Writing a research proposal
167
(20)

| | |
| --- | --- |
| | Writing a research proposal |

169
(18)
170
(1)

| | |
| --- | --- |
| | The preamble/introduction |

171
(2)
173
(1)

| | |
| --- | --- |
| | The objectives of the study |

173
(3)

| | |
| --- | --- |
| | The hypotheses to be tested |

176
(1)
177
(1)
178
(1)
179
(1)
179
(1)
180
(2)
182
(1)
183
(1)
184
(1)
184
(1)
184
(3)
Step VI Collecting data
187
(10)

| | |
| --- | --- |
| | Considering ethical issues in data collection |

189
(8)
190
(1)
191
(1)

| | |
| --- | --- |
| | Ethical considerations concerning research participants |

192
(2)
192
(1)
192
(1)
193
(1)

| | |
| --- | --- |
| | Seeking sensitive information |

193
(1)

| | |
| --- | --- |
| | The possibility of causing harm to participants |

193
(1)

| | |
| --- | --- |
| | Maintaining confidentiality |

194
(1)

| | |
| --- | --- |
| | Ethical issues relating to the researcher |

194
(1)
194
(1)

| | |
| --- | --- |
| | Provision or deprivation of a treatment |

194
(1)

| | |
| --- | --- |
| | Using appropriate research methodology |

195
(1)
195
(1)
195
(1)

| | |
| --- | --- |
| | Ethical considerations regarding the sponsoring organisation |

195
(1)

| | |
| --- | --- |
| | Restrictions imposed by the sponsoring organisation |

195
(1)
196
(1)
196
(1)
Step VII Processing data
197
(44)
199
(26)
200
(2)
202
(17)
203
(11)
214
(1)
214
(5)
219
(1)

| | |
| --- | --- |
| | Developing a frame of analysis |

219
(2)
219
(1)
220
(1)

| | |
| --- | --- |
| | Constructing the main concepts |

221
(1)
221
(1)
221
(1)

| | |
| --- | --- |
| | The role of computers in research |

222
(1)

| | |
| --- | --- |
| | The role of statistics is research |

223
(1)
224
(1)
225
(16)
226
(4)
226
(2)
228
(1)
229
(1)
230
(10)
231
(2)
233
(1)
233
(1)

| | |
| --- | --- |
| | The 100 per cent bar chart |

233
(1)
234
(2)

| | |
| --- | --- |
| | The cumulative frequency polygon |

236
(1)

| | |
| --- | --- |
| | The stem-and-leaf display |

237
(1)
237
(1)

| | |
| --- | --- |
| | The line diagram or trend curve |

238
(1)
238
(1)
239
(1)
240
(1)
Step VIII Writing a research report
241
(10)

| | |
| --- | --- |
| | Writing a research report |

243
(8)

| | |
| --- | --- |
| | Research writing in general |

244
(1)
244
(1)
245
(1)
245
(2)
247
(2)
249
(2)
Appendix
251
(18)
References
269
(4)
Index
273