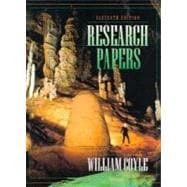 Questions About This Book?
What version or edition is this?
This is the 11th edition with a publication date of 1/1/1999.
What is included with this book?
The New copy of this book will include any supplemental materials advertised. Please check the title of the book to determine if it should include any CDs, lab manuals, study guides, etc.
Summary
Research Papers was the FIRST research manual for freshmen and continues to be a leading text for teaching techniques and current practices in research documentation. This spiral-bound worktext is structured to correspond to the step-by-step process of writing research papers, from initial research to the final proofreading. The text demonstrates the use of both print and electronic sources, including more than 50 examples of proper documentation. Discussions of computer catalogs, the Internet, and CD-ROM bring students up-to-date on the most recent innovations in library research techniques. While stressing MLA style throughout, this text also discusses APA style in depth, including a sample paper in that style. The major chapters contain exercises to reinforce their most important points, and the bibliography provides students with reliable reference sources in 24 different fields.
Table of Contents
To the Instructor
vii
(6)
To the Student
xiii
1
(26)
1
(1)
2
(1)

| | |
| --- | --- |
| | Making Preliminary Decisions |

2
(2)
4
(2)
6
(4)
10
(3)
13
(1)

| | |
| --- | --- |
| | Recording Possible Sources |

14
(6)
20
(3)

| | |
| --- | --- |
| | Exercise A: Preliminary Decisions |

23
(2)
25
(2)

| | |
| --- | --- |
| | 2 Learning Library Procedures |

27
(26)
27
(1)
28
(8)
36
(1)
37
(7)
44
(7)

| | |
| --- | --- |
| | Exercise C: Exploring the Library |

51

| | |
| --- | --- |
| | 3 Using Basic Reference Sources |

53
(24)
53
(3)
56
(9)

| | |
| --- | --- |
| | Listings of Both Books and Articles |

65
(10)

| | |
| --- | --- |
| | Exercise D: Searching Reference Works |

75
(2)

| | |
| --- | --- |
| | 4 Finding, Evaluating, and Recording Material |

77
(24)
77
(6)
83
(1)
84
(1)

| | |
| --- | --- |
| | Using Sources Efficiently |

85
(1)
86
(4)
90
(5)
95
(2)

| | |
| --- | --- |
| | Exercise E: Differentiating Fact and Opinion |

97
(2)
99
(2)

| | |
| --- | --- |
| | 5 Constructing Your Outline |

101
(24)
101
(4)
105
(3)
108
(2)

| | |
| --- | --- |
| | Examples of Formal Outlines |

110
(5)

| | |
| --- | --- |
| | Exercise G: Classification |

115
(2)

| | |
| --- | --- |
| | Exercise H: Classification: Specific to General |

117
(2)

| | |
| --- | --- |
| | Exercise I: Classification: General to Specific |

119
(2)
121
(2)

| | |
| --- | --- |
| | Exercise K: Analyzing a Faulty Outline |

123
(2)

| | |
| --- | --- |
| | 6 Writing Your First Draft |

125
(20)
125
(2)
127
(5)

| | |
| --- | --- |
| | Managing Borrowed Material |

132
(6)
138
(3)

| | |
| --- | --- |
| | Exercise L: Avoiding Plagiarism |

141
(4)

| | |
| --- | --- |
| | 7 Preparing Your Final Copy |

145
(18)
145
(2)
147
(2)

| | |
| --- | --- |
| | Writing in an Appropriate Style |

149
(8)

| | |
| --- | --- |
| | Proofreading and Revision |

157
(1)
158
(3)

| | |
| --- | --- |
| | Exercise M: Proofreading and Revision |

161
(2)

| | |
| --- | --- |
| | 8 Documenting a Paper: MLA Style (In-Text Citation) |

163
(76)
163
(1)
164
(27)
191
(13)

| | |
| --- | --- |
| | Explanation and Reference Notes |

204
(1)

| | |
| --- | --- |
| | Sample Papers: In-Text Citation |

205
(32)

| | |
| --- | --- |
| | The Edsel: What Went Wrong? |

207
(23)

| | |
| --- | --- |
| | The Losers in "The Lottery" |

230
(7)

| | |
| --- | --- |
| | Exercise N: Listing Sources in Works Cited |

237
(2)

| | |
| --- | --- |
| | 9 Documenting a Paper: Endnotes |

239
(22)
239
(1)
240
(2)

| | |
| --- | --- |
| | Sample Primary Note Forms |

242
(6)
248
(1)

| | |
| --- | --- |
| | Decline and Fall of the Oneida Community |

249
(10)

| | |
| --- | --- |
| | Exercise O: Citing Sources in Endnotes |

259
(2)

| | |
| --- | --- |
| | 10 Documenting a Paper: APA Style |

261
(18)
261
(6)
267
(1)

| | |
| --- | --- |
| | Other Differences between MLA and APA Styles |

268
(1)
268
(1)

| | |
| --- | --- |
| | SIDS: The Need for Counseling |

269
(10)

| | |
| --- | --- |
| | 11 Documenting a Paper: Other Styles |

279
(10)
279
(5)
284
(2)
286
(3)

| | |
| --- | --- |
| | Appendix A Abbreviations and Basic Terms |

289
(8)
289
(3)

| | |
| --- | --- |
| | Library Terms and Abbreviations |

292
(1)
293
(2)
295
(1)
296
(1)

| | |
| --- | --- |
| | Appendix B Specialized Reference Works |

297
(18)
297
(1)
298
(1)
299
(1)
299
(1)
300
(1)
300
(1)
300
(1)
301
(1)
301
(1)
302
(1)
303
(1)
303
(1)
304
(1)
304
(2)
306
(1)
307
(1)
308
(1)
308
(1)
309
(1)
309
(1)
310
(1)
311
(1)
311
(1)
312
(3)
Index
315