Note: Supplemental materials are not guaranteed with Rental or Used book purchases.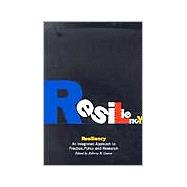 Resiliency : An Integrated Approach to Practice, Policy, and Research
ISBN13:
9780871013507
by
Greene, Roberta R.
Natl Assn of Social Workers Pr
Summary
Resiliency: An Integrated Approach to Practice, Policy, and Research presents a comprehensive and practical framework that integrates social work theory, policy, research, and method to promote resilience-based practice and facilitate its application. It educates readers on successful stress and trauma coping strategies and equips them to build client strengths, adaptation, healing, and self-efficacy. Roberta Greene and her contributors examine theoretical explanations of personal, family, community, and other environmental factors that encourage resiliency and explore lifespan issues that affect client success at the micro, mezzo, and macro levels. This well-timed book provides clear illustrations of resilience-based practice in diverse settings and across social work methods and provides specific intervention strategies at each of these levels. Resiliency is an essential and invaluable text for faculty across the curriculum and for students and practitioners. Special Features * Synthesizes key aspects of resiliency theory and research and applies the concepts to social work practice. * Illustrates resilience-based practice across fields of social work practice using provocative case studies. * Explores answers to critical questions such as what conditions facilitate health and wellness and how people formulate problem-solving strategies.
Table of Contents
About the Editor
p. vii
About the Contributors
p. ix
September 11, 2001
p. xv
Preface
p. xvii
Human Behavior Theory: A Resilience Orientation
p. 1
Basic Assumptions and Terms
p. 29
A Social Construct
p. 63
Methodological Square Pegs and Theoretical Black Holes
p. 95
Listening to Girls: A Study in Resilience
p. 115
Mental Health: A Shift in Perspective
p. 133
Toward a Resilience-Based Model of School Social Work: A Turnaround Mentor
p. 153
Physical Health
p. 171
Surviving Violence: Resilience in Action at the Micro Level
p. 195
Resilience and Violence at the Macro Level
p. 217
Raising Children in an Oppressive Environment: Voices of Resilient Adults
p. 241
Older Adults
p. 277
People with Developmental Disabilities
p. 293
Social Work Policy
p. 321
Glossary
p. 337
Index
p. 341
Table of Contents provided by Syndetics. All Rights Reserved.