Note: Supplemental materials are not guaranteed with Rental or Used book purchases.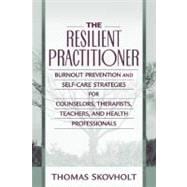 Resilient Practitioner, The: Burnout Prevention and Self-Care Strategies for Counselors, Therapists, Teachers, and Health Professionals
ISBN13:
9780205306114
by
Skovholt, Thomas
Related Products
Summary
B> This title focuses on the work of practitioners in counseling, therapy, teaching, and the health professions. These are all "high-touch" practitioner fields where the quality of the interaction with the client/student/patient is the key to success. To do the work well requires an optimal balance between "other-care" and "self-care." How does one acquire this balance? This book explores elements of this question by describing the joys and hazards of the work, the long road from novice to senior practitioner, the essence of burnout, ways to maintain the professional and personal self, methods experts use to maintain vitality, and, finally, a self-care action plan. Written for counselors, therapists or those in the health professions.
Table of Contents
Preface
ix
Part One

| | |
| --- | --- |
| | Caring for Others versus Self-Preservation: The Great Human Drama |

1
(4)

| | |
| --- | --- |
| | Joys, Rewards, and Gifts of Practice |

5
(6)
6
(1)
7
(2)
9
(2)

| | |
| --- | --- |
| | The Caring Cycle as the Practice Essential |

11
(14)

| | |
| --- | --- |
| | Caring as Central in Counseling, Therapy, Teaching, and Health Careers |

11
(2)
13
(10)
23
(2)

| | |
| --- | --- |
| | The Long, Textured Path from Novice to Senior Practitioner |

25
(30)

| | |
| --- | --- |
| | Thomas Skovholt and M. Helge Ronnestad Thmes in Professional Development |

26
(10)

| | |
| --- | --- |
| | Stages of Practitioner Development |

36
(12)

| | |
| --- | --- |
| | Practitioner Development versus Stagnation |

48
(4)

| | |
| --- | --- |
| | Supervision for Development |

52
(3)

| | |
| --- | --- |
| | The Elevated Stressors of the Novice Practitioner |

55
(21)

| | |
| --- | --- |
| | Introduction: An Innocent Entrance into the Complex Ambiguity of Human Interaction |

55
(1)

| | |
| --- | --- |
| | Trekking with a Crude Map |

56
(6)

| | |
| --- | --- |
| | Acute Need for Positive Mentoring |

62
(3)
65
(3)

| | |
| --- | --- |
| | Intense Evaluation and Illuminated Scrutiny by Professional Gatekeepers |

68
(2)

| | |
| --- | --- |
| | Porous Emotional Boundaries |

70
(2)

| | |
| --- | --- |
| | Ethical and Legal Confusion |

72
(1)

| | |
| --- | --- |
| | Acute Performance Anxiety and Fear |

73
(1)

| | |
| --- | --- |
| | The Fragile and Incomplete Practitionerself |

74
(1)
75
(1)
76
(30)

| | |
| --- | --- |
| | The Difficult Nature of the Work with Clients, Students, and Patients |

77
(6)

| | |
| --- | --- |
| | Managing Major Professional Stressors |

83
(23)

| | |
| --- | --- |
| | Burnout: A Hemorrhaging of the Self |

106
(9)
107
(1)
107
(4)

| | |
| --- | --- |
| | Meaning and Caring Burnout |

111
(4)

| | |
| --- | --- |
| | Codependency: An Idea That Illuminates or Clouds? |

115
(4)
Part Two

| | |
| --- | --- |
| | Balancing Caring for Others and Caring for Self |

119
(5)

| | |
| --- | --- |
| | Losing One's Innocence about the Assertive Need for Self-Care |

119
(2)

| | |
| --- | --- |
| | The Need for More Self-Care at Times of Personal Crisis or Excessive Stress |

121
(3)

| | |
| --- | --- |
| | Sustaining the Professional Self |

124
(22)

| | |
| --- | --- |
| | Sustained by Meaningful Work |

124
(2)

| | |
| --- | --- |
| | Maximizing the Experience of Professional Success |

126
(4)

| | |
| --- | --- |
| | Creating and Sustaining an Active, Individually Designed Development Method |

130
(2)

| | |
| --- | --- |
| | Professional Self-Understanding |

132
(3)

| | |
| --- | --- |
| | Creating a Professional Greenhouse at Work |

135
(3)

| | |
| --- | --- |
| | Using Professional Venting to Release Distress Emotions |

138
(1)

| | |
| --- | --- |
| | The ``Good Enough Practitioner'' |

139
(1)

| | |
| --- | --- |
| | Understanding the Reality of Pervasive Early Professional Anxiety |

140
(2)

| | |
| --- | --- |
| | Increasing Intellectual Excitement and Decreasing Boredom by Reinventing Oneself |

142
(1)

| | |
| --- | --- |
| | Minimizing Ambiguous Professional Loss |

143
(2)

| | |
| --- | --- |
| | Learning to Set Boundaries, Create Limits, and Say No to Unreasonable Helping Requests |

145
144
(2)

| | |
| --- | --- |
| | Sustaining the Personal Self |

146
(17)

| | |
| --- | --- |
| | Constant Investment in a Personal Renewal Process |

147
(1)

| | |
| --- | --- |
| | Awareness of the Danger of One-Way Caring Relationships in One's Personal Life |

147
(1)
148
(14)

| | |
| --- | --- |
| | Summary: Keeping in Focus One's Own Need for Balanced Wellness---Physical, Spiritual, Emotional, and Social |

162
(1)

| | |
| --- | --- |
| | Burnout Prevention and Self-Care Strategies of Expert Practitioners |

163
(24)

| | |
| --- | --- |
| | Mary Mullenbach and Thomas Skovholt Category A. Professional Stressors |

164
(4)

| | |
| --- | --- |
| | Category B. Emergence of the Expert Practitioner |

168
(4)

| | |
| --- | --- |
| | Category C. Creating a Positive Work Structure |

172
(6)

| | |
| --- | --- |
| | Category D. Protective Factors |

178
(3)

| | |
| --- | --- |
| | Category E. Nurturing Self Through Solitude and Relationships |

181
(4)
185
(2)
187
(2)
189
(26)

| | |
| --- | --- |
| | Reflecting on Relevant Ideas in the Book |

189
(14)

| | |
| --- | --- |
| | Assess Your Own Other-Care/Self-Care Balance |

203
(9)
212
(3)
References
215
(12)
Index
227