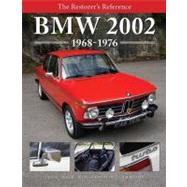 Summary
The 2002 is one of BMW's most successful models of all time. The '02, as it is known by enthusiasts, was produced from 1968 to 1976, with more than 800,000 examples built. A surprising number of these are still on the roads, as the little Bimmer has proven itself a reliable as well as stylish performer.The Restorer's Reference BMW 2002 1968-1976provides restorers, collectors, and enthusiasts all the key information necessary to correctly refurbish these classic German coupes. As the value of these cars continues to rise, it's more important than ever to ensure accuracy in restoration and preservation. From exterior colors to the myriad small details of the engine and interior,The Restorer's Reference BMW 2002 1968-1976covers all of the details that add up to a correct, original car.
Author Biography
James Taylor is a motoring historian and journalist who has written about cars for more than 30 years. His articles have appeared in the classic-car and 4x4 press in numerous countries around the world. Taylor has authored some 80 books on a variety of motoring subjects. James lives in Oxfordshire, England, with his wife and the two youngest of his four children.
Peter Robain was born and raised in the UK. He studied graphics and photography at Hastings College of Art and Design. His photography has appeared in books on nearly every marque imaginable.