Note: Supplemental materials are not guaranteed with Rental or Used book purchases.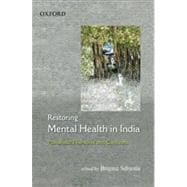 Restoring Mental Health in India Pluralistic Therapies and Concepts
ISBN13:
9780195698756
by
Sebastia, Brigitte
This title is currently not available.
Summary
Mental illness in India is generally considered incurable, inviting stigmatization and exclusion. Despite studies in the field, there is a dearth of exhaustive research on the management of mental health in India. This book fills an important gap in the study of mental illness, the perceptionsconcerning it, and the different approaches towards its management and treatment. The book highlights the importance in the Indian context of alternative therapy including religious therapy, and yoga and ancient ayurveda. Highlighting the 'Indianization' of psychiatry, including psychotherapyfounded on Indian philosophy and the recourse to myth and religious idioms, the book aims to acquaint conventional western practice with the immense scope of alternative techniques and practice in the treatment of mental illness.
Author Biography

Brigitte Sebastia, Researcher in Social Anthropology, French Institute, Pondicherry; and Member, Ecole des Hautes etudes en Sciences Sociales (EHESS), Paris

Brigitte Sebastia is a researcher in Social Anthropology at the French Institute of Pondicherry, and a member of the Ecole des Hautes etudes en Sciences Sociales (EHESS), Paris.

Table of Contents
Preface: Transliteration of Words in Indian Languages1. Brigitte Sebastia: Introduction: Restoring Mental HealthPart I: Restoring Mental Health with Codified Indian Medicine2. O. Somasundaram: Medical, Literate and Cultural Approaches to Mental Disorders in Tamil Nadu3. Nadia Giguere: Dosa, Satvabalam, Genes and Puja-A God for Everything: An Ethnographic Study of a Government Ayurvedic Mental Hospital4. C. Kumar Babu: The Relevance of Yoga and Meditation in the Management of Common Mental DisordersPart II: Restoring Mental Health with Folk Medicines5. Pilar Galiana Abal: When God Heals...Can Darshan be a Therapy?6. Pilar Galiana Abal: Identification with Religious Archetypes: Facing Trauma through Mythological Figures7. Marine Carrin: Women Agency: Recasting Distress in Two Therapeutic Cults of India - Bengal and Karnataka8. Florence Halder: Mythologizing Distress: Possession and Therapy in Balaji Mehendipur - Rajasthan9. Brigitte Sebastia: The Last Resort - (Why Patients with Severe Mental Disorders go to Therapeutic Shrines in IndiaPart III: Restoring Mental Health with Psychiatry10. Pratima Murthy and Sanjeev Jain: Diagnosis and Treatment Approaches at the Asylum in Bangalore11. Jean Nimylowycz: Symbolic Efficacy in the Therapeutic Theatre: Giridrasekhar Bose's Re-elaboration of the Psychoanalytical Corpus12. Renu Addlakha: Gender Blind or Gender Biased?: Culture, Family and Patriarchy in Indian Psychiatry13. Ravinder Lal Kapur: The Community Mental Health: A Critical Approach to the History of DevelopmentNotes on ContributorsIndex