Note: Supplemental materials are not guaranteed with Rental or Used book purchases.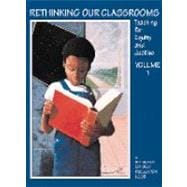 Rethinking Our Classroom : Teaching for Equity and Justice
ISBN13:
9780942961188
by
Bigelow, Bill
Summary
Rethinking Our Classrooms includes creative teaching ideas, compelling narratives, and hands-on examples of ways teachers can promote values of community, justice, and equality -- and build academic skills. Nowhere is the connection between critical teaching and effective classroom practice made clearer or more accessible. A practical guide for teachers K-12, this is a resource book that will be useful for years to come. Widely used in teacher education programs and for staff development.
Table of Contents
4
(4)

| | |
| --- | --- |
| | Creating Classrooms for Equity and Social Justice |

4
(2)
6
(2)

| | |
| --- | --- |
| | POINTS OF DEPARTURE Points of Departure includes a number of readings that exemplify the teaching principles we outline in the Introduction. |

8
(16)

| | |
| --- | --- |
| | Unlearning the Myths That Bind Us |

8
(3)

| | |
| --- | --- |
| | Rethinking "The Three Little Pigs" |

11
(3)

| | |
| --- | --- |
| | 10 Quick Ways to Analyze Children's Books |

14
(2)

| | |
| --- | --- |
| | The Council on Interracial Books for Children |

| | |
| --- | --- |
| | Celebrating the Joy in Daily Events |

16
(1)
17
(2)

| | |
| --- | --- |
| | Taking Multicultural, Anti-racist Education Seriously an interview with Enid Lee |

19
(5)

| | |
| --- | --- |
| | RETHINKING MY CLASSROOM Rethinking My Classroom includes our "core" articles. At various grade levels and disciplines, five teachers offer concrete examples of how a social justice curriculum transformed their classroom practice. |

24
(44)

| | |
| --- | --- |
| | Race and Respect Among Young Children |

24
(5)
29
(1)

| | |
| --- | --- |
| | Teaching for Social Justice: One Teacher's Journey |

30
(4)

| | |
| --- | --- |
| | The Challenge of Classroom Discipline |

34
(4)

| | |
| --- | --- |
| | Songs that Promote Justice |

38
(1)
39
(1)

| | |
| --- | --- |
| | The Complexities of Encouraging Social Action |

40
(2)
42
(2)

| | |
| --- | --- |
| | Tapping Into Feelings of Fairness |

44
(5)
49
(1)

| | |
| --- | --- |
| | Building Community from Chaos |

50
(6)
56
(2)
58
(8)
66
(2)

| | |
| --- | --- |
| | TEACHING IDEAS How do we prompt students to watch TV critically? How can we use math to unmask social inequities? Teaching Ideas provides a variety of classroom-tested activities that illustrate themes woven throughout the book. |

68
(58)

| | |
| --- | --- |
| | Using Pictures to Combat Bias |

68
(2)

| | |
| --- | --- |
| | My Mom's Job Is Important |

70
(3)

| | |
| --- | --- |
| | "My Father Was A Musician" |

73
(1)

| | |
| --- | --- |
| | There's More to Heroes Than He-Man |

74
(1)
75
(1)

| | |
| --- | --- |
| | Bringing the World into the Math Class |

76
(3)

| | |
| --- | --- |
| | "Dream Voyage to the Center of the Subway" |

79
(1)
80
(2)

| | |
| --- | --- |
| | Talking Back to TV Commercials |

82
(1)

| | |
| --- | --- |
| | Looking Pretty, Waiting for the Prince |

83
(1)

| | |
| --- | --- |
| | Math and Media: Bias Busters |

84
(2)

| | |
| --- | --- |
| | What Do We Say When We Hear `Faggot'? |

86
(2)

| | |
| --- | --- |
| | The Organic Goodie Simulation |

88
(3)

| | |
| --- | --- |
| | "Questions from a Worker Who Reads" |

91
(1)

| | |
| --- | --- |
| | World Poverty and World Resources |

92
(2)

| | |
| --- | --- |
| | Math, Equity, and Economics |

94
(2)

| | |
| --- | --- |
| | Taking the Offensive Against Offensive Toys |

96
(1)
97
(1)
98
(4)
102
(1)

| | |
| --- | --- |
| | What Can Teachers Do About Sexual Harassment? |

103
(3)

| | |
| --- | --- |
| | Flirting vs. Sexual Harassment: Teaching the Difference |

106
(2)
108
(1)

| | |
| --- | --- |
| | Celebrating the Student's Voice |

109
(1)

| | |
| --- | --- |
| | Promoting Social Imagination |

110
(2)
112
(2)

| | |
| --- | --- |
| | Role Plays: Show, Don't Tell |

114
(3)

| | |
| --- | --- |
| | Testing, Tracking, and Toeing the Line: A role play on the origins of the modern high school |

117
(9)

| | |
| --- | --- |
| | RETHINKING OUR ASSUMPTIONS The articles in Rethinking Our Assumptions are filled with insights from teachers, scholars, and researchers on issues ranging from cultural differences between students and teachers to biases in children's literature. |

126
(36)

| | |
| --- | --- |
| | Expectations and `At-Risk' Children |

126
(1)

| | |
| --- | --- |
| | Teachers and Cultural Styles |

127
(2)

| | |
| --- | --- |
| | The Pigs: When Tracking Takes Its Toll |

129
(1)

| | |
| --- | --- |
| | Seeing Color: A Review of White Teacher |

130
(3)

| | |
| --- | --- |
| | "Face the Facts: We're Not That Bad" |

133
(1)
134
(2)

| | |
| --- | --- |
| | "Rebellion Against the North Side" |

136
(1)

| | |
| --- | --- |
| | The Politics of Children's Literature |

137
(4)

| | |
| --- | --- |
| | "The Funeral of Martin Luther King, Jr." |

141
(1)

| | |
| --- | --- |
| | Whose Standard? Teaching Standard English |

142
(4)

| | |
| --- | --- |
| | Thoughts on Teaching Native American Literature |

146
(4)

| | |
| --- | --- |
| | Why Students Should Study History an interview with Howard Zinn |

150
(7)

| | |
| --- | --- |
| | "In Memory of Crossing the Columbia" |

157
(1)

| | |
| --- | --- |
| | Students as Textbook Detectives |

158
(2)

| | |
| --- | --- |
| | "To the Young Who Want to Die" |

160
(2)

| | |
| --- | --- |
| | BEYOND THE CLASSROOM Beyond the Classroom connects innovations in classroom practice with strategies for broader change, drawing on examples from around the country to identify possibilities and dangers. |

162
(22)

| | |
| --- | --- |
| | Why We Need to Go Beyond the Classroom |

162
(5)
167
(1)

| | |
| --- | --- |
| | Forging Curriculum Reform Throughout a District |

168
(3)

| | |
| --- | --- |
| | Why Standardized Tests Are Bad |

171
(5)

| | |
| --- | --- |
| | Detracking Montclair High |

176
(2)

| | |
| --- | --- |
| | Tracking: Why Schools Need To Take Another Route |

178
(4)
182
(2)

| | |
| --- | --- |
| | TEACHING GUIDE/RESOURCES The Teaching Guide/Resources section includes curricula, books, videos, journals, and organizations that have been useful in constructing classrooms for social justice. Here, we also offer teaching ideas for using the Poetry included in this volume. |

184
184
(3)
187
(4)

| | |
| --- | --- |
| | Books to Empower Young People |

191
(5)
196