Note: Supplemental materials are not guaranteed with Rental or Used book purchases.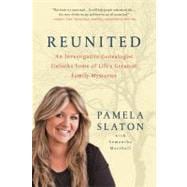 Reunited An Investigative Genealogist Unlocks Some of Life's Greatest Family Mysteries
by
Slaton, Pamela
Questions About This Book?
What version or edition is this?
This is the edition with a publication date of 5/8/2012.
What is included with this book?
The New copy of this book will include any supplemental materials advertised. Please check the title of the book to determine if it should include any CDs, lab manuals, study guides, etc.
Summary
In this poignant and heartwarming narrative, renowned genealogist Pamela Slaton tells the most striking stories from her incredibly successful career of reconnecting adoptees with long-lost birth parentsReunited follows the tradition of Ann Fessler's classic, The Girls Who Went Away, telling the riveting stories of the most powerful cases in Pamela Slaton's long career as an investigative genealogist. After founding her own practice, and using a never quit policy to get around restrictive state laws, Pam has been able to locate 90% of her clients' missing relatives. She has witnessed incredible, tough, life-affirming reunions, and now shares these in her own honest, unforgettable voice.Pam has worked with and helped all types of clients, from the identical twins separated at birth, unknowingly part of a secret study on development, to Darryl McDaniels of Run DMC, who was the first client Pam worked with on camera. Perhaps her most important story is her own: after a traumatizing reunion with her birth mother, she realized that she wanted to help other adopted children have happier reunions. Reunited is a collection of these storiesboth the highlights of a career and life-affirming moment that teach and inspire.
Author Biography
Pamela Slaton is known as a miracle worker by the nearly three thousand adoptees she's helped. After founding her own practice and using a never-quit policy to get around restrictive state laws, she has been able to locate 90 percent of her clients' missing relatives, and has earned a reputation as one of the country's leading investigative genealogists. She helped Darryl "DMC" McDaniels find his birth parents on VH1's Emmy Award-winning documentary My Adoption Journey, and now facilitates powerful reunions from start to finish on her Oprah Winfrey Network show, Searching For Pamela lives in New Jersey with her family. Visit her online at www.pamelaobr.com.
Table of Contents
Praise for Reunited:
"Pam has created a wonderful and gripping collection of heartfelt stories - bringing you along as she reunites people separated in life by adoption or other circumstances. Finding my birth mother was life changing in so many ways – Pam and her life's work will inspire everyone to reach for the truth." – Cathy Konrad, Golden Globe Award-winning Producer (Walk the Line)
"Reunited is a powerful, page-turning account of Pam's incredible work …. With Pam on your side the door can open, the secrets dissolve. I can't imagine my life without ever knowing the truth of my birth situation. No one starts a book on chapter two – Pam helped me have my chapter one, and for that I am eternally grateful." – Sheila Jaffe, Emmy-award-winning casting director (The Sopranos)
Excerpts
CHAPTER ONE
 
A Searcher Is Born
 
 
It was a conversation I'd been waiting to have my whole life. For my thirtieth birthday, my husband, Mike, hired a private investigator, and in five days this man did what I hadn't been able to do in fourteen years. He found my birth mother. I finally had a name, a number, and an address for this elusive woman. There was no doubt.
When Mike called me from work with the contact details, he made me promise not to call until he got home. He should have known better. "Yeah, yeah, sure, babe, don't worry. I promise I'll wait," I told him, my fingers itching to start dialing as soon as I got him off the phone. My heart was racing. Meanwhile, my mother-in-law was hovering. She knew what I was up to and she had a bad feeling.
"Why don't you look happy for me?" I asked her.
"Because I'm worried; I don't want to see you get hurt."
"It'll be fine. If she's anything like me, she'll be thrilled to get this call."
I picked up the phone and dialed, but the person who answered—presumably my half brother—told me she was at the supermarket. I tried again later and got my half sister, who told me she was still out. I was on tenterhooks. I couldn't get over the fact that I had a brother and sister, and I'd just talked to them for the first time, although they had no idea who I was.
I waited for another interminable hour. Finally, on my third try, my birth mother answered the phone. We'll call her Priscilla.
"Yeah? Who is this?"
"Hello, Priscilla. My name is Pamela Slaton. I was born on February 23, 1964, under the name of Wade, then given up for adoption. I recently found out that I am your daughter."
"No, you're not. And you should never have called me!"
"Yes, I am. I have documented proof that you are my birth mother. It's true."
"Oh no, I'm not!"
"Oh yes, you are!"
"No! I am NOT!"
This back-and-forth continued for a while. Priscilla was tough. She grew up in the Bronx and had that thick accent of the streets. But I grew up in Queens and could be just as tough. Not that I felt strong. It was really just my defense mechanism kicking in. The last thing I expected was to be denied by my own flesh and blood, and I was stunned. So I resorted to being a wiseass.
"Listen, Priscilla, we can do this now, over the phone, or I can get in my car and be on your doorstep in three hours. Which would you prefer?"
"You just stay away from me, you hear? Okay, yeah, I may be your biological mother, but I never cared about you or gave you a second thought in all these years. I don't know what you want from me."
"You know what, Priscilla? It's cool. It's fine. Just tell me who my father is and I'll go away."
"You want to know who your father is? Sure, I'll tell you who your father is. Your father was my father. I hope you enjoy knowing that."
Then she slammed down the phone, and my whole world turned upside down. I never saw it coming. I'd been so sure Priscilla would be overjoyed to hear from me. Instead, I felt like I'd had my teeth kicked out. The room was spinning and I literally saw black and white dots, as if the cable had gone out on an old TV set in my head. The woman I'd been searching for and dreamed of meeting ever since I could remember had flung this horrifying information at me as if it were a poison dart, and her aim was dead-on. It pierced right through my chest.
The next day, I was scheduled to have gallbladder surgery. Like an idiot, I went through with it. The doctors expected me to be out of recovery in an hour, but it took seven hours. They couldn't lower my heart rate. Every time I came to, I'd remember the conversation from the night before and get slammed with an anxiety attack. A nurse came out of the waiting room and told my husband she was concerned that my vital signs still weren't stable. She asked him if I'd been traumatized in any way recently, and he told her what had happened.
"Well, that would do it," she said.
Obviously, I survived. But now I understand what people mean when they say you can literally die of a broken heart. I almost did.
CHILDHOOD FANTASY
I was about three years old when I first thought about searching for my birth mother. Becoming a searcher for adoptees and their birth relatives is something I was born to do. My aunt has told me she remembers that I said, "I am going to find that woman." I kept saying it over and over. She asked me, "What woman?" Then it dawned on her who I meant.
I never discussed this with my parents. Even as a child, I instinctively knew it would hurt them. My desire to find my birth mother was in no way intended to be a slight against my mother and father. No blood relation could ever replace the people who loved me and raised me. I was brought into a loving middle-class home in the suburbs. My dad was a funeral director and my mother was a stay-at-home mom. I had an older brother, who was also adopted. If anything, we were made to feel even more special that we had been "chosen." Because of the positive way my parents framed it for me, I was actually proud of the fact I was adopted. My poor mom was mortified when, as a toddler, I'd blurt out this fact of my existence to any random person who came within earshot. I was adopted and proud of it.
Don't misunderstand me. It's always been very clear in my mind that the Monaci family, who raised me, is my real family. I was brought up by the most incredible, loving, wonderful parents. None of us was tied by blood, but that didn't matter. Love, loyalty, and honesty were our bond, and it was much bigger than sharing someone's DNA.
My mom married my father, Ron, at nineteen. My dad suffered many illnesses during their marriage. They could not have biological children because, as a young child, my father had suffered a devastating injury that forced him to undergo repeated exposure to radiation. All those X-rays made him sterile. Dad actually had undiagnosed lupus and spent most of his life suffering from the many side effects of this disease. When I was five years old, a blood clot almost took his life, and I remember a feeling of overwhelming terror at the thought of losing this great man. As if seeing my father suffer from one health crisis after another was not enough, my brother, Ronnie, was diagnosed with bone cancer at the tender age of nineteen. My mother was a soldier at my brother's side as she struggled to do whatever possible to nurture him back to health. We supported each other through the greatest of hardships, and we survived them together.
I learned from my parents the true meaning of family as we sat down to a dinner that my mom had on the table by 5:00 P.M. sharp every evening. It was our chance to talk about our day and just check in with the people who cared about us the most. I felt secure and safe. My parents were best friends who helped each other through every obstacle in their lives. My brother and I were raised in a God-fearing family and were sent to private school for our early education. We went to church every Sunday and arrived home to await the arrival of our grandparents (my dad's parents), who were Italian and brought with them all of my favorite foods—meatballs, manicotti, cannoli. I gain weight just thinking about it! Our extended family dined together every Sunday. Our grandmother smothered us with kisses (we called her "the Octopus"), and our grandfather, who chain-smoked Lucky Strike cigarettes, squeezed our noses with his tobacco-stained fingers. These were good, hardworking people who taught me the meaning of the wordintegrityand gave me all the unconditional love I could ever have asked for. It was a great foundation.
But this yearning to find the woman who gave me life was so fundamental that I couldn't switch it off. I think this is true for most adoptees. Think of all those millions of people who are fascinated with their family ancestry, and then multiply that obsession by a factor of a thousand. It's something primal. There's so much that our immediate blood relatives can tell us about ourselves. This need to connect is especially intense when it comes to our birth mothers. It's an organic bond that's always there. You were in this person's womb. No matter what happens, you are her flesh and blood, and it will always feel like a piece of you is missing without her acknowledgment.
That feeling stays close to the surface your whole life. In school, I always wanted to be a writer, and when I was fifteen, I wrote a haiku that went something like this:
THE RING
It sat glistening at the bottom of the ocean
Forever lost
Cast away uncaringly
As he cast away her
Of course, it was about my birth parents, or how I'd imagined them to be. You create so many scenarios in your head about what happened and the circumstances that led to your being given up for adoption. Until you know the real answers, it never stops.
THE FIRST STEP
At sixteen, my best friend took me into Manhattan to visit the agency that had handled my adoption, Spence-Chapin. She bought me a teddy bear at Lord & Taylor, we had lunch, and then we went to the place where it all began. I was turned away almost immediately and told to come back when I was eighteen. But I stayed in the lobby for a few minutes to take it all in—the furniture, the shabby wallpaper, everything. There was something almost mystical about that spot, because I knew it was the last place I'd been with my birth mother, and the first location where I met my parents. Of course, I had been just a baby at the time, but I tried so hard to remember what it had been like. Being in those offices just fueled my desire to learn even more, and the minute I turned eighteen, I was back again.
The agency finally gave me what's called "non-identifying information." I learned that my birth mother was young, only sixteen, when she surrendered me for adoption. The agency described her as five eight, with almost model-like good looks. She had blond hair and blue eyes, she was well spoken, and she was clearly in love with the man presumed to be my father. He was described as handsome, twenty years old, very tall—six five—with dark blond hair and green eyes, and of Italian descent. The agency told me my mother had considered herself a foster child because she wasn't raised by her own parents and was separated from her brother and her sister, but she didn't know why. She was young and unable to raise a child on her own, but she seemed reluctant to give me up. The agency severed her legal ties to me only after she failed to show up for two appointments with one of the agency's social workers.
This made me all the more determined to find her. It was no longer about me. I felt sad for my birth mother and I wanted to know that she was okay, and to let her know that I was fine and I'd had a good life. But over the years, I kept getting stonewalled. I'd pick up scraps of information here and there, think the trail was getting hot, then hit a dead end. Few states have embraced open adoptions, which were unheard of at the time I was born. People in a position to tell me what I needed to know were legally bound not to. All they could do was offer a few murky clues. I finally found out that my birth name was Wade, something my adoptive mother later told me she had known all along, because it was on my adoption papers. (She wasn't exactly supportive of my search. I guess she was afraid I'd get hurt, or that she'd lose me.)
Most adoptees who search go through this stop-and-start process. You pick it up, you put it down, and then you pick it up again. Life and the need to earn a living tend to get in the way. The search can take an emotional toll, and it's all too easy to get obsessive about it, but you can't live like that.
In the interim, I had married my childhood sweetheart, Mike, moved to Nassau County, on Long Island, begun a career in real estate, and started a family. It wasn't until after my father died and my second little guy was born that we had the breakthrough on Priscilla's name and location (and my world came to a crashing halt).
FROM FANTASY TO REALITY
The months following my initial contact with my birth mother were hell. I'd never experienced anxiety before, but that year I went through all the symptoms—insomnia, jitters, depression—on a regular basis. I felt insecure, and I withdrew from my friends and family. One time, I even had a panic attack at the supermarket. The thought that I could be the product of incest made me feel dirty. The idea that a human being could do that to his own child, and that I shared his DNA, shook me to my core. Not to mention my fear for the health of my children. What were the medical complications from incest? I didn't know what this meant.
This spurred me on to search even harder. I decided to fight for my identity and regain a sense of who I was. I knew I had some half brothers and sisters to find, as well as a birth father. When we got home from the hospital after my surgery, one of the first things I did was load our babies into the back of the car and get Mike to drive me to the town where Priscilla had lived her whole life. I remember distinctly that Bon Jovi was blasting on the car stereo, which my husband cranked up to distract me from the pain. My stomach was stapled up from the surgery two days before, but no one could convince me to stay home and rest. When we got to this town, I went immediately to the local library, so that I could look at my half siblings' pictures in their high school yearbooks. I wasn't ready to reach out to them. I couldn't take another rejection. I just needed to see them and know that they existed.
FROM BACK TO FRONT
But first, I had some healing to do. What I didn't know at the time I found Priscilla was that you need to prepare yourself. People join support groups, read books, and spend years researching what can happen before they make that phone call. But I've always had a tendency to dive in headfirst. I did everything backward. I joined every adoption organization I could find only after I'd found Priscilla. I needed to find other adoptees who understood what I was going through. I couldn't stand to be alone in this a minute longer.
I made a ton of new friends. Aside from my brother, Ronnie, who'd had no desire to search when we were growing up, I knew no other adoptees. Suddenly, I was relating to people on a level I never had been able to before. This opened up a whole new world for me. I became instant pals with some women who'd also been searching. We started socializing and had girls' weekends away in the Hamptons. I was like their social director. They shared their stories with me, and I shared mine with them, and although there were some other disaster stories, no one was able to top what had happened to me.
During this time, I met a woman who threw me a lifeline—I'll call her Lydia. Lydia cofounded a group that ran meetings in various homes and public places. The organization had a 1-800 number and took calls from all over the United States from adoptees and birth parents looking for one another. I found this group within a couple of months of my reunion fiasco and started going to its meetings as well. A mutual friend from the adoption groups introduced me to Lydia, and the friendship was instant.
Lydia was older and wiser than I was in matters of adoption searches, and she immediately took me under her wing. I called her relentlessly to pick her brains about the process of finding birth relatives. We spent hours on the phone. I was looking for my own family and still honing my search skills, and Lydia was generous in opening up her bag of tricks to me. Besides pointing me to useful resources for information, one of the most valuable lessons she taught me was to trust my gut.
As we got to know each other, I opened up more about my disastrous contact with my birth mother. It wasn't something I necessarily wore on my sleeve—I tend to come across as this outgoing, ballsy woman, but inside I felt fragile. I told Lydia I wanted to find my father, because I needed to know if what Priscilla had said was a lie. Lydia was adamant: "That's total BS, what she told you. There is just no way!"
It was just what I needed to hear. When I told that story to some other adoptees, I could see the pity and embarrassment in their eyes, and that just made me feel worse. But Lydia's indignant reaction came as a relief, and I was inclined to believe her. Lydia had seen these situations play out time and again, and she knew all the signs of denial, guilt, and resentment. Lydia had witnessed dozens of bad reunions over the years, although she admitted mine was probably the worst. She could see my own obstinate nature being reflected back at me tenfold by my birth mother, and she was certain it was another case of someone pushing back hard to make the uncomfortable truth disappear. It was just Priscilla's way of making sure I didn't go poking around in that hornet's nest. Little did she know the child she had given birth to.
THE ROOKIE YEARS
Word among the other adoptees spread that I was getting good at searching on my own behalf, and they started asking me to help them, as well. I soon teamed up with Lydia and another friend, Nanette. Together, we solved some of the toughest adoption cases. It was the most fun I've ever had in my career as a searcher.
On one occasion, we helped Carol—a nice girl from Long Island who knew absolutely nothing about herself, not even her birth name—by trolling the churchyards of the Deep South. This girl was a riot. We did some searching through the records and learned that she was born Desiree Fender. That wasn't exactly what she was expecting.
"What kind of fucked-up name is that?" she said.
"And we found your father. His name is Rusty!" one of us said, teasing her.
Our search for her birth family took us to a graveyard somewhere in the rural South. For some reason, there were no paper records on the deceased, so I called the church, asking if someone could read off the information on a gravestone, and I got this guy on the phone whom I could barely understand.
"Oh, they done took Junior outta here," the local grave digger told me. "Headstone an' all."
"Huh? Someone robbed the grave?"
"No, ma'am. The family moved out of state and they took Junior with 'em."
Someone had actually dug up his relative's body and loaded it on the back of a pickup truck to relocate it to another churchyard hundreds of miles down the interstate. Apparently, that's how they do it in the South. Lydia and I were in tears, we were laughing so hard. (Luckily, our client shared our warped sense of humor.) We finally located the new resting place and, through Junior, we found a connection to Carol's birth mother. This person was able to tell us that, a few years earlier, Carol's mother had been knocked off her motorcycle and killed in a highway accident. It was sad news, but it gave Carol the answers about her identity she'd been looking for, however bizarre.
One of my favorite search stories from those early years is about a family of bagel makers from Long Island. They'd been looking for their long-lost son for decades. At just seventeen, the parents were kids themselves when they gave up their firstborn. A few years later, they married and started having more kids—a family that was planned this time. But they'd always regretted their earlier decision, even though their circumstances had given them no choice. They put up a plaque over the counter of their bagel shop with their son's birth date, hoping one day he'd walk in and find them. In the reunion of their fantasies, a young man sharing their DNA would walk in and order a dozen sesame and poppy mixed, then recognize his date of birth on the wall and ask its meaning. Of course, it never happened.
As adults, their kids found out about their eldest sibling and spent thousands on specialist searches, but they got nowhere. Then, about fourteen years ago, I met their mother at an adoption support group meeting and she asked if I could help her. (All members of the adoption triad—the birth parents, adoptees, and adoptive parents—show up at these support groups.) One of her sons ended up hiring me, but there was next to no information to work with. It was a private adoption, and with no agency involved, the search became that much harder.
But Lydia had one of her flashes. She calls herself the "Psychic Detective." Sometimes she just pulls information out of the ether. She saw the initials M.S. flash in front of her, and used that to try to find a match among the thousands of names on her database. She narrowed it down to a likely candidate and passed the name on to me. I located the man and spoke to his wife on the phone, who confirmed he was adopted. I managed to convince him to come to Long Island to meet his brother. I still had doubts if this was the right guy, but they vanished the minute this guy walked into the Italian restaurant where we were meeting. My client was convinced. "With a schnoz like that, there's no question he's one of us!" he told me.
GETTING MY CHOPS
Those early years with Lydia and Nanette were the best training a budding searcher could ask for. We were like machines, we cracked so many cases together. Word was starting to spread and we ended up on a popular WKTU radio show out of Jersey City with "Goumba" Johnny and "Hollywood" Hamilton. They had a huge audience of three million listeners in the tristate area, so the pressure was on. People started faxing in their stories, and we were inundated. We had to handpick the cases we could crack at warp speed. It was Valentine's Day and we had to hold live reunions on the four-hour radio-show, broadcast from Manhattan's Tavern on the Green. We ended up solving about a dozen cases in five days, which was unheard of.
Obviously, Lydia taught me well, because my inner voice, along with some old-fashioned sleuthing, was coming in handy. Lydia may think we have some kind of psychic power, but I'm not quite that mystical. Let's just call it good instincts. Then again, there've been moments on this journey that have given me pause and made me wonder if there isn't more to Lydia's brand of spiritualism. About fourteen years ago, Lydia invited a psychic friend of hers from Flushing over to her house on Long Island. We were each allowed to ask her three questions. I didn't really know what to ask her, but she told me I would have a career on television one day. Afterward, I remembered meeting the same woman when I was a teenager, and she had told me the same thing. Maybe she really did see something, because years later I finally did get my show on Oprah's new network. But where I am now all started with my friendship with Lydia, and the lessons she taught me.
OTHER ANGELS
There were many other people who helped me along my path as a searcher, often from some surprising places. I'll be forever grateful to Katherine Boros, a Holocaust survivor who knew she was dying and that her adoption agency was closing. After undergoing dialysis, she dragged herself to her office daily to continue to provide non-identifying information for as many people as she possibly could. Before her death, she contacted several other agencies to let them know that she felt I was ethical and effective at my job and to ask them if they would consider referring me to anyone who needed the services of a professional searcher. Katherine understood firsthand what it was like to lose loved ones and, as a result of her experience, she was sympathetic to those who were searching. She had no one to help her track down her own surviving family members after the war. She taught me that even after enduring her own cruel life experience, she still had limitless reserves of compassion for others.
She was especially helpful in one particular case. Paula Bernstein and Elyse Schein were twin girls born in New York City in 1969. Unknowingly, Bernstein and Schein had been part of a secret research project in the 1960s and 1970s that separated identical twins as infants and followed their development in a one-of-a-kind experiment to assess the influence of nature versus nurture in child development. It was the only study of its kind on twins who had been separated from infancy.
The families had been told they were part of an ongoing study. But neither the parents nor the children knew the real subject of the study—or that the children involved had been separated from their identical twins. They were literally human lab rats. The researchers saw it as the perfect science experiment. If they had kept the twins together, they would have mirrored each other. Separating them was a surefire way of determining whether there really was a natural, genetic tendency for identical twins to dress alike, think alike, and act alike. It was an appalling way of messing with children's lives. This was before 1981, when New York State changed its adoption laws to ensure that siblings would be kept together when they were adopted.
The idea of using human beings in a scientific experiment was too horrifyingly reminiscent of Katherine's past in Nazi Germany. She couldn't live with that knowledge without doing something about it, so she became instrumental in joining Paula and Elyse together by notifying them individually of the fact that each had been born a twin. When Katherine passed away, the adoption community lost a great humanitarian.
I feel privileged to have been a part of these incredible stories. For those of us who search for a living, solving these cases becomes a personal mission. I know that every time I can make a successful reunion happen, there's a level of satisfaction that goes beyond professional pride. It heals me. Through other adoptees, I get to experience the emotional resolution that I was denied. Each successful case completes me.
MEANT TO BE
I never had the reunion of my childhood fantasies. My contact with Priscilla was an introduction to the dark side of the human heart, and it robbed me of the closure I'd yearned for my whole life. What I did get, however, was a career. As I continued to hunt relentlessly for my own blood relatives, I got pretty deft at the kind of research work it takes to negotiate through all those records. I was tenacious. Lydia's intuition and my own process of trial and error taught me how to ask the right questions, and to intuit what a particular set of circumstances could mean. The compassion and kindness of strangers gave me the lucky breaks I needed along the way.
I found my calling, and for that, I will be forever grateful. Even though I didn't have a happy reunion with my own birth mother, being able to give that to other adoptees has become my passion. I'm good at this—damn good. Because my own search was so difficult, there isn't a single road that my clients are going down that I haven't already walked myself. I know what they are thinking and feeling. I've been through the whole roller coaster of emotions, and I can guide them about what to expect, and how to prepare for what's next. This isexactlywhat I was meant to do.
 
The Lesson: Be Prepared
Don't assume that the person you are looking for is going to be the carbon copy of what you think and want. We, as adoptees, assume the people we are looking for, because they are genetically related, are going to be just like us. We have to take a step back and consider that the person we are looking for may not want to be found. We also have to realize that we may not like the person we find. Ultimately, you are who you are, regardless. Your genetics do not define you. So look, hope for the best, but make sure you are prepared for any outcome, good or bad.
I learned this the hard way. Not only was my birth mother not like me, I never even entertained the possibility that I could dislike her. When you search for someone your whole life, believing they will be just like you and they are not, it leaves you reeling. You wonder where you fit in.
Sadly, Priscilla has never been able to get past the pain of rejection in her own life. I had imagined that giving me up was one of the most painful experiences she had ever endured, and I'd hoped that I would be able to assure her that she had made the right decision and that I was okay and grateful. But emotionally, she was in a much different place. I was searching for the superpower version of Pam—a woman who would be everything I wanted to grow up to be. I was not searching for a replacement of my adoptive mother. I was really looking for a piece of myself, and what I learned is that strength and identity was partly DNA but mostly came from love and nurturing by my adoptive family.
Had I not plunged into the search headfirst, I would have had that perspective, and it might have cushioned the blow. So do your homework, educate yourself on the process, be prepared for any outcome, and make sure you have an excellent support system.


 
Copyright 2012 by Pamela Slaton