Note: Supplemental materials are not guaranteed with Rental or Used book purchases.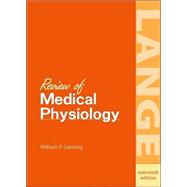 Summary
Ideal for self-assessment and USMLE Step 1 review. Provides a current and concise overview of mammalian and human physiology. Thoroughly revised and updated, examples from clinical medicine have been integrated throughout the chapters to illuminate important physiologic concepts. Features more than 700 illustrations and a self-study section with 630 multiple choice questions.
Author Biography
William F. Ganong is Lange Professor Emeritus at the University of California, San Francisco.
Table of Contents
Chapter 1: The General & Cellular Basis of Medical Physiology. Chapter 2: Physiology of Nerves & Muscle Cells. Chapter 3: Excitable Tissue: Nerve. Chapter 4: Excitable Tissue: Muscle. Chapter 5: Synaptic & Junctional Transmission. Chapter 6: Initiation of Impulses in Sense Organs. Chapter 7: Functions of the Nervous System. Chapter 8: Reflexes. Chapter 9: Cutaneous, Deep, & Visceral Sensation. Chapter 10: Vision. Chapter 11: Hearing & Equilibrium. Chapter 12: Smell & Taste. Chapter 13: Arousal Mechanisms, Sleep, & the Electrical Activity of the Brain. Chapter 14: Control of Posture & Movement. Chapter 15: The Autonomic Nervous System. Chapter 16: Central Regulation of Visceral Function. Chapter 17: Neural Basis of Instinctual Behavior & Emotions. Chapter 18: Higher Functions of the Nervous System: Conditioned Reflexes, Learning, and Related Phenomena. Chapter 19: Endocrinology, Metabolism, & Reproductive Function. Chapter 20: Energy Balance, Metabolism, & Nutrition. Chapter 21: The Thyroid Gland. Chapter 22: Endocrine Functions of the Pancreas & Regulation of Carbohydrate Metabolism. Chapter 23: The Adrenal Medulla & Adrenal Cortex. Chapter 24: Hornomal Control of Calcium Metabolism & the Reproductive System. Chapter 25: Endocrine Functions of the Kidneys, Heart, & Pineal Gland. Chapter 26: Gastrointestinal Function. Chapter 27: Digestion & Absorption. Chapter 28: Regulation of Gastrointestinal Function. Chapter 29: Ciculation. Chapter 30: Circulating Body Fluids. Chapter 31: Origin of the Heartbeat & the Electrical Activity of the Heart. Chapter 32: The Heart as a Pump. Chapter 33: Dynamics of Blood & Lymph Flow. Chapter 34: Cardiovascular Regulatory Mechanisms. Chapter 35: Circulation Through Special Regions. Chapter 36: Cardiovascular Homeostasis in Health & Disease. Chapter 37: Respiration. Chapter 38: Pulmonary Function. Chapter 39: Gas Transport Between the Lungs & the Tissues. Chapter 40: Regulation of Respiration. Chapter 41: Respiratory Adjustments in Health & Disease. Chapter 42: Formation and Excretion of Urine. Chapter 43: Renal Function & Micturition. Chapter 44: Regulation of Extracellular Fluid Composition & Volume. Appendix. Self-Study. Answers to Quantitative & Multiple-Choice Questions. Index. Tables.