Note: Supplemental materials are not guaranteed with Rental or Used book purchases.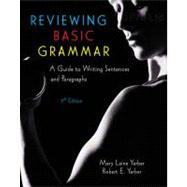 Reviewing Basic Grammar : A Guide to Writing Sentences and Paragraphs
ISBN13:
9780321045799
by
Yarber
;
Yarber
Summary
Perfect for use in developmental writing courses, writing laboratories, and self-tutorial formats, this step-by-step sentence-to-paragraph developmental writing textbook combines an intense grammar review with an introduction to paragraph writing. The writing process has been broken down into manageable pieces and simple but clear explanations facilitate learning. The tightening of the integration of grammar and sentence writing correlates the acquisition of grammar skills with sentence writing in a series of exercises that conclude each chapter.
Table of Contents
Preface
xiii

| | |
| --- | --- |
| | Getting Started: Computers, Grammar, and Paragraphs |

1
(6)

| | |
| --- | --- |
| | The Parts of Speech: A Review |

7
(30)

| | |
| --- | --- |
| | Writing Paragraphs: The Topic Sentence and Unity in the Paragraph |

29
(8)

| | |
| --- | --- |
| | Finding the Subject and the Verb in the Sentence |

37
(28)

| | |
| --- | --- |
| | Writing Paragraphs: Coherence in the Paragraph |

61
(4)

| | |
| --- | --- |
| | Making the Subject and Verb Agree |

65
(22)

| | |
| --- | --- |
| | Writing Paragraphs: Coherence Through Spatial Order |

83
(4)

| | |
| --- | --- |
| | Using the Correct Form of the Pronoun |

87
(24)

| | |
| --- | --- |
| | Writing Paragraphs: The Order of Importance |

107
(4)

| | |
| --- | --- |
| | Common Errors in Pronoun Agreement and Reference |

111
(24)

| | |
| --- | --- |
| | Writing Paragraphs: Using Transitional Words and Phrases |

129
(6)

| | |
| --- | --- |
| | Common Errors Involving Verbs |

135
(30)

| | |
| --- | --- |
| | Writing Paragraphs: Developing Paragraphs |

159
(6)

| | |
| --- | --- |
| | Compound and Complex Sentences |

165
(24)

| | |
| --- | --- |
| | Writing Paragraphs: Developing a Paragraph by Comparison and Contrast |

185
(4)

| | |
| --- | --- |
| | Correcting Sentence Fragments, Run-on Sentences, and Comma-Splices |

189
(22)

| | |
| --- | --- |
| | Writing Paragraphs: Developing a Paragraph by Classification |

207
(4)
211
(22)

| | |
| --- | --- |
| | Writing Paragraphs: Developing a Paragraph by Process and Analysis |

229
(4)
233
(40)

| | |
| --- | --- |
| | Writing Paragraphs: Developing Paragraphs by Cause and Effect |

267
(6)
273
(18)

| | |
| --- | --- |
| | Writing Paragraphs: Developing Paragraphs by Definition |

285
(6)
291
(26)

| | |
| --- | --- |
| | Writing Paragraphs: A Review |

313
(4)
Appendix A Checklist for the ESL Writer
317
(24)
A Glossary of Usage
341
(6)
A Glossary of Grammatical Terms
347
(8)
Answers to Selected Exercises
355
(8)
Credits
363
(4)
Index
367