Note: Supplemental materials are not guaranteed with Rental or Used book purchases.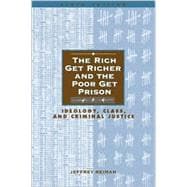 The Rich Get Richer and the Poor Get Prison: Ideology, Class, and Criminal Justice
ISBN13:
9780205305575
by
Reiman, Jeffrey
Summary
"What if our criminal justice system is biased against the poor from start to finish - from the definition of what constitutes a crime through the process of arrest, trial, and sentencing?" The author argues that actions of well-off people - refusal to make workplaces safe, refusal to curtail deadly pollution, promotion of unnecessary surgery, prescription of unnecessary drugs, etc. - cause occupational and environmental hazards to innocent members of the public and produce as much death, destruction, and financial loss as so-called crimes of the poor. However, these crimes of the well-off are rarely treated as severely as those of the poor. Reiman documents the extent of anti-poor bias in arrest, conviction, and sentencing practices and shows that the bias is conjoined with a general refusal to remedy the causes of crime - poverty, poor education, and discrimination. As a result, the criminal justice system fails to reduce crime. The author uses numerous studies and examples to illustrate his points, and difficult concepts are explained in a non-technical mann
Author Biography
Jeffrey Reiman is the William Fraser McDowell Professor of Philosophy at American University in Washington D.C.
Table of Contents
Preface to the Sixth Edition
xi
Acknowledgments for the First Edition
xv
About the Author
xvi
Introduction: Criminal Justice through the Looking Glass, or Winning by Losing
1
(8)
Abbreviations Used in the Notes
9
(1)
Notes to the Introduction
10
(2)

| | |
| --- | --- |
| | Crime Control in America: Nothing Succeeds Like Failure |

12
(46)
12
(9)

| | |
| --- | --- |
| | Four Excuses That Will Not Wash, or How We Could Reduce Crime If We Wanted To |

21
(1)

| | |
| --- | --- |
| | First Excuse: We're Too Soft! |

22
(1)

| | |
| --- | --- |
| | Second Excuse: A Cost of Modern Life |

23
(2)

| | |
| --- | --- |
| | Third Excuse: Blame It on the Kids! |

25
(4)

| | |
| --- | --- |
| | Fourth Excuse: We Just Don't Know What to Do |

29
(2)
31
(13)
32
(2)
34
(1)
35
(2)
37
(7)

| | |
| --- | --- |
| | What Works to Reduce Crime |

44
(1)

| | |
| --- | --- |
| | How Crime Pays: Erikson and Durkheim |

45
(3)
48
(1)
48
(1)
49
(1)
49
(9)

| | |
| --- | --- |
| | A Crime by Any Other Name... |

58
(51)
58
(2)
60
(5)

| | |
| --- | --- |
| | Criminal Justice as Creative Art |

65
(3)

| | |
| --- | --- |
| | A Crime by Any Other Name... |

68
(11)

| | |
| --- | --- |
| | Work May Be Dangerous to Your Health |

79
(6)

| | |
| --- | --- |
| | Health Care May Be Dangerous to Your Health |

85
(3)

| | |
| --- | --- |
| | Waging Chemical Warfare against America |

88
(6)
94
(4)
98
(1)
99
(1)
99
(1)
100
(9)

| | |
| --- | --- |
| | ...and the Poor Get Prison |

109
(48)
109
(5)
114
(10)
124
(4)
128
(14)

| | |
| --- | --- |
| | ...and the Poor Get Prison |

142
(3)
145
(1)
145
(1)
146
(1)
146
(11)

| | |
| --- | --- |
| | To the Vanquished Belong the Spoils: Who Is Winning the Losing War against Crime? |

157
(31)

| | |
| --- | --- |
| | Why Is the Criminal Justice System Failing? |

157
(6)

| | |
| --- | --- |
| | The Poverty of Criminals and the Crime of Poverty |

163
(1)

| | |
| --- | --- |
| | The Implicit Ideology of Criminal Justice |

164
(6)
170
(4)

| | |
| --- | --- |
| | Ideology, or How to Fool Enough of the People Enough of the Time |

174
(6)
174
(4)
178
(2)
180
(1)
180
(1)
181
(1)
181
(7)
Conclusion: Criminal Justice or Criminal Justice
188
(19)
188
(2)

| | |
| --- | --- |
| | Rehabilitating Criminal Justice in America |

190
(1)
191
(6)
197
(4)
201
(1)
202
(1)
202
(1)
203
(4)
Appendix: The Marxian Critique of Criminal Justice
207
(22)
209
(3)
212
(3)
215
(7)
222
(3)
225
(4)
Index
229