Note: Supplemental materials are not guaranteed with Rental or Used book purchases.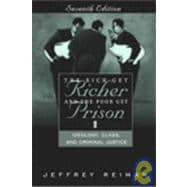 The Rich Get Richer and the Poor Get Prison: Ideology, Class, and Criminal Justice (with Supplementary Article)
ISBN13:
9780205480326
by
Reiman, Jeffrey
Summary
What if our criminal justice system is biased against the poor from start to finish - from the definition of what constitutes a crime through the process of arrest, trial, and sentencing?
In this best-selling text, the author argues that actions of well-off people, such as the refusal to make workplaces safe, refusal to curtail deadly pollution, promotion of unnecessary surgery, and prescriptions for unnecessary drugs, cause occupational and environmental hazards to innocent members of the public and produce as much death, destruction, and financial loss as so-called crimes of the poor. However, these crimes of the well-off are rarely treated as severely as those of the poor. Reiman documents the extent of anti-poor bias in arrest, conviction, and sentencing practices and shows that the bias is conjoined with a general refusal to remedy the causes of crime-poverty, lack of education, and discrimination. As a result, the criminal justice system fails to reduce crime. The author uses numerous studies and examples to illustrate his points, and difficult concepts are explained in a non-technical manner. The book provokes thought and discussion, even among people who disagree with its content.
One reviewer describes the text as "one of the most outstanding critiques of the criminal justice process…a book that needed to be written and needs to be published again and again… a text as relevant today as when first published in 1979."
Table of Contents
Each chapter concludes with a summary, study questions, additional readings, and notes. Dedication. Preface. Introduction: Criminal Justice Through the Looking Glass, or Winning by Losing. Abbreviations Used in the Notes. Notes to the Introduction. 1. Crime Control in America: Nothing Succeeds Like Failure. Designed to Fail. Four Excuses That Will Not Wash, or How We Could Reduce Crime if We Wanted To. First Excuse: We're Too Soft. Second Excuse: A Cost of Modern Life. Third Excuse: Blame It on the Kids! Fourth Excuse: We Just Don't Know What to Do. Known Sources of Crime. How Crime Pays: Erikson and Durkheim. 2. A Crime by Any Other Namehellip; What's in a Name? The Carnival Mirror. Criminal Justice as Creative Art. A Crime by Any Other Namehellip; Work May Be Dangerous to Your Health. Health Care May Be Dangerous to Your Health. Waging Chemical Warfare Against America. Poverty Kills. 3. hellip;and the Poor Get Prison. Weeding Out the Wealthy. Arrest and Charging. Adjudication and Conviction. Sentencing. hellip;and the Poor Get Prison. 4. To the Vanquished Belong the Spoils: Who Is Winning the Losing War Against Crime? Why Is the Criminal Justice System Failing? The Poverty of Criminals and the Crime of Poverty. The Implicit Ideology of Criminal Justice. The Bonus of Bias. Ideology, or How to Fool Enough of the People Enough of the Time. Conclusion: Criminal Justice or Criminal Justice. The Crime of Justice. Rehabilitating Criminal Justice in America. Protecting Society. Promoting Justice. Appendix: The Marxian Critique of Criminal Justice. Marxism and Capitalism. Capitalism and Ideology. Ideology and Law. Law and Ethics. Notes. Index.