Note: Supplemental materials are not guaranteed with Rental or Used book purchases.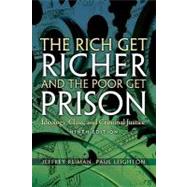 Questions About This Book?
What version or edition is this?
This is the 9th edition with a publication date of 7/29/2009.
What is included with this book?
The Used copy of this book is not guaranteed to include any supplemental materials. Typically, only the book itself is included.
Customer Reviews
Great service
August 19, 2011
by





I love how awesome the condition was it was almost like it was brand new. Never bought a textbook online so I was a little worried but with this purchase I have more confident in this seller. I recommend this to anybody.

Flag Review
---
The Rich Get Richer and The Poor Get Prison Ideology, Class, and Criminal Justice

:
stars based on
1
user reviews.
Summary
This best-selling text examines the premise that the criminal justice system is biased against the poor from start to finish, from the definition of what constitutes a crime through the process of arrest, trial, and sentencing. Also, this text discusses how this bias is accompanied with a general refusal to remedy the causes of crimepoverty, lack of education, and discrimination. The author argues that actions of well-off people, such as their refusal to make workplaces safe, refusal to curtail deadly pollution, promotion of unnecessary surgery, and prescriptions for unnecessary drugs, cause occupational and environmental hazards to innocent members of the public and produce just as much death, destruction, and financial loss as so-called crimes of the poor. However, these acts of the well-off are rarely treated as crimes, and when they are, they are never treated as severely as crimes of the poor. NEW:This text now has a companion 25 article reader: The Rich get Richer and the Poor get Prison: A Reader (ISBN: 0-205-68842-X). Visit this book's website for a full table of contents.
Author Biography
Jeffrey Reiman is the William Fraser McDowell Professor of Philosophy at American University in Washington, D.C. He was born in Brooklyn, New York, in 1942. He received his B.A. in philosophy from Queens College in 1963, and his Ph.D. in philosophy from Pennsylvania State University in 1968. He was a Fulbright Scholar in India during 1966–1967. He joined the American University faculty in 1970, in the Center for the Administration of Justice (now called the Department of Justice, Law and Society of the School of Public Affairs). After several years of holding a joint appointment in the Justice program and the Department of Philosophy and Religion, Dr. Reiman joined the Department of Philosophy and Religion full-time in 1988, becoming director of the Master's Program in Philosophy and Social Policy. He was named William Fraser McDowell Professor of Philosophy in 1990. He is a member of the Phi Beta Kappa and Phi Kappa Phi honor societies, and past president of the American University Phi Beta Kappa chapter. In addition to The Rich Get Richer and the Poor Get Prison: Ideology, Class, and Criminal Justice, Dr. Reiman is the author of In Defense of Political Philosophy (1972), Justice and Modern Moral Philosophy (1990), Critical Moral Liberalism: Theory and Practice (1997), The Death Penalty: For and Against (with Louis P. Pojman, 1998), Abortion and the Ways We Value Human Life (1999), and more than 60 articles in philosophy and criminal justice journals and anthologies. He is also coeditor, with Paul Leighton, of the anthology Criminal Justice Ethics (2001).
Paul Leighton is a Professor in the Department of Sociology, Anthropology and Criminology at Eastern Michigan University. He received his B.A. in Criminal Justice from the State University of New York at Albany in 1986, and is indebted to Graeme Newman for helping to direct him away from law school to the Justice, Law and Society program at American University. While at American University, he met Jeffrey Reiman and assisted with revisions of the fourth edition of The Rich Get Richer and the Poor Get Prison. He has worked on every edition since then. Dr Leighton received his Ph.D. in Sociology and Justice from American University in 1995. He has been the North American Editor of Critical Criminology: An International Journal, and was named Critical Criminologist of the Year by the American Society of Criminology's Division on Critical Criminology. Dr. Leighton is the co-author of Punishment for Sale (with Donna Selman, 2010) and Class, Race, Gender and Crime (with Gregg Barak and Jeanne Flavin, 2nd edition, 2007). He is also coeditor, with Jeffrey Reiman, of the anthology Criminal Justice Ethics (2001). In addition to his publications, Dr Leighton is webmaster for StopViolence.com, PaulsJusticePage.com and PaulsJusticeBlog.com. He is Vice President of the local chapter of the American Association of University Professors (AAUP) and is Vice President of the Board of SafeHouse, the local shelter and advocacy center for victims of domestic violence and sexual assault.
Table of Contents
Preface to the Ninth Edition
p. xi
Acknowledgments for the First Edition
p. xvii
About the Authors
p. xix
Introduction: Criminal Justice through the Looking Glass, or Winning by Losing
p. 1
Abbreviations Used in the Notes
p. 9
Notes
p. 9
Crime Control in America: Nothing Succeeds Like Failure
p. 11
Designed to Fail
p. 11
Three Excuses that will not Wash, or How We Could Reduce Crime if We Wanted to
p. 21
First Excuse: We're Too Soft!
p. 22
Second Excuse: A Cost of Modern Life
p. 23
Third Excuse: Blame It on the Kids!
p. 25
Known Sources of Crime
p. 27
Poverty & Inequality
p. 27
Prison
p. 31
Guns
p. 32
Drugs
p. 34
What Works to Reduce Crime
p. 41
Failing to Reduce Crime: Erikson and Durkheim
p. 43
A Word about Foucault
p. 45
Summary
p. 46
Study Questions
p. 47
Additional Resources
p. 47
Notes
p. 48
A Crime by Any Other Name
p. 58
What's In a Name?
p. 58
The Carnival Mirror
p. 60
Criminal Justice as Creative Art
p. 65
A Crime by Any Other Name
p. 68
Work May Be Dangerous to Your Health
p. 79
Health Care May Be Dangerous to Your Health
p. 85
Waging Chemical Warfare against America
p. 89
Poverty Kills
p. 95
Summary
p. 98
Study Questions
p. 99
Additional Resources
p. 99
Notes
p. 100
And the Poor Get Prison
p. 110
Weeding Out the Wealthy
p. 110
Arrest and Charging
p. 116
Adjudication and Conviction
p. 127
Sentencing
p. 130
And the Poor Get Prison
p. 155
Summary
p. 158
Study Questions
p. 158
Additional Resources
p. 159
Notes
p. 159
To the Vanquished Belong the Spoils: Who Is Winning the Losing War against Crime?
p. 172
Why Is the Criminal Justice System Failing?
p. 172
The Poverty of Criminals and the Crime of Poverty
p. 178
The Implicit Ideology of Criminal Justice
p. 179
The Bonus of Bias
p. 185
Ideology, or How to Fool Enough of the People Enough of the Time
p. 188
What Is Ideology?
p. 188
The Need for Ideology
p. 192
Summary
p. 194
Study Questions
p. 195
Additional Resources
p. 195
Notes
p. 195
Criminal Justice or Criminal Justice
p. 202
The Crime of Justice
p. 202
Rehabilitating Criminal Justice in America
p. 204
Protecting Society
p. 205
Promoting Justice
p. 212
Summary
p. 215
Study Questions
p. 216
Additional Resources
p. 216
Notes
p. 216
The Marxian Critique of Criminal Justice
p. 219
Marxism and Capitalism
p. 221
Capitalism and Ideology
p. 223
Ideology and Law
p. 227
Law and Ethics
p. 232
Notes
p. 236
Between Philosophy and Criminology
p. 238
Philosophical Assumptions of Social Science Generally
p. 239
The Special Philosophical Needs of Criminology
p. 240
The Rich Get Richer and the Poor Get Philosophy
p. 244
Notes
p. 250
Index
p. 251
Table of Contents provided by Ingram. All Rights Reserved.