Note: Supplemental materials are not guaranteed with Rental or Used book purchases.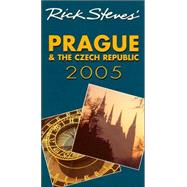 Summary
Who but Rick Steves tells you what you really need to know when traveling in Prague and the Czech Republic?
Author Biography
Rick Steves is on a mission: to help make European travel accessible and meaningful for Americans. Rick has spent four months every year since 1973 exploring Europe. He's researched and written 30 travel guidebooks and also writes and hosts the public television series Rick Steves' Europe. With the help of his hardworking staff of 60 at Europe Through the Back Door, Rick organizes and leads tours of Europe and offers an information-packed Web site (www.ricksteves.com). Rick, his wife (and favorite travel partner) Anne, and their two teenage children, Andy and Jackie, call Edmonds, just north of Seattle, home. Jan (Honza) Vihan grew up roaming the Czech countryside in search of the Wild West. Once the borders opened, he set off for South Dakota. His journey took him to Tibet, India, and Honduras, where he contributed to several travel guides. Unable to survive without Jara Cimrman and Czech beer for too long, he returned to the Czech Republic. Honza lives in Prague with his grandmother, teaches Chinese at Charles University, and leads Rick Steves' tours through Eastern Europe.
Table of Contents
Introduction
p. 1
Planning
p. 3
Resources
p. 7
Practicalities
p. 10
Money
p. 11
Travel Smart
p. 13
Transportation
p. 14
Communicating
p. 19
Sleeping
p. 24
Eating
p. 27
Traveling as a Temporary Local
p. 30
Back Door Travel Philosophy
p. 31
Czech Republic
p. 32
Prague
p. 35
Orientation
p. 37
Sights
p. 50
Sleeping
p. 86
Eating
p. 94
Shopping
p. 101
Entertainment
p. 103
Transportation Connections
p. 109
Day Trips
p. 111
Terezin Concentration Camp
p. 111
Konopiste Castle
p. 115
Karlstejn Castle
p. 116
Krivoklat Castle
p. 118
Beyond Prague
p. 121
Kutna Hora
p. 123
Cesky Krumlov
p. 130
Trebon, Telc, and Trebic
p. 146
Trebon
p. 146
Telc
p. 153
Trebic
p. 156
Slavonice
p. 159
Olomouc
p. 164
Kromeriz
p. 175
Wallachia
p. 178
Roznov
p. 179
Pustevny
p. 179
Velke Karlovice
p. 181
Mikulov Wine Region
p. 183
Pavlov and the Palava Hills
p. 184
Mikulov
p. 187
Lednice and Valtice
p. 190
Moravsky Krumlov
p. 194
Czech History
p. 197
Appendix
p. 203
Let's Talk Telephones
p. 203
U.S. Embassy
p. 203
European Calling Chart
p. 204
Czech Holidays and Festivals
p. 206
Temperature Conversion
p. 208
Prague's Climate
p. 208
Metric Conversion
p. 208
Numbers and Stumblers
p. 209
Making Your Hotel Reservation
p. 210
Index
p. 211
Table of Contents provided by Ingram. All Rights Reserved.