Note: Supplemental materials are not guaranteed with Rental or Used book purchases.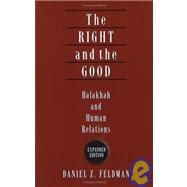 The Right And the Good: Halakhah And Human Relations
ISBN13:
9781933143033
by
Feldman, Daniel Z.
Summary
"In this richly-documented and engagingly written volume, distinguished by characteristically impressive erudition and careful scholarship, Rabbi Daniel Feldman guides the reader to a keener appreciation of the nexus between halakhah and ethics – law and spirituality – as reflected in every facet of human existence. The need for a clear exposition of this subject – especially in the realm of interpersonal relations – is compelling, and the author's response to that need is illuminating and inspiring." --Rabbi Dr. Michael A. Shmidman, Dean, Touro Graduate School of Jewish Studies "An important contribution to Jewish learning… The author is superbly knowledgeable of the law and I doubt if there is any other extant book which brings so much information on the topics discussed." --Journal of Law and Religion "A work of meticulous scholarship, Rabbi Feldman casts a wide net that produces both a comprehensive and an in-depth treatment of his subject matter… The reader will delight in the Brisker style lomdus of this outstanding work." --Rabbi Aaron Levine, Dayan and rabbi in Brooklyn, chairman of the economics department at Yeshiva University "Each essay is a complete and very detailed scholarly shiur! When I read the book, it brings to mind the extraordinary style of Rabbi Feldman in his oral presentations!" --Rabbi Hershel Schachter, Rosh Yeshiva and Rosh Kollel at Yeshiva University
Author Biography
Daniel Z. Feldman received his rabbinical ordination at Yeshiva University's Rabbi Isaac Elchanan Theological Seminary and teaches at its Stone Beit Midrash Program and at the Torah Academy of Bergen County. Rabbi Feldman attended Yeshivat Kerem B'Yavneh and was a fellow of the Bella and Harry Wexner Kollel Elyon. He is the author of three volumes in Hebrew titled Binah BaSefarim and has co-edited six volumes in Hebrew. He has headed summer kollel programs in Philadelphia, Atlanta, and Beverly Hills and is a frequent lecturer in the United States and across the world.