Note: Supplemental materials are not guaranteed with Rental or Used book purchases.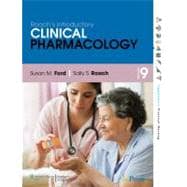 Questions About This Book?
What version or edition is this?
This is the 9th edition with a publication date of 10/14/2009.
What is included with this book?
The Used copy of this book is not guaranteed to include any supplemental materials. Typically, only the book itself is included.
Summary
This core text offers LPN/LVN students a clear, concise introduction to pharmacology, focusing on basic principles and the nurse's responsibility in drug administration. Organized by body system, the book examines pharmacologic properties and therapeutic applications of drug classes. Summary Drug Tables present generic and trade drug names, uses, adverse reactions, and usual dosage ranges. This edition has thoroughly updated drug information, a new Case Study feature (Pharmacology in Practice), Nursing Alerts, Lifespan Alerts, Chronic Care Alerts, Diversity Alerts, and additional material on the nursing process.
Table of Contents
UNIT I Foundations of Clinical Pharmacology General Principles of Pharmacology Administration of Drugs Calculation of Drug Dosages The Nursing Process Patient and Family Teaching UNIT II Anti-Infectives Sulfonamides Penicillins Cephalosporins Tetracyclines, Macrolides, Aminoglycosides, and Lincosamides Fluoroquinolones and Miscellaneous Anti-Infectives Antitubercular Drugs Antiviral Drugs Antifungal and Antiparasitic Drugs UNIT III Drugs Used to Manage Pain Nonopioid Analgesics: Salicylates and Nonsalicylates Nonopioid Analgesics: Nonsteroidal Anti-Inflammatory Drugs (NSAIDs) and Migraine Medications Opioid Analgesics Opioid Antagonists Anesthetic Drugs UNIT IV Drugs That Affect the Central Nervous System Central Nervous System Stimulants Antianxiety Drugs Sedatives and Hypnotics Antidepressant Drugs Antipsychotic Drugs UNIT V Drugs That Affect the Peripheral Nervous System Adrenergic Drugs Adrenergic Blocking Drugs Cholinergic Drugs Cholinergic Blocking Drugs UNIT VI Drugs That Affect the Neuromuscular System Cholinesterase Inhibitors Antiparkinsonism Drugs Anticonvulsants Skeletal Muscle Relaxants and Drugs Used to Treat Bone and Joint Disorders UNIT VII Drugs That Affect the Respiratory System Antitussives, Mucolytics, and Expectorants Antihistamines and Decongestants Bronchodilators and Antiasthma Drugs UNIT VIII Drugs That Affect the Cardiovascular System Antihyperlipidemic Drugs Antihypertensive Drugs Antianginal and Peripheral Vasodilating Drugs Anticoagulant and Thrombolytic Drugs Cardiotonic and Miscellaneous Inotropic Drugs Antiarrhythmic Drugs UNIT IX Drugs That Affect the Gastrointestinal System Drugs That Affect the Upper Gastrointestinal System Drugs That Affect the Lower Gastrointestinal System UNIT X Drugs That Affect the Endocrine System Antidiabetic Drugs Pituitary and Adrenocortical Hormones Thyroid and Antithyroid Drugs Male and Female Hormones Drugs Acting on the Uterus UNIT XI Drugs That Affect the Urinary System Diuretics Urinary Tract Anti-Infectives, Antispasmodics, and Other Urinary Drugs UNIT XII Drugs That Affect the Immune System Immunologic Agents Antineoplastic Drugs Immunostimulant Drugs UNIT XIII Drug That Affect Other Body Systems Topical Drugs Used in the Treatment of Skin Disorders Otic and Ophthalmic Preparations Fluids, Electrolytes and Parenteral Therapy Glossary Appendix A: Drug Categories (Controlled Substance Table, FDA Pregnancy Risk Category Table, Lactation Risk Category Table) Appendix B: National Patient Safety Goals Related to Medication Administration and Frequently used Look Alike, Sound Alike (LASA) Drugs Appendix C: Select Herbs and Natural Products Used for Medicinal Purposes Appendix D: Body Surface Area Nomograms Appendix E: Answers to Review Questions and Medication Dosage Problems Index Inside Back Cover: Key To Abbreviations