Note: Supplemental materials are not guaranteed with Rental or Used book purchases.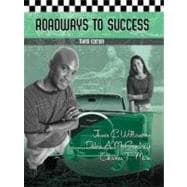 Summary
This engagingly written, interactive text encourages readers to develop their academic and personal skills. Its self-discovery journey format provides them with the tools needed to raise self-esteem, become more effective, develop personal responsibility, and ultimately arrive at a brighter future. The volume introduces readers to campus resource and provides guidelines for time management, recognizing potential and building self-esteem, goal setting and motivation, information processing and learning styles, communications, note taking, learning how to study, test-taking strategies, career planning and money management. For individuals interested in improving their future skills.
Table of Contents
Connecting with Your Campus Resources
Time Management
Recognizing Your Potential and Building Self-Esteem
Goal Setting and Motivation
Information Processing and Learning Styles
Communications
The Process of Note Taking
Learning How to Study
Test-Taking Strategies
Health and Wellness-Mind, Body, Spirit
Career Planning
Money Management
Glossary
References
Index
Table of Contents provided by Publisher. All Rights Reserved.
Excerpts
An open letter to the students who will benefit from this book: You have no doubt begun a journey of education that will take you far. The roadway you have chosen will not always be clear for there are bumps, twists, and turns that no one can anticipate. Maybe you have started this journey before--maybe this is your first venture into higher education. Whatever your destination and regardless of your starting point, all is not lost; hope abounds. This book is intended to assist you in your journey by providing some practical, tried, and proven techniques that will make you a better student. It will challenge you and ask you to examine certain assumptions you have about studying and your ability to study. Although it is intended to be a guide, it willnotanswer all of your questions. Much of what you will learn will be through self-discovery and self-analysis. It is our hope that you will be better able to manage your time and your life after completing this text. Additionally, this book will help you maneuver through a technologically challenging landscape. Good habits take time to develop and you will no doubt become discouraged somewhere along the way. Stay the course, stay on track, and make your dreams and goals your reality. We wish you well on your journey and trust that you will receive. practical information here that will ultimately help all of your "roadways" lead to success!