Note: Supplemental materials are not guaranteed with Rental or Used book purchases.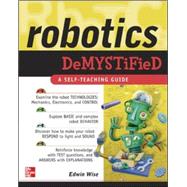 Questions About This Book?
What version or edition is this?
This is the 1st edition with a publication date of 11/10/2004.
What is included with this book?
The New copy of this book will include any supplemental materials advertised. Please check the title of the book to determine if it should include any CDs, lab manuals, study guides, etc.
The eBook copy of this book is not guaranteed to include any supplemental materials. Typically only the book itself is included.
Summary
There's no easier, faster, or more practical way to learn the really tough subjectsMcGraw-Hill's Demystified titles are the most efficient, interestingly written, brush-ups you can find. Organized as self-teaching guides, they come complete with key points, background information, questions at the end of each chapter, and even final exams. You'll be able to learn more in less time, evaluate your strengths and weaknesses, and reinforce your knowledge and confidence.This complete self-teaching guide takes an introductory approach to robotics, guiding readers through the essential electronics, mechanics, and programming skills necessary to build their own robot.
Author Biography
Edwin Wise (Austin, TX) is the Vice President of development and partner of Wittlock Engineering, LLC. Edwin's expertise and interests range from basic electronics, software development, to microcontrollers, AI, and robots, He is the author of: Applied Robotics, Applied Robotics II, and Animatronics: A Guide to Animated Holiday Displays, all by Delmar Learning. His book, Hands-On AI with Java, was just published by McGraw-Hill in January 2004.
Table of Contents
Preface
xv
Acknowledgments
xvi
CHAPTER 1 Introduction
1
(12)
2
(7)

| | |
| --- | --- |
| | Automata and Animatronics |

2
(2)
4
(3)
7
(1)
8
(1)
9
(1)
10
(1)
11
(2)
CHAPTER 2 Mechanical Forces
13
(19)
13
(2)
15
(1)
16
(11)
16
(1)
17
(1)
17
(1)
18
(1)
19
(4)
23
(1)
24
(2)
26
(1)
26
(1)
27
(2)
29
(1)
30
(1)
30
(2)
CHAPTER 3 Simple Machines
32
(22)
32
(1)
33
(3)
33
(2)
35
(1)
36
(6)
40
(1)
41
(1)
42
(2)
42
(2)
44
(5)
45
(4)
49
(2)
51
(2)
53
(1)
53
(1)
CHAPTER 4 Electricity
54
(12)
54
(1)
55
(1)
56
(1)
57
(2)
59
(4)
59
(1)
60
(1)
61
(1)
62
(1)
63
(1)
63
(1)
63
(2)
64
(1)
65
(1)
65
(1)
CHAPTER 5 Starting with Electronics
66
(30)
66
(1)
67
(3)
67
(1)
68
(2)
70
(10)
70
(1)

| | |
| --- | --- |
| | Dead Bug and Wire Wrapping |

71
(1)
72
(7)
79
(1)
80
(14)
80
(1)
81
(2)
83
(4)
87
(7)
94
(1)
94
(1)
95
(1)
CHAPTER 6 Control
96
(11)
96
(1)
97
(1)
98
(1)
98
(1)
99
(3)
100
(2)
102
(3)
104
(1)
105
(1)
106
(1)
CHAPTER 7 Sequencing and Programs
107
(17)
107
(1)
108
(3)
111
(2)
113
(1)
113
(2)
115
(1)
115
(7)
117
(4)
121
(1)
122
(1)
123
(1)
CHAPTER 8 Joints
124
(12)
124
(1)
125
(3)
125
(1)
126
(1)
127
(1)
128
(1)
128
(6)
128
(2)
130
(1)
131
(3)
134
(1)
134
(1)
135
(1)
CHAPTER 9 Power Transmission
136
(20)
136
(1)

| | |
| --- | --- |
| | Chains, Belts, and Cables |

137
(4)
141
(8)
142
(3)
145
(4)
149
(5)

| | |
| --- | --- |
| | Directional. Transmission |

150
(1)

| | |
| --- | --- |
| | Differential Transmission |

150
(4)
154
(1)
155
(1)
CHAPTER 10 Beyond Resistance: Capacitance
156
(23)
156
(1)
157
(4)
160
(1)
161
(4)
161
(1)
162
(1)
163
(1)
163
(2)
165
(5)
165
(3)
168
(2)
170
(8)
171
(1)
172
(4)
176
(2)
178
(1)
178
(1)
CHAPTER 11 Inductance and Magnetism
179
(11)
179
(1)
180
(5)
181
(1)
182
(1)
182
(2)
184
(1)
184
(1)
185
(4)
186
(1)
186
(1)
187
(1)
187
(1)
188
(1)
189
(1)
189
(1)
CHAPTER 12 Semiconductors
190
(17)
190
(1)
191
(1)
192
(3)
193
(2)
195
(3)
197
(1)
198
(1)
198
(6)
198
(2)
200
(2)
202
(2)
204
(1)
205
(1)
205
(2)
CHAPTER 13 Programming
207
(17)
207
(1)
208
(5)
208
(3)
211
(2)
213
(8)
213
(1)
213
(5)
218
(3)
221
(1)
221
(2)
223
(1)
CHAPTER 14 Shaping Motion
224
(17)
224
(1)
225
(1)
225
(3)
228
(1)
229
(7)
229
(3)
232
(2)
234
(2)
236
(2)
236
(1)
237
(1)
237
(1)
237
(1)
238
(2)
240
(1)
CHAPTER 15 Communication
241
(11)
241
(1)
241
(2)
242
(1)
243
(1)
243
(2)

| | |
| --- | --- |
| | Communication Technologies |

245
(6)
245
(1)
246
(3)
249
(1)
250
(1)
251
(1)
251
(1)
CHAPTER 16 Languages
252
(11)
252
(1)
253
(5)
255
(3)
258
(4)
260
(1)
260
(1)
261
(1)
261
(1)
262
(1)
262
(1)
CHAPTER 17 Intelligent Behavior
263
(19)
263
(1)
264
(5)
265
(1)
266
(3)
269
(1)
270
(2)
272
(3)
272
(1)
272
(1)
273
(2)
275
(5)
275
(1)
276
(2)
278
(2)
280
(1)
281
(1)
CHAPTER 18 Advanced Control
282
(14)
282
(1)
283
(2)
285
(4)
287
(2)
289
(1)
289
(4)

| | |
| --- | --- |
| | Supervised Robotic Learning |

292
(1)
293
(1)
294
(1)
294
(1)
295
(1)
295
(1)
Answers
296
(13)
Index
309