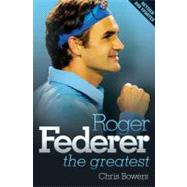 Roger Federer : The Greatest
by
Unknown
Summary
It also examines how Roger bounced back from arguably one of the most challenging periods of his career as following a serious illness and a dip in from his run of successive Wimbledon championship wins was ended and he was toppled from the number one spot by his long-time rival Rafael Nadal. In characteristic style. Federer silenced his critics by wining the French Open title for the first time reclaiming his Wimbledon crown and ending 2009 at the number one position for the time.
Table of Contents
Author's Introduction
p. ix
The Youth of a Champion
p. 1
Transition to the Tour
p. 65
Grand Slam Champion
p. 141
Nadal the Nemesis
p. 213
The Greatest
p. 321
Bibliography
p. 387
Table of Contents provided by Ingram. All Rights Reserved.