Note: Supplemental materials are not guaranteed with Rental or Used book purchases.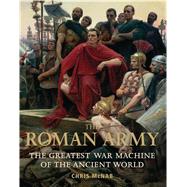 The Roman Army The Greatest War Machine of the Ancient World
ISBN13:
9781849081627
by
McNab, Chris
Summary
Chris McNab's latest title for Osprey follows the Roman Army from the first armed citizens of the early Republic through the glorious heights of the Imperial legions to the shameful defeats inflicted upon the late Roman army by the Goths and Huns. Tracing the development of tactics, equipment and training through detailed text, illustrations, diagrams, and photographs, this book will give the reader an accessible yet detailed insight into the military force that enabled Rome to become the greatest empire the world has ever seen, to defeat its enemies, subdue its neighbors and control vast territories. This book describes the organization of the forces, equipment and weaponry, uniforms, and development in tactics and warfare of the Roman Army. Each of the four historical sections will focus on the changes in the army, but will also look at the talented men who transformed and led the army, such as Scipio Africanus, Caesar and Marcus Aurelius, and the momentous battles fought, including Cannae, Pharsalus, and Adrianople.
Author Biography
Chris McNab is an author and editor. To date he has published over 25 books, including Twentieth Century Small Arms (2001), Gunfighters - The Outlaws and Their Weapons (2005, contributing editor), The Personal Security Handbook (2003), The Encyclopedia of Combat Techniques (2002) and The Illustrated History of the Vietnam War (2000). He is the co-author of Tools of Violence (2008) and has recently completed Deadly Force (2009), both for Osprey. Chris has also written extensively for major encyclopedia series, including African-American Biographies (2006), USA 1950s (2006) and Reformation, Exploration and Empire (2005), and has contributed to The Times on the war in Iraq.