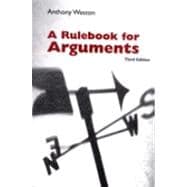 List Price: $6.95
Usually Ships in 3-5 Business Days
Questions About This Book?
What version or edition is this?
This is the 3rd edition with a publication date of 1/1/2001.
What is included with this book?
The New copy of this book will include any supplemental materials advertised. Please check the title of the book to determine if it should include any CDs, lab manuals, study guides, etc.
Summary
Updated examples, streamlined text, and the chapter on definition reworked in a rule-based format strengthen this already strong volume. Readers familiar with the previous edition will find a text that retains all the features that make Rulebook ideally suited for use as a supplementary course book -- including its modest price and compact size. Unlike most textbooks on argumentative writing, Rulebook is organised around specific rules, illustrated and explained soundly and briefly. It is not a textbook, but a rulebook, whose goal is to help students get on with writing a paper or assessing an argument.
Table of Contents
Preface
ix
Introduction
xi
I. Composing a Short Argument: Some General Rules
1
(9)

| | |
| --- | --- |
| | Distinguish premises and conclusion |

1
(2)

| | |
| --- | --- |
| | Present your ideas in a natural order |

3
(1)

| | |
| --- | --- |
| | Start from reliable premises |

4
(1)
5
(1)
6
(1)
7
(1)

| | |
| --- | --- |
| | Stick to one meaning for each term |

8
(2)
II. Arguments by Example
10
(9)

| | |
| --- | --- |
| | Give more than one example |

11
(1)

| | |
| --- | --- |
| | Use representative examples |

12
(2)

| | |
| --- | --- |
| | Background information is crucial |

14
(3)
17
(2)
III. Arguments by Analogy
19
(5)

| | |
| --- | --- |
| | Analogy requires a relevantly similar example |

21
(3)
IV. Arguments from Authority
24
(8)
25
(1)
26
(2)
28
(2)
30
(1)

| | |
| --- | --- |
| | Personal attacks do not disqualify a source |

30
(2)
V. Arguments about Causes
32
(8)

| | |
| --- | --- |
| | Explain how cause leads to effect |

33
(2)

| | |
| --- | --- |
| | Propose the most likely cause |

35
(1)

| | |
| --- | --- |
| | Correlated events are not necessarily related |

36
(1)

| | |
| --- | --- |
| | Correlated events may have a common cause |

36
(2)

| | |
| --- | --- |
| | Either of two correlated events may cause the other |

38
(1)
38
(2)
VI. Deductive Arguments
40
(13)
41
(1)
42
(2)
44
(2)
46
(1)
47
(1)
48
(2)

| | |
| --- | --- |
| | Deductive arguments in several steps |

50
(3)
VII. Composing an Argumentative Essay A. Exploring the Issue
53
(6)

| | |
| --- | --- |
| | A1. Explore the arguments on all sides of the issue |

54
(2)

| | |
| --- | --- |
| | A2. Question and defend each argument's premises |

56
(1)

| | |
| --- | --- |
| | A3. Revise and rethink arguments as they emerge |

57
(2)
VIII. Composing an Argumentative Essay B. Main Points of the Essay
59
(5)
59
(1)

| | |
| --- | --- |
| | B2. Make a definite claim or proposal |

60
(1)

| | |
| --- | --- |
| | B3. Develop your arguments fully |

61
(1)
62
(1)

| | |
| --- | --- |
| | B5. Consider alternatives |

63
(1)
IX. Composing an Argumentative Essay C. Writing
64
(7)
64
(1)

| | |
| --- | --- |
| | C2. Keep the introduction brief |

65
(1)

| | |
| --- | --- |
| | C3. Give your arguments one at a time |

65
(2)

| | |
| --- | --- |
| | C4. Clarify, clarify, clarify |

67
(1)

| | |
| --- | --- |
| | C5. Support objections with arguments |

68
(1)

| | |
| --- | --- |
| | C6. Don't claim more than you have shown |

69
(2)
X. Fallacies
71
(8)
71
(2)
73
(6)
Appendix: Definition
79
(7)

| | |
| --- | --- |
| | D1. When terms are unclear, get specific |

80
(2)

| | |
| --- | --- |
| | D2. When terms are contested, work from the clear cases |

82
(2)

| | |
| --- | --- |
| | D3. Don't expect definitions to do the work of arguments |

84
(2)
Next Steps
86