Note: Supplemental materials are not guaranteed with Rental or Used book purchases.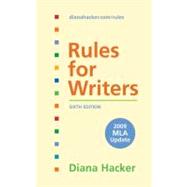 Rules for Writers with 2009 MLA Update
ISBN13:
9780312593391
by
Hacker, Diana
Summary
Rules for Writers succeeds because it has always been grounded in classroom experience. By looking at her own students' needs, Diana Hacker created an affordable and practical classroom tool that doubles as a quick reference. Developed with the help of instructors from two- and four-year schools, the sixth edition gives students quick access to the information they need to solve writing problems in any college course. In the Hacker tradition, the new contributing authors -- Nancy Sommers, Tom Jehn, Jane Rosenzweig, and Marcy Carbajal Van Horn-- have crafted solutions for the writing problems of today's college students. Together they give us a new edition that provides more help with academic writing and research and one that works better for a wider range of multilingual students. Flexible content options -- in print and online -- allow students to get more than they pay for.
Author Biography
DIANA HACKER
personally class-tested her handbooks with nearly four thousand students over 35 years at Prince George's Community College in Maryland, where she was a member of the English faculty. Hacker handbooks, built on innovation and on a keen understanding of the challenges facing student writers, are the most widely adopted in America. Other Hacker handbooks, all published by Bedford/St. Martin's, include
The Bedford Handbook,
Seventh Edition (2006);
A Writer's Reference,
Sixth Edition (2007); and
A Pocket Style Manual,
Fifth Edition (2008).
ABOUT THE CONTRIBUTING AUTHORS

NANCY SOMMERS, Sosland Director of Expository Writing at Harvard University, has also taught composition at Rutgers University and at Monmouth College and has directed the writing program at the University of Oklahoma. A two-time Braddock Award winner, Sommers is well-known for her research and publications on student writing. Her recent work involves a longitudinal study of undergraduate writing. Nancy Sommers is co-author of Fields of Reading, Eighth Edition (2007) for Bedford/St. Martin's.

TOM JEHN teaches composition and directs the Writing Across the Disciplines program at Harvard University. A recipient of numerous teaching awards both at Harvard and at the University of Virginia, he also leads professional development seminars on writing instruction for public high school teachers.

JANE ROSENZWEIG teaches composition and directs the writing center at Harvard University. She has also taught writing at Yale University and the University of Iowa.

MARCY CARBAJAL VAN HORN, Assistant Professor of English and ESL at Santa Fe Community College (FL), teaches composition to native and nonnative speakers of English and teaches the Advanced ESL Writing course.
Table of Contents
Preface for Instructors

How to Use This Book

THE WRITING PROCESS

1. Generate ideas and sketch a plan.

2. Rough out an initial draft.

3. Make global revisions; then revise sentences.

4. Build effective paragraphs.

DOCUMENT DESIGN

5. Become familiar with the principles of document design.



6. Use standard academic formats.

7. Use standard business formats.

CLARITY

8. Prefer active verbs.

9. Balance parallel ideas.

10. Add needed words.

11. Untangle mixed constructions.

12. Repair misplaced and dangling modifiers.

13. Eliminate distracting shifts.

14. Emphasize key ideas.

15. Provide some variety.

16. Tighten wordy sentences.



17. Choose appropriate language.

18. Find the exact words.

GRAMMAR

19. Repair sentence fragments.

20. Revise run-on sentences.

21. Make subjects and verbs agree.

22. Make pronouns and antecedents agree.

23. Make pronoun references clear.

24. Distinguish between pronouns such as I and me.

25. Distinguish between who and whom.



26. Choose adjectives and adverbs with care.

27. Choose appropriate verb forms, tenses, and moods in standard English.

ESL CHALLENGES

28. Verbs

29. Articles and types of nouns

30. Sentence structure

31. Prepositions and idiomatic expressions

PUNCTUATION

32. The comma

33. Unnecessary commas

34. The semicolon

35. The colon

36. The apostrophe

37. Quotation marks

38. End punctuation

39. Other punctuation marks: the dash, parentheses, brackets, the ellipsis mark, the slash



MECHANICS

40. Abbreviations

41. Numbers

42. Italics (underlining)

43. Spelling

44. The hyphen

45. Capital letters

ACADEMIC WRITING

46. Writing about texts

47. Constructing reasonable arguments

48. Evaluating arguments

RESEARCH

49. Conducting research

50. Evaluating sources

51. Managing information; avoiding plagiarism

WRITING MLA PAPERS

52. Supporting a thesis

53. Avoiding plagiarism

54. Integrating sources

55. Documenting sources

56. Manuscript format; sample paper

WRITING APA PAPERS

57. Supporting a thesis

58. Avoiding plagiarism

59. Integrating sources

60. Documenting sources

61. Manuscript format; sample paper

THE BASICS

62. Parts of speech

63. Sentence patterns

64. Subordinate word groups

65. Sentence types

Glossary of Usage

Answers to Tutorials and Lettered Exercises

Index

ESL Menu