Note: Supplemental materials are not guaranteed with Rental or Used book purchases.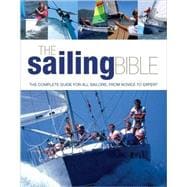 Summary
The ideal companion for enjoyable and safe sailing.Jam-packed with vital data, step-by-step instructions, explanatory diagrams, expert tips and lively action photos, The Sailing Bible is the most complete and user-friendly sailing handbook. Whether new to boating or experienced, whether sailing a Sunfish or a yacht, sailors will find all the answers in this hands-on guide.Organized progressively from starting out and learning to sail to navigation and boat maintenance, the authors cover everything sailors must know to get the most out of this fabulous sport and their particular boat. Topics include:Dinghies and yachts Cruising and racing Launching, helming, trapezing and capsizing Racing techniques and tactics Buoys, tides, charts and navigation Anchoring and marina berthing Knots, ropes and flags Boat etiquette and seamanship Rules of the road, safety and emergencies and much more.The Sailing Bible is the most comprehensive guide to the dynamic and exciting sport of sailing.
Table of Contents
Welcome to Sailing
Starting Out
Sailing for everyone
How can I learn to sail?
What is a dinghy?
What is a keel boat?
What is a multihull?
What is a cruiser?
Different types of boats
Learning to Sail
The 360-degree sailing circle
Sail power provides forward drive
Experiencing the wind
Wind in your sails
Steering with a rudder
Sail trim
Sailing maneuvers
Who has the right of way?
Basic knots
Ropework
Staying warm
Full protection
Dinghy Sailing
Enjoy the ride
Choosing a dinghy
Why choose a catamaran?
What to wear for dinghy sailing
What else do you need?
Dinghy design and construction
Fiberglass dinghies
Polyethylene dinghies
Asymmetric spinnakers and skiffs
Rigging a twin-crew dinghy
Rigging a catamaran
Rig controls
Where to sail
Inland and coastal sailing
Launching a dinghy
Leaving the shore
Sailing away from the shore
Sailing on a reach
Sailing into the wind
Sailing away from the wind
How is a catamaran different?
How to tack
How to jibe
Coming back to shore
Dinghy capsize
Catamaran capsize
Common-sense seafaring
Too much wind
Over the side
Dinghy skills
Using a trapeze
Trapeze techniques
Trapezing at speed
Sailing with a spinnaker
Rigging a spinnaker
Asymmetric control
Jibing an asymmetric spinnaker
Symmetric spinnaker control
Dingy care
Dingy damage
Dinghy and cat racing
Racing around the course
Cruising
Choosing a yacht
Choosing a cruiser
Inside a cruiser
On deck
Deck hardware
Deck safety gear
What to wear on deck
How a yacht is rigged
The mainsail
Raising the mainsail
Setting the mainsail
Handling the headsail
Reefing
Sailing upwind
Tacking
Sailing offwind
Jibing
Cruising with spinnakers
Using the engine
Boat handling under power
Entering a marina
Berthing in a marina or harbor
How a yacht is secured
Leaving a marina
Anchoring a yacht
Controlling the anchor
Retrieving the anchor
The perfect anchorage
Picking up a mooring
Using a tender
Using an outboard motor
Planning a cruise
Living on a yacht
Cooking and catering
Passage problems
Passage conditions
Man overboard
Good cruising
Navigation
What is navigation?
Navigation instruments
Keeping to a course
Latitude and longitude
Distance and direction
What is a nautical chart?
Chart depths and heights
The international buoyage system
What are tides?
What causes tidal flow?
Tidal height calculations
A position line
Fixing a position
What is GPS?
Using GPS for position
Traditional chartwork
Planning your destination
A route for your GPS
Interpreting GPS displays
Electronic chart plotters
The accuracy of electronic charts
Radar
Pilotage
A pilotage plan
Passage planning
Navigation on passage
Navigation at night
Weather
The effect of weather
Where does weather come from?
Weather systems
The boundary of an air mass
High-pressure systems
The movement of weather systems
Local winds
Stormy weather
What is fog?
Air temperature
What do clouds mean?
Weather forecasts
Beaufort scale
Maintenance
Refitting
Hull and deck
Mast, spars, rigging and sails
The engine
Electrical
Plumbing
Personal and boat safety
Pre-season preparation
Safety at Sea
Planning for safety
Safety equipment
Collision avoidance
Emergency procedures
First aid
Glossary
Index
Acknowledgements
Table of Contents provided by Publisher. All Rights Reserved.
Excerpts
Welcome to Sailing Sailing is a fantastic sport that relies on two great elements - wind and water - both of which are natural and free! It offers great value for all those who want to enjoy the wonderfully simple sensations of being blown along by a breeze in your sails. This book - arranged in the following sections - aims to tell you everything you need to know about this great sport.Starting out How did sailing evolve from tough working boats and millionaires' yachts to a sport enjoyed by millions of sailors today? Democracy and technology have taken over, providing an activity that can be enjoyed by all ages at all levels, ranging from recreational to professional. The first section of this book explains how you can learn to sail and get into the sport, and provides a guide to the similarities and differences between sailing small dinghies, larger keelboats, multihulls or larger cruising yachts.Learning to sail How does the wind actually drive a boat? In the old days, it was simple: the crew of a Viking long ship or square-rigger merely sailed with the wind behind them, but now we can sail in any direction except directly toward the wind. This section explains the difference between "points" of sailing known as beating, reaching and running, and the changes in direction known as tacks and jibes. It goes on to cover how sail power provides forward drive and how sail trim and the rudder are used to steer the boat. Sailing maneuvers involve changing direction, not least when you meet another boat, so a vital question is "Who has right of way?" Knots and ropework are also basic elements of learning to sail, as are staying warm and choosing the right gear.Dinghy sailing Dinghies and beach cats are the smallest sailing craft. They also provide the cheapest introduction to the sport and get you physically closer to wind and water. The choice of different boats is huge, so in this section we have made a selection of popular classes, explaining how they are designed and built, and how you launch and sail away from the shore. You'll find details here about all of these, plus information on racing around a course, dinghy maintenance, and trapeze and spinnaker technique for high-performance sailing.Cruiser sailing A cruiser or yacht provides the opportunity to live afloat. It's a wonderful lifestyle, whether you're sailing in sunshine or snuggled up somewhere in the comfort of the cabin down below. This section explains the principal elements of a cruiser, how to rig and reef the sails, how to sail in all directions, how to use the engine should the wind fail, how to leave or enter a dock or marina, how to deal with wind and tide, and how to choose an anchorage or pick up a mooring. It also explains what to do in rough weather or fog. Remember that you'll want to go ashore, so you'll need a tender - also covered in this section. Navigation and weather You need to know where you're going and how to get there. Navigation was once a difficult subject, but has become much more accessible due to the availability of GPS. The classic style of navigation, however, is still important - everyone who sails a yacht should know how to read a chart, plot a course and calculate the movement of tides. Weather plays a major role in sailing, and though we have never been more blessed by reliable forecasts, understanding weather systems and their effect on your sailing will be an invaluable help.Boat maintenance Many dinghies are virtually maintenance free: just hose off any salt and put them away. By contrast, yachts require annual maintenance to ensure that everything works perfectly the following season. This section explains how to look after every element of the yacht including the hull and deck, sails, engine, electrical, plumbing and safety equipment.Safety Finally, you need to sail safely, To do this, you must pl