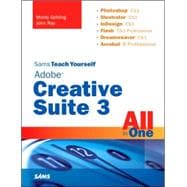 Related Products
Summary
In just a short time you can learn how to use all the components of Adobe Creative Suite 3 (Design Premium Edition) to design, create, and edit graphics, publications, and web pages of all kindseverything from simple brochures to entire integrated ad campaigns. Using a straightforward, step-by-step approach, each lesson in this book builds on the previous ones, enabling you to learn the essentials of Photoshop, Illustrator, InDesign, Flash, Dreamweaver, Acrobat, and Bridge from the ground up. "This book should be required reading for every introductory digital graphics course. Mordy has packed this book with great information for folks at all levels of expertise!" Sharon Steuer, author ofThe Illustrator CS3 Wow!Book Mordy Golding has played an active role in the design and publishing environment since 1990. He worked at Adobe as the product manager for Adobe Illustrator and is currently a consultant and trainer specializing in Adobe Creative Suite. A production artist for both print and the Web for many years, he is an Adobe Certified Expert and Adobe Certified Print Specialist. John Ray is a senior business analyst and developer for The Ohio State University Research Foundation. He provides custom network, security, and programming solutions for clients across the country, including the National Regulatory Research Institute and the Brevard Metropolitan Planning Organization in Florida. Learn how tohellip; Choose the ideal Creative Suite 3 application for the job Make accurate selections Manage complex compositions with layers Apply filters, effects, and transformations Control color and type precisely Manipulate vector objects Paint, draw, and animate objects Prepare images for use on the Web Create websites Display and print your work anywhereexactly as designed Design brochures Develop an entire integrated ad campaign Register your book at www.informit.com/title/9780672329340 for access to source images, updates, and links. Category: Graphics/Web Design Covers: Adobe Creative Suite 3 Design Premium EditionAdobe Bridge CS3, Photoshop CS3, Illustrator CS3, InDesign CS3, Flash CS3 Professional, Dreamweaver CS3, Acrobat 8 Professional User Level: Beginning-Intermediate
Author Biography
Mordy Golding has played an active role in the design and publishing environment since 1990. A production artist for both print and the Web for many years, Mordy, an Adobe Certified Expert and Adobe Certified Print Specialist, has served as a hands-on trainer and has spoken at worldwide events and seminars including The Creative Suite Conference, Macworld, Seybold, NAB, and PhotoshopWorld.
Mordy worked at Adobe as the product manager for Adobe Illustrator 10 and Adobe Illustrator CS, and is currently a consultant specializing in the Adobe Creative Suite through his company, Design Responsibly (www.designresponsibly.com).
You can often find Mordy at his blog (http://rwillustrator.blogspot.com), hanging around the Adobe User to User forums (www.adobeforums.com), or at the Print Planet forums (www.printplanet.com), and you can reach him at mordy@mordy.com. Other books published by Mordy Golding include Real World Adobe Illustrator CS3 (Peachpit Press, 978-0321496218, 2007), Sams Teach Yourself Adobe Illustrator in 24 Hours (Sams Publishing, 0-672-32313-3, 2003), and The Web Designer's Guide to Color (Hayden Books, 1-5683-0354-8, 1997). Mordy is also the author of several video training titles, which you can find at www.lynda.com.
Table of Contents
The Suite
Overview: The Creative Process
p. 3
The Dream Team
p. 4
Adobe Bridge CS3
p. 4
Adobe Photoshop CS3
p. 4
Adobe Illustrator CS3
p. 5
Adobe InDesign CS3
p. 6
Adobe Flash CS3 Professional
p. 7
Adobe Dreamweaver CS3
p. 7
Adobe Acrobat 8.0 Professional
p. 8
The Different Versions of Adobe Creative Suite 3
p. 9
Adobe Creative Suite 3 Design Premium
p. 9
Adobe Creative Suite 3 Design Standard
p. 9
Adobe Creative Suite 3 Web Premium
p. 9
Adobe Creative Suite 3 Web Standard
p. 9
Adobe Creative Suite 3 Production Premium
p. 9
Adobe Creative Suite 3 Master Collection
p. 10
Summary
p. 10
So Many Applications: Which One to Use?
p. 11
Adobe Bridge CS3
p. 12
Where Bridge Came From
p. 12
What Bridge Does
p. 12
When to Use Bridge
p. 14
Adobe Photoshop CS3
p. 15
Where Photoshop Came From
p. 15
What Photoshop Does
p. 15
Table of Contents provided by Publisher. All Rights Reserved.
Excerpts
= 0) {slash = '\\';} else {slash = '/';}openLoc = figLoc.substring(0, figLoc.lastIndexOf(slash) + 1);while (pPage.substring(0,3) == '../') {openLoc = openLoc.substring(0, openLoc.lastIndexOf(slash, openLoc.length - 2)+ 1);pPage = pPage.substring(3, pPage.length + 1);}popUpWin =window.open('','popWin','resizable=1,scrollbars=1,location=0,toolbar=0,width=525,height=394');figDoc = popUpWin.document;zhtm= ' ' + pPage + ' ';zhtm += ' ';zhtm += ' ';zhtm += ' ';zhtm += '' + pPage.substring(pPage.lastIndexOf('/') + 1, pPage.length) + '';zhtm += ' ';figDoc.write(zhtm);figDoc.close();}// modified 3.1.99 RWE v4.1 --> Introduction IntroductionWelcome toSams Teach Yourself Adobe Creative Suite 3 All in One. This book is designed to give you a fast and easy start with the Design Premium edition of Adobe's powerhouse of creativity, design, and production tools. Adobe Creative Suite 3 Design Premium brings together Photoshop, Illustrator, InDesign, Flash Professional, Dreamweaver, and Acrobat software; an innovative file-management tool called Version Cue; and an image browser called Bridge. Together, these tools can create a smooth workflow for professional print or web design, taking into account all aspects of the design and production processes.A recent search at Amazon.com came back with several pages of books on Photoshop alone. Considering that Adobe Creative Suite contains the fully functional versions of Photoshop, Illustrator, InDesign, Flash, Dreamweaver, and Acrobat, it's a wonder this book is anything smaller thanWar and Peace. The goal of this book isn't to overwhelm you with needless information about every single feature in every application, but rather to help you learn how to use Adobe Creative Suite as a whole to get your work done. Organization of This BookI've broken the book down into three parts, each taking a different approach to Adobe Creative Suite 3:Part I: The Suite--An overall introduction to the different applications in the Creative Suite, as well as an overview of each application's strengths and weaknesses. You'll learn when to use which application, as well as get an understanding of how each application works with the others to produce a complete product. You'll also see how each application in the suite integrates with the others and how certain features are similar across the entire suite.Part II: The Applications--An in-depth look at each individual application in Adobe Creative Suite 3 Design Premium. Part I of the book gave you an understanding of when to use a particular application, and now Part II goes into detail about the features, functionality, and