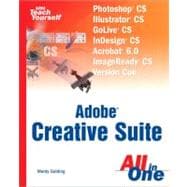 Questions About This Book?
What version or edition is this?
This is the edition with a publication date of 1/1/2005.
What is included with this book?
The eBook copy of this book is not guaranteed to include any supplemental materials. Typically only the book itself is included.
Related Products
Summary
Today's world is all about convenience. Supercenters are popping up every day, selling everything from toothbrushes to clothing and from milk to tires for your car. Even software programs are sold in "supercenter" type packages, or "suites." That is why Sams Publishing has printedSams Teach Yourself Adobe Creative Suite All in One, your one-stop-shop for learning the Adobe creative suite of programs. Learn to create professional graphics and designs with Adobe Photoshop, Illustrator, Acrobat, GoLive and InDesign through this all-inclusive reference guide. This book is sure to answer all of your current and future questions as you move towards software proficiency with each of these programs. Get up to speed quickly and easily withSams Teach Yourself Adobe Creative Suite All in One.
Table of Contents
Introduction
The Creative Suite
Overview: The Creative Process
A Creative Mind
The Right Tools for the Job
The Dream Team
Premium Edition Versus Standard Edition
A New Look
So Many Applications: Which One to Use? Do I Have to Use Them All? Taking a First Glance at the Applications
Adobe Photoshop CS and Adobe ImageReady CS
Adobe Illustrator CS
Adobe InDesign CS
Adobe GoLive CS
Adobe Acrobat 6.0 Professional
Adobe Version Cue
Bringing It All Together
The Game Plan: Developing a Workflow
What Is a Workflow? Understanding Print, the Web, and Beyond
Designing for Print
Designing for the Web
Designing for Both Print and the Web
Moving to a PDF Workflow
Putting It All in Perspective
The Key That Makes It All Work: Integration
Getting Started with the Suite
Integration: Defined
Common User Interface
Palettes
Tools
Keyboard Shortcuts
Moving Data between Apps
Metadata
Version Cue
Taking on the Applications
The Applications
Using Adobe Photoshop CS
Introduction to Photoshop CS
Opening, Creating, and Importing Files
Working with Selections
Layers and Effects
Working with Masks
Painting and Drawing
Photoshop and the Web
Setting Type
Adjusting Images
Retouching Images
Applying Filters
Automating Tasks
Spot Colors
Saving and Printing
Using Adobe ImageReady CS
Introduction to ImageReady CS
Opening, Creating, and Importing Files
Similarity with Photoshop
Optimizing Files for the Web
Adding Interactivity
Automation
Saving and Exporting
Using Adobe Illustrator CS
Introduction to Illustrator CS
Creating and Opening Files
Drawing Basic Vector Objects
Working with Selections
Fills and Strokes
Brushes
Organizing Your Files Using Layers
The Appearance Palette
Masking Objects
Applying Transformations
Using Symbols
Working with Type
Live Effects
Distortion with Envelopes
Blends
Working with Raster Images
Charts and Graphs
Web Graphics
Saving/Exporting Files
Printing
Using Adobe InDesign CS
Introduction to InDesign CS
Creating New Files
Drawing
Coloring Objects
The World of Transparency
Transformations
Working with Text
Creating and Using Tables
Working with Images
Adding Interactivity
Scripting Support
Working with Large Documents
Saving and Printing
Using Adobe GoLive CS
Introduction to GoLive CS
Creating a Project
Using the Objects Palette and Toolbar
Understanding the Site Window
Designing Pages
Using Cascading Style Sheets
JavaScript Actions
Link Warnings
Publishing the Site
Begin Creating
GoLive Extensions
Co-Author
Using Adobe Acrobat 6.0 Professional
Introduction to Acrobat
Viewing PDF Files
Creating PDF Files
Editing PDF Files
Using Comments
Reviewing
Using Sound and Movies
Creating Interactivity
Providing for Accessibility
Using Forms
Security
Acrobat Distiller
PDF Presentations
Printing and Saving PDF Files
eBooks
Using Version Cue
Introduction to Version Cue
Getting Started with Version Cue
Using Version Cue
Administrating Version Cue
Advanced Tasks
The Relationship Between Metadata and Asset Management
Thinking Different
In Closing
The Projects
Creating a Corporate Identity
The Project
Setting Up a Version Cue Project
Creating the Logo
Preparing the Photo
Designing the Business Card
Designing the Letterhead
Designing the Envelope
Creating a Brochure
The Project
Planning the Layout in InDesign
Finding and Preparing the Images
Designing the Cover
Designing the Inside of the Brochure
Creating an Ad Campaign
The Project
Choosing and Preparing Images in Photoshop
Setting Up Pages in InDesign
Setting Up a Master Page
Placing the Photos
Placing the Text
Exporting a PDF File for Review
Adding Comments to the File in Acrobat
Making Changes in InDesign
Saving a Version and Exporting It As a PDF/X-1a-Compliant File
Creating a Web Banner
The Project
Creating a New Illustrator File
Adding the Headline
Adding the Logo
Adding a Backg
Table of Contents provided by Publisher. All Rights Reserved.