Note: Supplemental materials are not guaranteed with Rental or Used book purchases.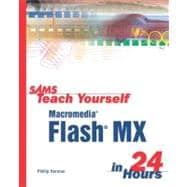 Sams Teach Yourself Macromedia Flash Mx in 24 Hours
ISBN13:
9780672323713
by
Kerman, Phillip
Related Products
Summary
Since its introduction in 1996, Macromedia Flash has become the standard for delivering high impact, vector-based graphics to the Web. Flash is deceptively simple at first, yet has great depth and flexibility. Sams Teach Yourself Macromedia Flash X in 24 Hours offers a clearly written, well-organized introduction to this powerful product, and gives the beginner an overview of the entire package, without becoming too overwhelming. A new version of Flash is expected to be released in the 1st quarter of 2002. It will have user interface improvements, several new features, and extensive improvements to existing features. Previously announced in 3/2002 catalog.
Table of Contents
Introduction
Part I Assembling the Graphics You'll Animate in Flash

| | |
| --- | --- |
| | Drawing and Painting Original Art in Flash |

| | |
| --- | --- |
| | Importing Graphics into Flash |

| | |
| --- | --- |
| | Applied Advanced Drawing Techniques |

| | |
| --- | --- |
| | Using the Library for Productivity |

Part II Animating in Flash

| | |
| --- | --- |
| | Animation the Old-Fashioned Way |

| | |
| --- | --- |
| | Using Motion Tween to Animate |

| | |
| --- | --- |
| | Using Shape Tween to Morph |

| | |
| --- | --- |
| | Including Sound in Your Animation |

| | |
| --- | --- |
| | Using Layers in Your Animation |

| | |
| --- | --- |
| | Animating Using Movie Clip and Graphic Symbols |

Part III Adding Interactivity and Advanced Animation

| | |
| --- | --- |
| | Making Buttons for Your User to Click |

| | |
| --- | --- |
| | Using ActionScript to Create Non-Linear Movies |

| | |
| --- | --- |
| | ActionScripting Applications for Advanced Interactivity |

Part IV Putting It All Together for the Web

| | |
| --- | --- |
| | Linking Your Movie to the Web |

| | |
| --- | --- |
| | Designing Your Web Site to Be Modular |

| | |
| --- | --- |
| | Optimizing Your Flash Site |

| | |
| --- | --- |
| | Advanced Animation Techniques |

| | |
| --- | --- |
| | Working on Large Projects and in Team Environments |

| | |
| --- | --- |
| | Learning How to Learn Flash |

Appendixes

| | |
| --- | --- |
| | A Shapes You Can Make Using Selection, Snap, and the Canvas Level |

Glossary
Index