Note: Supplemental materials are not guaranteed with Rental or Used book purchases.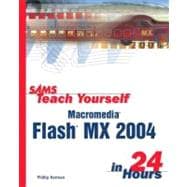 Sams Teach Yourself Macromedia Flash MX 2004 in 24 Hours
ISBN13:
9780672325946
by
Kerman, Phillip
Related Products
Summary
bull; Readers love the book's easy-to-read, well-organized style. bull; Gives the beginner a thorough grounding in the basics of a complicated yet very important Web development technology. bull; Phillip Kerman is a well-known trainer, writer, and developer with years of experience teaching Flash to beginners.
Table of Contents
Introduction
Assembling the Graphics You'll Animate in Flash
Basics
Jumping Right In
Getting Your Bearings
Getting Around in Flash
Document Properties
File Types
Summary
Q&A
Workshop
Drawing and Painting Original Art in Flash
Drawing on the Stage
Tools
Selecting and Transforming Objects
Summary
Q&A
Workshop
Importing Graphics into Flash
Vector Graphics Versus Raster Graphics
Reasons to Avoid Importing Graphics
Importing Vector Graphics
Using Bitmaps (Also Known As Raster Graphics)
Summary
Q&A
Workshop
Applied Advanced Drawing Techniques
Colors and Gradients
Customizing the Tools Panel
Isolating Objects
Grouping Objects
Summary
Q&A
Workshop
Using the Library for Productivity
The Concept of the Library
Using the Library
Using Symbols from the Library
Summary
Q&A
Workshop
Animating in Flash
Understanding Animation
How Animation Works
Components of Animation
Summary
Q&A
Workshop
Animation the Old-Fashioned Way
Understanding the Brute-Force Animation Technique
Enhancing a Frame-by-Frame Animation
Summary
Q&A
Workshop
Using Motion Tweens to Animate
Creating a Motion Tween
Fine-Tuning a Motion Tween
Summary
Q&A
Workshop
Using Shape Tweens to Morph
Making a Shape Tween
Refining and Fine-Tuning a Shape Tween
Summary
Q&A
Workshop
Using Timeline Effects and Commands
Timeline Effects
Commands
Summary
Q&A
Workshop
Including Sound in Animations
Importing Sounds
Using Sounds
Controlling Quality and File Size
Summary
Q&A
Workshop
Using Layers in Animations
How Layers Work
Using Layer Properties for Visual Effect
Summary
Q&A
Workshop
Animating Using Movie Clip and Graphic Symbols
Movie Clip Symbol Behavior
Subtleties of Movie Clips
Summary
Q&A
Workshop
Adding Interactivity and Advanced Animation
Making Buttons for the User to Click
Making a Button
Advanced Buttons
Summary
Q&A
Workshop
Using ActionScript and Behaviors to Create Nonlinear Movies
Using ActionScript
Using Behaviors
Summary
Q&A
Workshop
Using ActionScript for Advanced Interactivity
Making Drag-and-Drop Interactions
Programming in Flash
Summary
Q&A
Workshop
Using Components
What Is a Component? Using the Ra
Table of Contents provided by Publisher. All Rights Reserved.