Note: Supplemental materials are not guaranteed with Rental or Used book purchases.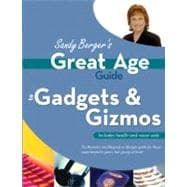 Great Age Guide to Gadgets and Gizmos
ISBN13:
9780789734419
by
Berger, Sandy
Summary
AuthorSandy Bergeris the host of the AARP Webplace Computers and Technology website, and is the perfect host to guide you through the world of electronic devices. Sandy's easy-reading style and bite-sized chunks of information are just a few of the reasons why she has been dubbed "the Martha Stewart of e-learning." Sandy will introduce you to the latest electronic toys and devices, including digital cameras, computer devices such as voice-recognition and magnification software, cell phones and more. You'll find out what you should purchase to improve a specific aspect of your life Sandy will explain how they all work so you can use it for your enjoyment. There is much to learn and keep up-to-date with when it comes to technology. Let Sandy help guide your way through her newGreat Age Guidebook series!
Author Biography
Sandy Berger is seen and heard everywhere these days: in her Compu-KISS newsletter, on her radio program, in her newspaper column, in her three books, and on the Internet and by fans from around the globe. And although she is the host of the Computers and Technology section of the AARP web site, a far broader age group seeks her opinions. It's the universal appeal that put Sandy in Parade Magazine and on the Today Show. Dubbed "the Martha Stewart of e-learning," Sandy is knowledgeable, likable, and has a way with people. The New York Times placed her in the top five most influential people in e-learning.
Table of Contents
Introduction About Sandy Berger's
Great Age Series Gadgets and Gizmos
What's Inside
How This Book Is Organized
Keyboards, Mice, and More
Ergonomic Keyboards Kensington Comfort Type Keyboard Safe
Type Keyboard Kinesis Contoured Keyboard Big Key Keyboards Big
Keys LX Keyboard with USB Visi
Key Keyboard 20/20 Type-Large Print Keyboard Labels
Specialty Keyboards Cordless Keyboard with Microban
Protection Optical Desktop with Fingerprint Reader Keyboard Organizer Frog
Pad Logitech diNovo Media Desktop Keyboard Accessories
Fully Adjustable Keyboard Manager Gel Wrist Pillow Air
DR Dust Blaster CO2 Data-Vac Shuttle
Vacuum Ergonomic and Assistive Mice AirO2bic Mouse Evoluent Vertical
Mouse 2 Roller
Mouse
PRO Assistive Mouse Adapter Wireless Intelli
Mouse Explorer Gyration Ultra Mouse Alternatives
Orbit Optical Trackball 0in 0pt; Line-Height: 200%" soPlainT
Table of Contents provided by Publisher. All Rights Reserved.
Excerpts
= 0) {slash = '\\';} else {slash = '/';}openLoc = figLoc.substring(0, figLoc.lastIndexOf(slash) + 1);while (pPage.substring(0,3) == '../') {openLoc = openLoc.substring(0, openLoc.lastIndexOf(slash, openLoc.length - 2)+ 1);pPage = pPage.substring(3, pPage.length + 1);}popUpWin =window.open('','popWin','resizable=1,scrollbars=1,location=0,toolbar=0,width=525,height=394');figDoc = popUpWin.document;zhtm= ' ' + pPage + ' ';zhtm += ' ';zhtm += ' ';zhtm += ' ';zhtm += '' + pPage.substring(pPage.lastIndexOf('/') + 1, pPage.length) + '';zhtm += ' ';figDoc.write(zhtm);figDoc.close();}// modified 3.1.99 RWE v4.1 --> Introduction Introduction Have you ever stopped to think about the role of technology in your life? There's no doubt that today's younger generations will benefit from current and future technological advances, but today's older generations are already seeing the biggest lifestyle improvements ever. We are living longer, more active lives than our parents and grandparents. Our ancestors went from youth to middle age to old age. We, with a new mentality and the help of technology, have added an entire epoch to our lives--the Great Age! Everyone knows that the term baby boomer refers to individuals who were born after World War II. This group is generally recognized as encompassing people who were born between 1946 and 1964. The boomers' older siblings don't have a moniker associated with their generation, but along with the boomers, they are often referred to as zoomers because they are not ready to be relegated to a rocking chair. Boomers and zoomers are zooming into the latter part of their lives, zooming into technology, and zooming into everything they do. They are vibrant individuals who deal enthusiastically with all aspects of their lives. They are ready to enjoy the Great Age that they have created. AboutSandy Berger's Great AgeSeries It's about time that someone addressed the issues that face those of us who did not grow up with computers. We are not technologically impaired. We are not dummies. And we are not about to be overlooked. It's just that we didn't learn about computers in school, so we sometimes approach the new-fangled digital world with a bit of trepidation. Can someone please tell us just what we need to know without the complicated mumbo-jumbo? That is exactly what this series does. It is explicitly geared for the needs and wants of baby boomers and beyond. It tells you just what you need to know--no more and no less. It uses the winning formula of need-to-know information along with easy-to-understand explanations. Over the past decade, I have helped many