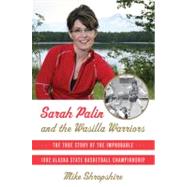 Sarah Palin and the Wasilla Warriors : The True Story of the Improbable 1982 Alaska State Basketball Championship
by
Shropshire
List Price: $25.99
Usually Ships in 7-10 Business Days
Questions About This Book?
What version or edition is this?
This is the 1st edition with a publication date of 2/28/2012.
What is included with this book?
The New copy of this book will include any supplemental materials advertised. Please check the title of the book to determine if it should include any CDs, lab manuals, study guides, etc.
Summary
Long before everyone knew Sarah Palin as "Momma Grizzly," the girls on her team called their point guard Sarah "Barracuda" for her tenacious play. That determination fit in well on scrappy team from a small town where people were proud to call themselves Valley Trash and happy to take on the big city schools.As beautiful as Alaska is, it's also unforgiving. It's a place where your first mistake may be your last. When the winter comes and the nights are long and the temperatures plunge, everyone starts looking for an escape. All across Alaska, those gyms-bright and warm-become a sanctuary not only for the players but for their isolated hometowns as well. Acclaimed sportswriter Mike Shropshire goes beyond Sarah Palin's media profile to tell the untold story of how she and a team of young women came together to overcome daunting odds both on and off the court.
Table of Contents
Praise for Mike Shropshire:
 "If you liked the motion picture Bull Durham, you will love this book."
--The Christian Science Monitor (book of the week) on The Last Real Season

"Mr. Shropshire, Texas' greatest journalistic raconteur, has created a relentlessly entertaining narrative."
--Wall Street Journal on Runnin' With the Big Dogs
Excerpts
Chapter 1
 
 
The Sleeping Lady.
That's how generations of Alaskans refer to Mount Susitna, a geological masterpiece that has maintained a one-hundred-thousand-year vigil above the arctic valley that contains the community of Wasilla. Susitna reigns as a central character in native Aleutian mythology. She belonged to a race of giants and lapsed into a slumber of grief when her lover strode off into battle and never returned. An image of the contours of Susitna reflected off the serene waters of Lake Lucille—the eighty-acre centerpiece of the banquet table of topographic joy that is the great Mat-Su Valley region—is a picture postcard from Heaven. Amid grandeur like this, atheism is a tough sell.
Before purchasing a one-way business-class ticket to this celestial sneak preview of a wonderland panorama of the Great Beyond, understand the nonnegotiable terms of the payback. Lake Lucille shimmers, shines, and smiles for perhaps four-and-a-half months. For the remainder of the calendar, it's frozen stiff and hard as marble.
But, oh God. Such unblemished vistas. The Grand Tetons of Wyoming on the southern entry to Yellowstone Park arguably ranks as the paramount mountain scenery found in the Lower 48. The Tetons consist of three solitary peaks. If these are the Three Tenors, then Wasilla lies beneath the whole Mormon Tabernacle choir, a seemingly endless array of majestic twelve-thousand-foot-tall spires, a towering, snow-topped array that make the Swiss Alps look like slum clearance.
Wasilla lies about 45 miles north and east of the city of Anchorage, which contains about half of the population of the 570,000-square-mile expanse of Alaska. By post-World War II American standards, Anchorage, with its population of barely more than a quarter-million residents, hardly qualifies as a metropolis.
The Anchorage-to-Wasilla trip involves a quick journey along the twisting Glenn Highway, bounded on either side of the road by vertical mountain cliffside escarpments that extend straight up into the sky. About halfway, a bridge crosses the Knik River, a vaguely ominous swift-current rhapsody of nature that literally sucks the breath from the first-time traveler.
During the late spring and summertime months, this highway is alive with traffic, a motorcade of vehicles of every type and description, carrying happy travelers eager to experience not the great outdoors, but the greatest outdoors. Gourmands of the earth, wind, and sky pour into the marvelous Mat-Su Valley, known as that because its boundaries are defined by the Matanuska and Susitna Rivers. The Mat-Su Valley consists of a smattering of communities.
Wasilla and Palmer are the most prominent, but also there's a collection of small towns and villages with names that tell the world that this isn't New Jersey. Big Lake. Butte. Chickaloon. Glacier View. Montana Creek. Skwentna. Sutton. Willow. Talkeetna. Trapper Creek. Also, there are some native villages with their cemeteries adorned with spirit houses, miniature wooden structures painted in bright primary colors that protect the gravesites of the departed.
Sun-season invaders are campers mostly, driving everything from elaborate mobile homes that amount to luxury hotels on wheels to beat-up pickup trucks with tents in the backs. They come from not merely all of the Lower 48 states, but from everywhere on the planet. Utah. Japan. Tennessee. Wales. Kansas. South Africa. They come to fish, setting forth on an Aquarian fantasy safari. Mostly the trophies are salmon—the Chinook King, the Sockeye Red, the Coho Silver, and the Humpy Pink, so-called because in the spawning season the males develop a pronounced hump. Also, there is an abundance of halibut and rainbow trout. The season opens in May, when the streams have thawed, and ends in September, and for out-of-state nonresidents, a license that is good for two weeks costs $80.
Hiking is a big attraction as well. In the Mat-Su Valley region, people are drawn to the Crevasse Moraine Trail System or the Lazy Mountain Trail or the Morgan Horse Trail or the Matanuska Mountain or dozens of other routes that might well serve as pedestrian walkways into the Promised Land. Up here, it's so quiet in places that you can detect the sound of the heartbeat of the region that Alaskan license plates identify as the Last Frontier.
This slogan, like most things Alaskan, is a profound understatement. For visiting motorists, the Alaskan locals like to offer the following sage tips: Be prepared to bring a spare battery, seven spare tires, an extra windshield, several gallons of gas, and to be on the cautious side, tow an extra car behind you. They like to add that there is no speed limit on major highways, as speed is controlled by potholes, frost heaves, and wandering moose. They also recommend two rolls of duct tape per person. They're kidding, sort of. The only people that Alaskans laugh at more than the visitors are, in fact, themselves.
Wasilla, once a supply station for the fifty Willow Creek gold mines that were productive until the end of the Depression, serves as a way station for the eager travelers, the gateway to the Denali National Park and Mount McKinley. The park is slightly larger than the state of Vermont and Denali literally translates from Native American dialect to "the High One," yet another understatement since McKinley reigns as the highest point in all of North America. On clear days, the mountain can be seen from the higher points in Anchorage, more than two hundred miles to the southeast. In terms of base and sheer rise, McKinley in fact exceeds even Mount Everest as the supreme mountain entity on planet Earth. It also serves as the final destination for amateur mountaineers, mostly from the southern and southwestern portions of the Lower 48, who fall to their deaths while attempting to scale the monster at a rate that averages four per annum.
As for the eager adventurer intent on exploring the nature trails in Denali and beyond, Wasillans recommend the following inventory of supplies:
* Map.
* Compass.
* Waterproof hiking boots.
* Fleece or wool hat.
* Knife or multi-tool.
* Watch.
* First aid kit.
* Bug repellant.
* Bear spray.
* LED headlamp.
* Three fifty-foot lengths of eighty-pound test nylon string.
* Water purification tools (iodine, bleach, or filter).
* One or two small signal flares.
* Loud plastic whistle.
* Unbreakable mirror for signaling.
* Extra clothing, more socks, and thermal underwear.
* Toilet paper and small trowel to bury waste.
And those necessities, they add in conclusion, are the basic requirements for a trip to the corner grocery store!
No, Alaska is no place for the pampered, mint-on-the-pillow, Chardonnay-and-strawberry vacationer. It's rugged up here, and for most, the experience of a lifetime. For the foolhardy and the daredevil, it can easily become the final experience of a lifetime. Certain newcomers have proposed that billboards be erected along border points that read:WELCOME TO ALASKA, WHERE YOUR FIRST MISTAKE MIGHT BE YOUR LAST MISTAKE.Alaska can be brutal and unforgiving. That is encrypted into the state's natural DNA.
It is historically true that quite a few of the celebrated gold prospectors who poured into the land in the nineteenth century did, in fact, become pig rich. However, the cruelty and hardship that the gold diggers endured to gain their fortunes made many, if not most, ultimately question whether the quest was worth it, as they surveyed their bodies for places where hands and feet and fingers and toes used to be before being chewed off by wolves, or before the frostbite kicked in.
Summertime in the Mat-Su Valley provides a setting for joyful expectations. The sunshine beams upon the landscape 24/7, and plant life explodes into a velvet tapestry of flower-spangled glee. Annually, the summer solstice is cause for celebrations of song and dance throughout the state. But the days pass in a flurry during those precious summer weeks, and inevitably mid-August arrives and the gentle pine-scented breezes begin to carry the first breaths of the ominous chill—the prelude of what is soon to come.
By Labor Day, the visitors are in full retreat in their southbound exodus. They leave with their containers of frozen salmon and their stories and their photos that they will perpetually share with friends, relatives, and drinking companions. Those stories are well received, too. The Eiffel Tower? The Taj Mahal? Big whoop. Nobody cares. People are inclined, however, to admire the photo of the fisherman or, as they are steadfastly known in Alaska, the fisherwoman with a glistening twenty-pound beauty that was plucked from some gushing stream in the Kigluaik Mountains or the Kenai Peninsula or any one of the tens of thousands of unsurpassed fishing holes that compel anglers to travel here at great personal expense in search of the freshwater Holy Grail.
Come October and the evacuation is complete. In Wasilla, the traffic abates. The townspeople are alone again, knowing full well that it is time to confront the surging arrival of the Great White Apocalypse. Now Alaska becomes the flip side of paradise, and Alaska becomes what happens when hell freezes over. Very soon the sting of wind will feel like what Jack London described as the stab of a white-hot knife. With the cold comes the darkness, which for the year-round resident serves as the genuine test of faith.
People who came to Alaska and chose to remain will uniformly claim that their only regret was that "I didn't move here twenty years earlier." But speaking to outsiders, they will concede that the treacheries of the everlasting wintertime darkness serve as a challenge to day-to-day sanity and candidly admit that, "The first couple of years, it bugged the hell out of me."
In the months of the seemingly eternal snowfall along the rim of the Arctic Circle, all of survival and well-being has to be centered on a spirit of community. And from Dutch Harbor on the extreme reaches of the Aleutian Chain all the way up to Barrow—the front doorway of Santa's workshop—and all points in between, the crux of community life is the school. The school is the biggest and most impressive structure in almost every town. There are a few exceptions. Some villages contain some ancient Russian Orthodox churches, whose structures were mandated under the rule of Catherine the Great, back when Alaska was still in the possession of Russia during the czarist rule.
There are not any such structures in Wasilla, though, and the most impressive edifice and the pride of the town is the high school on Bogard Road. It's a horizontal, slate-gray two-story building conspicuously adorned on the right front side by the artistically created likeness of the profile of a stern and noble-faced man with a prominent nose, wearing a feathered headdress. He has the countenance of a person you'd best try to get along with, and he wears a not-so-subtle look that tells the world that you don't mess with him. He is the representation and embodiment of the school and the namesake of the town itself.
He is the Wasilla Warrior. A leader of the Dena'ina Native Americans who existed in the Mat-Su Valley as many as ten thousand years ago, Chief Wasilla appears to be gazing into the past, and perhaps frowning at the Russian fur traders who were attempting to exploit his native territory.
Construction of the high school was completed in the late 1970s. This is a place of learning, of course, but the people who designed the school also realized that competitive athletics was perhaps vital to the overall physical and mental health of the kids who attended the school. The gymnasium is huge, large enough to simultaneously accommodate two basketball games and a volleyball match.
On the second floor, the gym is encircled by a three-hundred-meter-high banked running track where indoor meets are conducted in the cold months. Adjacent to the gym and the track, the building contains an Olympic-sized indoor pool that is available for the use of the entire community. The Wasilla school board authorized significant expense to be put into its athletic facility, and they did it right. What they needed were teams that offered the cheerleaders something to cheer about. Wasilla High School athletes, especially the basketball players, were inured to the status of "participant" but never "champion."
The time is mid-October and the year is 1981. The school is still virtually brand new. This is a time of keen anticipation for the scarlet-clad athletes who will represent the Wasilla Warrior. For the previous two seasons, the girls basketball team had come achingly close to attaining a state championship, only to lose it in the finals, first to Anchorage East and the following year to Kodiak. Maybe the third time will provide the charm. It is now when the cry of "Let the games begin!" takes on true meaning.
In almost of all the forty-nine states that are not Alaska, high school football serves as the mainstay for each and every athletic program. While public education administrators preach the values of academics in their various districts, most of them realize full well that they justify themselves to the taxpayers by the quality of their Friday night productions. The football team and the band—with the accompanying drill teams and the gyrating cheerleaders—are orchestrated into a furious perpetuation of pagan rituals rich in the symbolism of violence and sexuality. That's the pride of the town.
Not so much in Alaska. The elements dictate otherwise. In interscholastic competition, with the exception of Barrow, where the playing field is encircled with armed snipers to ward off polar bears, football has its place, signaling the beginning of yet another school year. Certainly, with a male population uniquely attracted to the seductive murmurs of the great outdoors, this state contains plenty of adolescent males who are well geared for the head-on thunder that happens on the gridiron. When the coach says, "They call football a contact sport, but it's not. Dancing is a contact sport. Football is a collision sport," the kids get the point right away. Still, high school football in the Yukon regions is not a religion, not like it is in Ohio, Pennsylvania, the Deep South, and California, where the multitudes come to worship at the Holy Church of the Pigskin.
Alaskan football is the redheaded stepchild. The fact that somebody named Mark Schlereth is remembered as the greatest player in the history of Alaskan football says a lot. Practice begins in August and the season ends in early October at the latest. Really, football is regarded as an exercise that allows some of the bigger boys to work off a little excess testosterone, bust a few noggins maybe, and that's about it. The Wasilla Warriors football home games take place on a field bounded on one sideline by modest bleachers that might accommodate a thousand spectators, maximum. The visitors' sideline backs up to a dense forest of towering birch and white spruce trees that maintains an almost primeval quality.
The team's principal rival comes from the neighboring community of Palmer, home of the Palmer High School Moose. The highlight of the area's football season inspired a headline in the local paper that read:MOOSE TRAMPLE ANCHORAGE CHRISTIAN. The head coach of the Moose was quoted in print that he swore to God that he didn't run up the score. That was a typical Alaskan football game, in that it didn't amount to much, and talent scouts from Notre Dame and Southern Cal were most assuredly not on hand to witness the proceedings. It is a simple fact that on the rosters of teams on the National Football League, players from the state of Alaska are outnumbered by American Samoans by a margin of at least 20:1.
In truth, the coaches and fans throughout the state find the conclusion of the football season comes as a time of near relief, since this activity serves as an undercard preliminary bout for the competitions that stir up the real passions of the Alaska sports fan. These, of course, are the wintertime events. Ice hockey is big. Nordic skiing is hotly competitive.
But the game they really love, the one that ignites the competitive juices and the adrenalin of virtually the whole town, is basketball. It's a sport that defies the winter darkness, where the overhead lights of the gymnasium provide a cheerful reflection off the well-polished hardwood floors. The small arenas become crammed echo chambers and the eager shouts of the spectators generate a feel-good outlet for the woes and tensions of an eternal winter grind like the pop-off valve on an old steam locomotive. Come to the games and jump and stomp and holler your primal guts out. Most mental health professionals agree that ultimately it is more productive to scream at the ref than it is to scream at your spouse or kids.
Rules of conduct for the fans are posted in most gyms across the state. No use of alcohol inside the gym. No throwing of objects. No kicking or slamming the bleachers. No using profanity. No running on the court. No physical threats aimed at players, coaches, or game officials. No disruptive actions during opposing teams' free throws. These standards of basic basketball etiquette are presented for the adults as much as for the students. They are not strictly enforced at most games, not to the letter of the law anyway, and a fan must resort to extremes to get the heave-ho from the gym.
Alaskan high school basketball maintains a deep and vital historic background. Since the territorial days, people have been peculiarly addicted to the game. The Aleuts and the Eskimos and the more than four hundred tribal entities that populate the state elevate the nature of the competition and the poetry of motion that occurs when the sport is played correctly.
Alaska's first recorded basketball game took place in 1905, in the southeast corner of the state. Players representing the Wrangell boarding school took on a team of U.S. Marines stationed at an outpost nearby. The Marines won, being seemingly more familiar with the regulations of the sport than the schoolboys. In a written account of the event, the referee, himself a Marine, was described as "the whistle-blower" who appeared to be making up the rules as the contest progressed.
When a rematch was proposed, the Wrangell team insisted upon the use of an impartial whistle-blower who turned out to be a local missionary, and as such, disinclined to accept an under-the-table honorarium to influence the outcome of the game. At its genesis, Alaskan basketball was an exhibition in which controversy outweighed competition, and the sport took wings throughout the state, a celebration of life in the Great Indoors. Girls teams were active, too, with the players clad in bloomers and matching tops.
Basketball rapidly became the only real game in town, and that included poker. In the early days, and those lasted well into the Depression years, many of the so-called arenas were not equipped with running water or electricity. Buildings were heated with wood-burning stoves, some actually located within the boundaries of the court, and enterprising home teams used the stoves as a screen to ward off the defensive tactics of the visitor. Most the early stars of Alaskan hoops were bruisers, men's men, with nicknames like Panther Paw, Corned Beef, Big Shot, and Chop Chop, not to mention "Soup" Campbell.
Fascination with the sport in the North Country expanded to the extent that in 1907, way up in Nome, people were said to take their basketball even more seriously than mining initiatives. The Nome Arctic Brotherhood basketball team was formed with the intent of winning the Lower 48 national championship of a sport that had only been around for sixteen years. The brotherhood's bonding mechanism was based on a shared enthusiasm for the game. Basketball was a game that could be played with the same manly gusto as another emerging American game—football—but was better because the outcome involved smarts over brute force.
Bankrolled with $10,000 donated by the Nome business people, they took off for a coast-to-coast tour of the United States in a private rail car, with players adorned in unique fur-trimmed clothing. Nome's itinerant basketball team did not consist of a group of postpubescent young men playing the game for kicks and Coca-Cola. Most of the group were in their mid-to-upper twenties, two older than thirty. One player temporary left behind the operation of a gold stake that earned him over $75,000, and another had ridden with Teddy Roosevelt at the Battle of San Juan Hill.
Their actual purpose was to promote the Alaska–Yukon Exposition, scheduled for 1909, but they won the hearts of the country with their élan and court skills. Playing against college and club teams, the roving twelve-man gang from Nome played eighty games, and won all but a dozen. One loss was pinned to a sickness blamed on drinking Missouri River water.
After a win at Glasco, Kansas, a reporter for hometown newspaper wrote:
The Nome boys came here like gentlemen, acted like gentlemen, played ball like professionals, and, when they left, carried with them the good will and wishes of everyone with whom they came in contact.
Interscholastic competition, for both boys and girls, flourished throughout the early part of the century. The first authorized all-Alaska state championships took place in 1929. The finalists were Lathrop High School in Fairbanks, located near the frigid center of the state, and a team from Petersburg, established deep in the Alexander Archipelago in the most southeastern reaches of the state, on Kupreanof Island, not far from the border of British Columbia. In terms of tradition, that area served as the Bethlehem of Alaskan basketball. Keen battles of one-upmanship took place among teams from Juneau, Douglas, Sitka, Katchikan, Wrangell, Skagway, and Mount Edgecumbe. Competition became so keen and bitter that alumni of rival high schools seldom married. These unions, in fact, were viewed as "mixed marriages" and usually didn't last.
A newspaper in Fairbanks organized the championship, issuing an in-print challenge to the premier team from the Archipelago. This region, then and now, is unconnected to the road system and isolated from any civilization that relies on the invention of the wheel. In order to meet the Fairbanks newspaper challenge and compete in the best of three game finals, the Petersburg Vikings first had to beat Juneau in a grueling three-game set and then board a steamship.
This was a meandering voyage that began on a route that carried the steamer along Frederick Sound, then through Chatham Strait, Icy Strait, past the southern edge of Glacier Bay National Park and then out into the Gulf of Alaska. Proceeding on a mostly westward heading, the ship cruised past the Fairweather mountain range, the Malaspina Glacier, the Bering Glacier, the Bagley Icefield, then Prince William Sound, the Kenai Fjords and a myriad of other awe-stirring natural landmarks accessible to almost all Americans only through the pages ofNational Geographic.
After a one-way journey of nearly one thousand miles, the vessel arrived at the port of Seward on the Kenai Peninsula, and the Viking team still had a long way to travel. They climbed aboard a train that carried them alongside the Cook Inlet up to Anchorage, and then took another train for the almost four-hundred-mile trek to Fairbanks. Halfway, the train was engulfed in an arctic blizzard and sat trapped on the tracks in a snowstorm for almost thirty-six hours.
Almost two weeks had elapsed before the Petersburg team reached Fairbanks. Tired, cold, and hungry, they went directly to the court and lost the first game of the series. They survived final elimination in the second game with a 1-point lead and beat the Fairbanks team by five in the deciding contest. Back in Petersburg, the Viking players were greeted like conquering heroes. The whole town turned out for a banquet in their honor at the Sons of Norway Hall. And it would take years for the town of Petersburg to pay all the bills from the trip.
Start to finish, this excursion to the first Alaskan state basketball finals took the Petersburg team on a trophy-hunting expedition that had lasted the better part of a month. Because of the extent, not to mention the expense, of that journey, the reenactment of the state championship contest was postponed for a while. In fact, nobody attempted it again until 1947. High school basketball in Alaska had experienced a lull during World War II. That was not so much because of a shortage of players. After Pearl Harbor, the U.S. Navy had requisitioned most of the larger seagoing vessels in Alaska, and the teams no longer had a way to travel to the games.
Still, if any one word can be ascribed to the sport of basketball in Alaska, it isinaccessible,and the schedule of competition that awaited the boys and girls teams for Wasilla High School for the 1981–1982 regular season would involve some cross-country expeditions not too unlike the exploratory voyage of Petersburg's inaugural state championship team.
The easiest thing in the world to read is a road map of the state of Alaska. That's because there aren't many roads, and at least a third of those are markedCLOSED IN WINTER. Most of the clusters of humanity in this extraordinarily expansive piece of the world can be reached only by ferry boats or aircraft, usually equipped with pontoons or skis, or dogsleds, kayaks, canoes, hot air balloons, hang gliders, and snowmobiles.
While there is no verifiable account of any Last Frontier high school teams actually traveling to a road game via balloon or glider, those other listed methods of transport are commonplace, snowmobiles included. The vast majority of teams officially competing in sanctioned athletic competitions are based in communities that are officially classified as "off the road system." That includes the state capital of Juneau.
The state is rife with villages and settlements that are barricaded and locked away from the outside world by the direst circumstances that nature has to offer. Inhabitants survive during the months of darkness with their caches of food and supplies stored in the ice cellars that have been arduously dug out of the permafrost.
No matter how primitive the township, though, the kids go to school, and they play sports. The lyrics, "far away places with strange-sounding names," from a hit song standard from the days of the so-called Greatest Generation, might well have been composed as a tribute to some of the member schools of the Alaska Scholastic Activities Association.
Arctic Village. False Pass. Eek. Kuinerrarmiut Elitnaurviat. Shaktoolik. Russian Mission. Crow Village Sam. Chief Ivan Blunka. Nightmute. Those schools function within districts such as North Slope, Aleutian East, Lower Yukon, and Bering Strait, where athletic competition, basketball especially, is not merely encouraged, it's mandatory. Should the high school be too small to put as many as five kids on the court, then teams are authorized to use eighth graders. That is how essential these games are regarded to the mental and emotional well-being in this land that is so often saturated with poverty and despair.
People in charge of Alaska's far-flung interscholastic sports operations take a lot of pride in pointing out that the games become a social occasion, and the entire village shows up to watch. And, yes, teams and fans often travel to games in snowmobile caravans.
By these standards, the Wasilla Warriors' operation in 1981–1982 stood out as almost cosmopolitan. The town maintained a hospital, had paved highways leading in and out, a public library (albeit the facility was housed in what amounted to a glorified double-wide trailer), a few restaurants, and the Mug-Shot Saloon, which closed its doors each day at 5 a.m. and reopened three hours later. In those regards, Wasilla had a lot going for it. But the reality was that existence here, with the sunshine and tourists all gone, might as well have been conducted on the dark side of one of the moons of Saturn when compared with the standards of life in "The Outside," that being any Alaskan's term from the distant civilizations that exist anywhere beyond the territorial limits of their frozen realm.
Wasilla was no frills—period. If you were looking for fine dining, you'd be better served attempting to find a gourmet restaurant meal in Flin-Flon, Alberta, or Smackover, Arkansas; although on Valentine's Day or a wedding anniversary a guy might splurge and take his lady for a romantic candlelight dinner at a restaurant down in Anchorage where the specialty of the house was fishhead pizza.
The various retail stores, mostly situated on the Parks Highway on a two-mile stretch that's bisected by the Palmer-Wasilla Highway on one end of the town and Fish Hook Road on the other, would not be easily confused with the boutiques and designer fashion palaces along Rodeo Drive in Beverly Hills. Septic tank service centers were big in Wasilla. You might have discovered a moose cow wearing a tutu before you could locate a physician specializing in cosmetic surgery, but there were plenty of chiropractors. Imported Italian designer high heel shoes were difficult to locate here, but snowmobile parts outlets were numerous, along with gun stores and pawnshops. A taxidermist maintained a conspicuously busy operation, and home heating service providers operated thriving businesses.
When it came to the concept of entertainment and nightlife, Wasilla could offer little more than was available at Red Devil and Lime Village stuck back in the Kuskokwim Mountains. High school basketball would take center stage, and with practice about to begin in the late October chill and the snow already falling, the Wasilla Warriors were no different than the North Pole Patriots or the Ketchikan Kings.
Every team was striving toward something that was more than a goal. It was a mission, and that was to fight their way—Arctic Circle style—into the event known as March Madness, the Alaskan state basketball championship games in the big tournament in Anchorage.


 
Copyright © 2012 by Mark Shropshire