Note: Supplemental materials are not guaranteed with Rental or Used book purchases.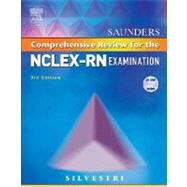 Saunders Comprehensive Review for the NCLEX-RNŽ Examination
ISBN13:
9780721603476
by
Silvestri
Summary
"This comprehensive third edition is based on the latest NCLEX-RN test plan, Using an outline format, it reviews all areas of nursing, including maternity, pediatric, medical-surgical, psychiatric, and gerontologic. More than 4000 practice questions are included in this book/CD ROM package, along with answers, rationales, and test-taking strategies."--BOOK JACKET.
Author Biography
Linda Anne Silvestri is Instructor of Nursing, Salve Regina University Newport, Rhode Island; and President, Nursing Reviews, Inc., and Professional Nursing Seminars, Inc., Charlestown, Rhode Island.
Table of Contents
| | |
| --- | --- |
| | UNIT I NCLEX-RN EXAM PREPARATION |

3
(14)

| | |
| --- | --- |
| | Preparation for the NCLEX Exam: Transitional Issues for the Foreign-Educated Nurse |

17
(4)
21
(3)

| | |
| --- | --- |
| | The NCLEX-RN Examination: From a Student's Perspective |

24
(2)
26
(11)

| | |
| --- | --- |
| | UNIT II ISSUES IN NURSING |

37
(13)
50
(15)

| | |
| --- | --- |
| | Leadership, Delegating, and Prioritizing Client Care |

65
(18)

| | |
| --- | --- |
| | UNIT III NURSING SCIENCES |

83
(19)
102
(10)
112
(15)
127
(11)

| | |
| --- | --- |
| | Total Parenteral Nutrition (TPN) |

138
(11)
149
(14)

| | |
| --- | --- |
| | Administration of Blood Products |

163
(14)

| | |
| --- | --- |
| | UNIT IV FUNDAMENTAL SKILLS |

| | |
| --- | --- |
| | Provision of a Safe Environment |

177
(9)

| | |
| --- | --- |
| | Administration of Medication and Intravenous Solutions |

186
(14)
200
(8)

| | |
| --- | --- |
| | Perioperative Nursing Care |

208
(17)
225
(8)

| | |
| --- | --- |
| | Care of a Client with a Tube |

233
(18)

| | |
| --- | --- |
| | Female Reproductive System |

251
(7)
258
(6)
264
(14)

| | |
| --- | --- |
| | Risk Conditions Related to Pregnancy |

278
(18)
296
(14)

| | |
| --- | --- |
| | Problems with Labor and Delivery |

310
(10)
320
(7)
327
(9)
336
(18)

| | |
| --- | --- |
| | Maternity and Newborn Medications |

354
(11)

| | |
| --- | --- |
| | UNIT VI GROWTH AND DEVELOPMENT ACROSS THE LIFE SPAN |

| | |
| --- | --- |
| | Theories of Growth and Development |

365
(9)
374
(15)
389
(12)

| | |
| --- | --- |
| | UNIT VII PEDIATRIC NURSING |

| | |
| --- | --- |
| | Neurological, Cognitive, and Psychosocial Disorders |

401
(14)

| | |
| --- | --- |
| | Eye, Ear, and Throat Disorders |

415
(7)
422
(12)
434
(12)

| | |
| --- | --- |
| | Gastrointestinal Disorders |

446
(18)

| | |
| --- | --- |
| | Metabolic and Endocrine Disorders |

464
(8)

| | |
| --- | --- |
| | Renal and Urinary Disorders |

472
(8)
480
(7)

| | |
| --- | --- |
| | Musculoskeletal Disorders |

487
(7)
494
(6)
500
(10)

| | |
| --- | --- |
| | Acquired Immunodeficiency Syndrome |

510
(5)

| | |
| --- | --- |
| | Infectious and Communicable Diseases |

515
(13)

| | |
| --- | --- |
| | Pediatric Medication Administration and Calculations |

528
(9)

| | |
| --- | --- |
| | UNIT VIII THE ADULT CLIENT WITH AN INTEGUMENTARY DISORDER |

537
(28)

| | |
| --- | --- |
| | Integumentary Medications |

565
(14)

| | |
| --- | --- |
| | UNIT IX THE ADULT CLIENT WITH AN ONCOLOGICAL DISORDER |

579
(36)

| | |
| --- | --- |
| | Antineoplastic Medications |

615
(14)

| | |
| --- | --- |
| | UNIT X THE ADULT CLIENT WITH AN ENDOCRINE DISORDER |

629
(30)
659
(18)

| | |
| --- | --- |
| | UNIT XI THE ADULT CLIENT WITH A GASTROINTESTINAL DISORDER |

677
(34)

| | |
| --- | --- |
| | Gastrointestinal Medications |

711
(14)

| | |
| --- | --- |
| | UNIT XII THE ADULT CLIENT WITH A RESPIRATORY DISORDER |

725
(33)
758
(21)

| | |
| --- | --- |
| | UNIT XIII THE ADULT CLIENT WITH A CARDIOVASCULAR DISORDER |

779
(50)

| | |
| --- | --- |
| | Cardiovascular Medications |

829
(22)

| | |
| --- | --- |
| | UNIT XIV THE ADULT CLIENT WITH A RENAL SYSTEM DISORDER |

851
(37)
888
(13)

| | |
| --- | --- |
| | UNIT XV THE ADULT CLIENT WITH AN EYE OR EAR DISORDER |

901
(23)

| | |
| --- | --- |
| | Ophthalmic and Otic Medications |

924
(13)

| | |
| --- | --- |
| | UNIT XVI THE ADULT CLIENT WITH A NEUROLOGICAL DISORDER |

937
(42)
979
(18)

| | |
| --- | --- |
| | UNIT XVII THE ADULT CLIENT WITH A MUSCULOSKELETAL DISORDER |

997
(31)

| | |
| --- | --- |
| | Musculoskeletal Medications |

1028
(11)

| | |
| --- | --- |
| | UNIT XVIII THE ADULT CLIENT WITH AN IMMUNE DISORDER |

1039
(12)

| | |
| --- | --- |
| | Immunological Medications |

1051
(8)

| | |
| --- | --- |
| | UNIT XIX THE ADULT CLIENT WITH A MENTAL HEALTH DISORDER |

| | |
| --- | --- |
| | Foundations of Psychiatric Mental Health Nursing |

1059
(12)
1071
(6)
1077
(22)
1099
(10)

| | |
| --- | --- |
| | Crisis Theory and Intervention |

1109
(19)
1128
(87)

| | |
| --- | --- |
| | UNIT XX COMPREHENSIVE TEST |

Bibliography
1215