Note: Supplemental materials are not guaranteed with Rental or Used book purchases.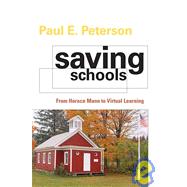 Summary
Saving Schools traces the story of the rise, decline, and potential resurrection of American public schools through the lives and ideas of six mission-driven reformers: Horace Mann, John Dewey, Martin Luther King Jr., Albert Shanker, William Bennett, and James Coleman. Yet schools did not become the efficient, egalitarian, and high-quality educational institutions these reformers envisioned. Indeed, the unintended consequences of their legacies shaped todayrs"s flawed educational system, in which political control of stagnant American schools has shifted away from families and communities to larger, more centralized entities-initially to bigger districts and eventually to control by states, courts, and the federal government.Petersonrs"s tales help to explain how nation building, progressive education, the civil rights movement, unionization, legalization, special education, bilingual teaching, accountability, vouchers, charters, and homeschooling have, each in a different way, set the stage for a new era in American education.Now, under the impact of rising cost, coupled with the possibilities unleashed by technological innovation, schooling may be transformed through virtual learning. The result could be a personalized, customized system of education in which families have greater choice and control over their childrenrs"s education than at any time since our nation was founded.
Table of Contents
Introduction
p. 1
The Rise
Heroes and History
p. 9
Horace Mann and the Nation Builders
p. 21
John Dewey and the Progressives
p. 37
Martin Luther King Jr. and School Desegregation
p. 51
The Decline
The Rights Movement Diversifies
p. 79
Albert Shanker and Collective Bargaining
p. 105
Money and the Adequacy Lawsuit
p. 131
William Bennett and the Demand for Accountability
p. 155
Signs of Resurrection
James S. Coleman and Choice Theory
p. 183
The Practice of Choice
p. 203
Julie Young and the Promise of Technology
p. 229
Abbreviations
p. 265
Appendix: Figures
p. 267
Notes
p. 283
Index
p. 309
Table of Contents provided by Ingram. All Rights Reserved.