Note: Supplemental materials are not guaranteed with Rental or Used book purchases.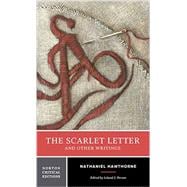 Questions About This Book?
What version or edition is this?
This is the 00 edition with a publication date of 12/17/2004.
What is included with this book?
The New copy of this book will include any supplemental materials advertised. Please check the title of the book to determine if it should include any CDs, lab manuals, study guides, etc.
Related Products
Summary
This Norton Critical Edition of Nathaniel Hawthorne's most widely read novel appears during the bicentennial anniversary year of his birth. The text of The Scarlet Letter is based on the 1850 third edition, the first set in stereotype plates and the basis of subsequent printings in Hawthorne's lifetime. An invaluable selection of contextual material includes five Hawthorne stories that are closely related to The Scarlet Letter, along with relevant letters and notebook entries. A substantial excerpt from Hawthorne's campaign biography of Franklin Pierce offers a revealing glimpse at Hawthorne's political thought, especially regarding slavery and abolition. "Criticism" provides a comprehensive overview of early and modern commentary on The Scarlet Letter and the stories in this edition, including nineteenth-century reviews of the novel and critical essays by Robert S. Levine, Nina Baym, Larry J. Reynolds, and Jean Fagan Yellin. A Chronology and Selected Bibliography are also included.
Table of Contents
Preface
xi
A Note on the Texts
xv
THE SCARLET LETTER
3
(164)

| | |
| --- | --- |
| | Preface to the Second Edition |

5
(2)
7
(29)
36
(131)
OTHER WRITINGS
167
(5)

| | |
| --- | --- |
| | Endicott and the Red Cross |

172
(6)
178
(11)

| | |
| --- | --- |
| | The Minister's Black Veil |

189
(10)
199
(16)
Contexts
215
(4)
219
(13)

| | |
| --- | --- |
| | From The Life of Franklin Pierce |

232
(5)
Criticism

| | |
| --- | --- |
| | NINETEENTH-CENTURY REVIEWS OF THE SCARLET LETTER |

237
(2)
239
(2)

| | |
| --- | --- |
| | From North American Review |

241
(9)

| | |
| --- | --- |
| | From Brownson's Quarterly |

250
(4)
254
(9)

| | |
| --- | --- |
| | From Universalist Quarterly |

263
(8)

| | |
| --- | --- |
| | From the Saturday Visiter |

271
(3)

| | |
| --- | --- |
| | Antebellum Feminists on Hawthorne: Reconsidering the Reception of the Scarlet Letter |

274
(17)

| | |
| --- | --- |
| | PURITAN BACKGROUND AND SOURCES |

| | |
| --- | --- |
| | The New England Sources of The Scarlet Letter |

291
(13)

| | |
| --- | --- |
| | Footsteps of Ann Hutchinson: The Context of The Scarlet Letter |

304
(27)

| | |
| --- | --- |
| | A Red-Hot A and a Lusting Divine: Sources for The Scarlet Letter |

331
(7)

| | |
| --- | --- |
| | Hawthorne's Model of Christian Charity |

338
(30)

| | |
| --- | --- |
| | Considering Possession in The Scarlet Letter |

368
(19)

| | |
| --- | --- |
| | "The Custom-House," The Scarlet Letter, and Hawthorne's Separation from Salem |

387
(17)

| | |
| --- | --- |
| | Jefferson, Hawthorne, and "The Custom-House" |

404
(14)

| | |
| --- | --- |
| | Hawthorne and the "Scribbling Women": Publishing The Scarlet Letter in the Nineteenth-Century United States |

418
(8)

| | |
| --- | --- |
| | The Scarlet Letter of the Law: Hawthorne and Criminal Justice |

426
(25)

| | |
| --- | --- |
| | The Obliquity of Signs: The Scarlet Letter |

451
(12)

| | |
| --- | --- |
| | Mrs. Hawthorne's Headache: Reading The Scarlet Letter |

463
(18)

| | |
| --- | --- |
| | The Address of The Scarlet Letter |

481
(19)

| | |
| --- | --- |
| | Nathaniel Hawthorne and the Feminists: The Scarlet Letter |

500
(12)

| | |
| --- | --- |
| | Hester Prynne, C'est Moi: Nathaniel Hawthorne and the Anxieties of Gender |

512
(10)

| | |
| --- | --- |
| | Nathaniel Hawthorne, Una Hawthorne, and The Scarlet Letter: Interactive Selfhoods and the Cultural Construction of Gender |

522
(19)

| | |
| --- | --- |
| | Revisiting Hawthorne's Feminism |

541
(17)

| | |
| --- | --- |
| | Narrative of the Captivity and Redemption of Roger Prynne: Rereading The Scarlet Letter |

558
(18)

| | |
| --- | --- |
| | The A-Politics of Ambiguity in The Scarlet Letter |

576
(21)

| | |
| --- | --- |
| | Hawthorne and the Making of the Middle Class |

597
(17)

| | |
| --- | --- |
| | The Scarlet Letter and Revolutions Abroad |

614
(18)

| | |
| --- | --- |
| | The Scarlet Letter and the Antislavery Feminists |

632
(24)

| | |
| --- | --- |
| | The Dark Labyrinth of Mind: Hawthorne, Hester, and the Ironies of Racial Mothering |

656
(14)
670
(10)

| | |
| --- | --- |
| | Hawthorne's Demystification of History in "Endicott and the Red Cross" |

680
(13)

| | |
| --- | --- |
| | Shadows of Doubt: Specter Evidence in Hawthorne's "Young Goodman Brown" |

693
(7)

| | |
| --- | --- |
| | Escapism in "Young Goodman Brown" and "The Minister's Black Veil" |

700
(8)

| | |
| --- | --- |
| | The Problem of History in "The Minister's Black Veil" |

708
(10)

| | |
| --- | --- |
| | Women Beware Science: "The Birthmark" |

718
(8)

| | |
| --- | --- |
| | The Invisible Hand Made Visible: "The Birth-mark" |

726
(5)
Nathaniel Hawthorne: A Chronology
731
(4)
Selected Bibliography
735