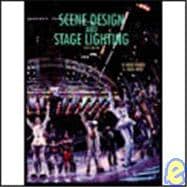 Scene Design and Stage Lighting
by
PARKER
Summary
SCENE DESIGN AND STAGE LIGHTING, Eighth Edition, continues its tradition of being the most detailed and comprehensive text available in the scenic and lighting design and technology fields. Much of the scenery design and technology section has been re-worked with an emphasis on modern technology. Changes in the lighting section reflect current practice and technology. The authors have placed an emphasis on collaboration in all sections of the new text. "Designers at Work" interviews with professional lighting and scenery designers are a new addition to the Eighth Edition. In addition, the entirely re-written section on sound for the theatre reflects the digital age we live and work in.
Table of Contents
Preface
Creating a Design
p. 1
Introduction
p. 2
Scene Design and the Theatre
p. 13
Scene Design as a Visual Art
p. 27
The Design Process
p. 45
Drafting the Design
p. 82
Realizing the Design
p. 107
The Scene Shop, Tools, and Equipment
p. 108
Building the Scenery
p. 155
Color in the Design
p. 187
Painting Scenery
p. 199
Handling Scenery
p. 225
Stage Properties and the Designer
p. 263
Sound for the Theatre
p. 289
Sound and Music in the Theatre
p. 290
Sound Systems and Equipment
p. 315
Stage Lighting
p. 343
Introduction to Stage-Lighting Design
p. 344
Stage-Lighting Practice: Distribution
p. 367
Color and Light
p. 388
Intensity Control
p. 409
Distribution Control: Lighting Instruments
p. 435
Projection, Practicals, and Effects
p. 474
Stage-Lighting Practice: The Light Plot and Production
p. 503
Stage Lighting and Electricity
p. 530
Light Sources
p. 550
Stage-Lighting Practice: Design
p. 567
Lighting Design as a Profession
p. 594
Glossary
p. 622
Additional Reading
p. 633
Index
p. 637
Table of Contents provided by Blackwell. All Rights Reserved.