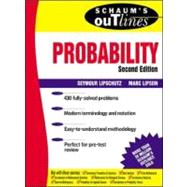 Summary
Schaum's Outline of Probability, Second Edition, focuses on non-calculus probability theory, making it ideal for humanities and science majors who study practical statistics for problem solving. This popular Schaum's study guide provides new material on descriptive statistics, hi-square distribution, and more.
Author Biography
Seymour Lipschutz is presently on the Mathematics faculty at Temple University. He formerly taught at the Polytechnic Institute of Brooklyn and was a visiting professor in the Computer Science Department of Brooklyn College.
Table of Contents
Set Theory. Techniques of Counting. Introduction to Probability. Conditional Probability and Independence. Random Variables. Binomial, Normal and Poisson Distributions. Markov Chains. Appendices: Descriptive Statistics. Chi-Square Distribution.