Note: Supplemental materials are not guaranteed with Rental or Used book purchases.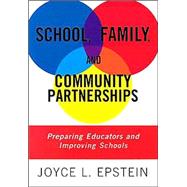 School, Family, and Community Partnerships : Preparing Educators and Improving Schools
ISBN13:
9780813387550
by
Epstein, Joyce L.
Related Products
Summary
How can teachers and administrators be prepared to create partnerships with families and communities? Nationwide, rhetoric in favor of parent involvement is high, but the quality of most programs still is low. Part of the problem is that most teacher education, administrative training, and other education of school professionals omit topics of school, family, and community partnerships. Instead, educators are prepared in limited ways to "deal with parents" when problems occur.This volume, based on twenty years of original research, addresses growing field of school, family, and community partnerships and offers an alternative approach. It is now possible to prepare teachers and administrators with a solid base of knowledge on partnerships. There are theoretical perspectives and results from research and development that should be shared with educators. As partners, parents and teachers share responsibility for the education and development of their children. Common messages and collaborative activities of home and school help to promote student success, prevent problems, or solve those that arise.The chapters in this volume provide a strong background to help educators in training and in schoolsthink about, talk about,and thenactto develop comprehensive programs of school, family, and community partnerships. Readers will be able to: Understand Epstein's theory of overlapping spheres of influence of families, schools, and communities to support children as students Study Epstein's framework of six types of involvement to create partnerships Review the research on the implementation and effects of partnerships Apply the theory, framework, and research in class projects and assignments Gather ideas for specific practices of partnership for use in elementary, middle, and high schools This collection is designed for use in courses of teacher education, preparation of school administrators, and other courses that prepare professionals to understand and to work in schools and with families and students. It is a definitive resource both in and out of the classroom with Comments, Questions to Discuss, Activities, and Field Experiences in each of the chapters.
Author Biography
Joyce L. Epstein is director of the Center on School, Family, and Community Partnerships; principal research scientist at the Center for Research on the Education of Students Placed at Risk (CRESPAR); and professor of sociology at Johns Hopkins University.
Table of Contents
| | |
| --- | --- |
| | List of Tables and Figures |

xi
Preface and Acknowledgments
xv
Part One Understanding School, Family, and Community Partnerships
3
(18)

| | |
| --- | --- |
| | Matching Rhetoric with Practice |

3
(1)
4
(1)
5
(3)
8
(1)
9
(1)
10
(3)
13
(2)

| | |
| --- | --- |
| | Featured Topics for Discussion |

15
(1)
16
(1)
17
(1)
18
(3)
21
(76)

| | |
| --- | --- |
| | Toward a Theory of Family-School Connections: Teacher Practices and Parent Involvement |

22
(16)

| | |
| --- | --- |
| | Perspectives and Previews on Research and Policy for School, Family, and Community Partnerships |

38
(36)

| | |
| --- | --- |
| | Discussion and Activities |

74
(23)
97
(206)

| | |
| --- | --- |
| | Parent Involvement: A Survey of Teacher Practices |

101
(19)

| | |
| --- | --- |
| | Teachers' Reported Practices of Parent Involvement: Problems and Possibilities |

120
(14)

| | |
| --- | --- |
| | School Programs and Teacher Practices of Parent Involvement in Inner-City Elementary and Middle Schools |

134
(21)

| | |
| --- | --- |
| | Parents' Reactions to Teacher Practices of Parent Involvement |

155
(21)

| | |
| --- | --- |
| | Single Parents and the Schools: Effects of Marital Status on Parent and Teacher Interactions |

176
(29)

| | |
| --- | --- |
| | Parents' Attitudes and Practices of Involvement in Inner-City Elementary and Middle Schools |

205
(16)

| | |
| --- | --- |
| | Effects on Student Achievement of Teachers' Practices of Parent Involvement |

221
(15)

| | |
| --- | --- |
| | Homework Practices, Achievements, and Behaviors of Elementary School Students |

236
(17)

| | |
| --- | --- |
| | Student Reactions to Teachers' Practices of Parent Involvement |

253
(9)

| | |
| --- | --- |
| | Discussion and Activities |

262
(41)
Part Two Applying Research on School, Family, and Community Partnerships
303
(98)

| | |
| --- | --- |
| | Parent Involvement: State Education Agencies Should Lead the Way |

307
(7)

| | |
| --- | --- |
| | Sample State and District Policies on School, Family, and Community Partnerships |

314
(20)

| | |
| --- | --- |
| | A Question of Merit: Principals' and Parents' Evaluations of Teachers |

334
(12)

| | |
| --- | --- |
| | Discussion and Activities |

346
(55)

| | |
| --- | --- |
| | Framework for Developing Comprehensive Partnership Programs |

401
(106)

| | |
| --- | --- |
| | School, Family, and Community Partnerships--Caring for the Children We Share |

403
(23)

| | |
| --- | --- |
| | Discussion and Activities |

426
(81)

| | |
| --- | --- |
| | Practical Applications: Linking Family and Community Involvement to Student Learning |

507
(56)

| | |
| --- | --- |
| | Teachers Involve Parents in Schoolwork (TIPS): Interactive Homework in Math, Science, and Language Arts |

510
(33)

| | |
| --- | --- |
| | Organizing Productive Volunteers in the Middle Grades |

543
(6)

| | |
| --- | --- |
| | Discussion and Activities |

549
(14)

| | |
| --- | --- |
| | Strategies for Action in Practice, Policy, and Research |

563
(44)

| | |
| --- | --- |
| | Discussion and Activities |

565
(42)
Index
607