Note: Supplemental materials are not guaranteed with Rental or Used book purchases.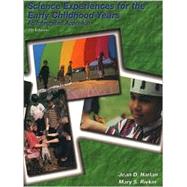 Questions About This Book?
What version or edition is this?
This is the 7th edition with a publication date of 1/1/2000.
What is included with this book?
The New copy of this book will include any supplemental materials advertised. Please check the title of the book to determine if it should include any CDs, lab manuals, study guides, etc.
Related Products
Summary
Updated to reflect the National Science Education Standards, this leading text, takes a hands-on approach to science learning by providing a solid theoretical foundation and many practical activities. A truly unique quality of the text is the science-concept-based units that offer teachers a way to integrate science knowledge and processes into the whole curriculum (including art, math, music, creative movement, creative thinking, community, and family relations).
Table of Contents
PART ONE The Rationale
1
(52)

| | |
| --- | --- |
| | 1 An Integrated Approach to Science Learning |

3
(14)

| | |
| --- | --- |
| | The Brain, Emotions, and Learning |

3
(4)
4
(1)

| | |
| --- | --- |
| | Emotions and Learning Interest |

4
(3)

| | |
| --- | --- |
| | Problem-Solving, Competence, and Self-Efficacy |

7
(1)

| | |
| --- | --- |
| | Learning: Multiple Pathways |

7
(4)
9
(1)

| | |
| --- | --- |
| | Multiple Intelligences Theory |

10
(1)

| | |
| --- | --- |
| | An Integrated Learning Framework |

11
(2)
11
(2)

| | |
| --- | --- |
| | Promoting Concept Connections |

13
(2)
15
(2)

| | |
| --- | --- |
| | 2 Science Participants: Children, Teachers, Families, and Communities |

17
(12)

| | |
| --- | --- |
| | Young Children as Thinkers |

17
(2)
18
(1)

| | |
| --- | --- |
| | Young Children as Persons |

19
(2)
19
(2)
21
(1)

| | |
| --- | --- |
| | Respecting Personal Development Traits |

21
(1)
21
(3)
21
(1)
21
(1)
22
(1)
22
(2)
24
(2)
26
(1)
27
(2)

| | |
| --- | --- |
| | 3 Guiding Discovery Science |

29
(24)
29
(2)
31
(1)
31
(1)
31
(1)

| | |
| --- | --- |
| | Preparation for Teaching Science to Young Children |

32

| | |
| --- | --- |
| | Indirect and Direct Teaching |

38
34
(1)
35
(2)

| | |
| --- | --- |
| | Organizing Time and Space for Science |

37
(1)

| | |
| --- | --- |
| | Introducing Science Activities |

38
(1)
38
(1)

| | |
| --- | --- |
| | Supporting Interest in Knowing |

39
(2)
41
(2)

| | |
| --- | --- |
| | Adapting Experiences for Younger Children |

43
(1)

| | |
| --- | --- |
| | Adapting Experiences for Children with Special Needs |

43
(1)

| | |
| --- | --- |
| | Learning in the Context of Cooperation |

44
(2)

| | |
| --- | --- |
| | Integrated Curriculum Themes |

46
(2)

| | |
| --- | --- |
| | Objectives and Assessment |

48
(2)

| | |
| --- | --- |
| | Gaining From Our Mistakes |

50
(1)
50
(1)
51
(2)
PART TWO Concepts, Experiences, and Integrating Activities
53
(266)
55
(26)

| | |
| --- | --- |
| | Concept: There are many kinds of plants; each has its own form |

56
(2)

| | |
| --- | --- |
| | Concept: Most plants make seeds for new plants |

58
(1)

| | |
| --- | --- |
| | Concept: Seeds grow into plants with roots, stems, leaves, and flowers |

59
(4)

| | |
| --- | --- |
| | Concept: Most plants need water, light, minerals, warmth, and air |

63
(2)

| | |
| --- | --- |
| | Concept: Some plants grow from roots |

65
(2)

| | |
| --- | --- |
| | Concept: Some plantlike forms do not have seeds or roots |

67
(1)

| | |
| --- | --- |
| | Concept: Many foods we eat are seeds |

67
(2)
69
(8)
69
(1)

| | |
| --- | --- |
| | Music (Resources in Appendix A) |

70
(1)
70
(3)

| | |
| --- | --- |
| | Poems (Resources in Appendix A) |

73
(1)
73
(1)
74
(1)
75
(1)
75
(1)
76
(1)
76
(1)
76
(1)

| | |
| --- | --- |
| | Promoting Concept Connections |

77
77
(1)
78
(1)

| | |
| --- | --- |
| | Family and Community Support |

79
74
81
(30)

| | |
| --- | --- |
| | Concept: There are many kinds of animals |

81
(5)
82
(1)
83
(1)
84
(2)

| | |
| --- | --- |
| | Concept: Animals move in different ways |

86
(3)
88
(1)

| | |
| --- | --- |
| | Concept: Each animal needs its own kind of food |

89
(1)

| | |
| --- | --- |
| | Concept: Many animals make shelters to rear their young |

90
(2)

| | |
| --- | --- |
| | Concept: Humans and animals often live together |

92
(2)
92
(2)
94
(13)
94
(1)

| | |
| --- | --- |
| | Music (Resources in Appendix A) |

95
(1)

| | |
| --- | --- |
| | Literature Links: Animal Characteristics |

95
(1)

| | |
| --- | --- |
| | Literature Links: Insects, Spiders, and Earthworms |

96
(2)

| | |
| --- | --- |
| | Literature Links: Fish, Mollusks, Amphibians, and Reptiles |

98
(2)
100
(1)

| | |
| --- | --- |
| | Literature Links: Mammals |

100
(1)

| | |
| --- | --- |
| | Literature Links: Habitats |

101
(1)

| | |
| --- | --- |
| | Literature Links: Baby Animals, Hatching, and Pets |

102
(1)

| | |
| --- | --- |
| | Literature Links: The Death of Pets |

103
(1)

| | |
| --- | --- |
| | Poems (Resources in Appendix A) |

103
(1)
104
(1)
104
(1)
105
(1)
105
(1)
106
(1)
106
(1)
106
(1)

| | |
| --- | --- |
| | Promoting Concept Connections |

107
(4)
107
(1)
107
(1)

| | |
| --- | --- |
| | Family and Community Support |

108
(1)
108
(1)
109
(2)

| | |
| --- | --- |
| | 6 The Human Body: Care and Nourishment |

111
(32)

| | |
| --- | --- |
| | Concept: Each person is unique |

112
(2)

| | |
| --- | --- |
| | Concept: We learn through our senses |

114
(2)

| | |
| --- | --- |
| | Concept: Bones help support our bodies |

116
(2)

| | |
| --- | --- |
| | Concept: Muscles keep us moving, living, and breathing |

118
(3)

| | |
| --- | --- |
| | Concept: We help ourselves stay healthy and grow strong |

121
(3)

| | |
| --- | --- |
| | Concept: Strong, growing bodies need nourishing food |

124
(7)
131
(8)
131
(1)

| | |
| --- | --- |
| | Music (Resources in Appendix A) |

132
(1)

| | |
| --- | --- |
| | Literature Links: Individuality |

132
(1)

| | |
| --- | --- |
| | Literature Links: The Body |

133
(1)

| | |
| --- | --- |
| | Literature Links: Health Care |

134
(1)

| | |
| --- | --- |
| | Literature Links: Nutrition |

135
(1)

| | |
| --- | --- |
| | Poems (Resources in Appendix A) |

136
(1)
136
(1)
136
(1)
137
(1)
137
(1)
138
(1)
138
(1)

| | |
| --- | --- |
| | Promoting Concept Connections |

139
(1)
139
(1)
139
(1)

| | |
| --- | --- |
| | Family and Community Support |

140
(1)
140
(3)
140
(1)
141
(1)
141
(2)
143
(18)

| | |
| --- | --- |
| | Concept: Air is almost everywhere |

143
(2)

| | |
| --- | --- |
| | Concept: Air is real; it takes up space |

145
(3)

| | |
| --- | --- |
| | Concept: Air presses on everything on all sides |

148
(2)

| | |
| --- | --- |
| | Concept Moving air pushes things |

150
(1)

| | |
| --- | --- |
| | Concept: Air slows moving objects |

151
(1)
152
(1)
153
(6)
153
(1)
153
(1)
154
(1)

| | |
| --- | --- |
| | Poems (Resources in Appendix A) |

155
(1)
156
(1)
156
(1)
157
(1)
158
(1)
158
(1)
158
(1)
159
(1)

| | |
| --- | --- |
| | Promoting Concept Connections |

159
(1)
159
(1)
159
(1)

| | |
| --- | --- |
| | Family and Community Support |

160
(1)
160
(1)
161
(20)

| | |
| --- | --- |
| | Concept: Water has weight |

161
(1)

| | |
| --- | --- |
| | Concept: Water's weight and upthrust help things float |

162
(1)

| | |
| --- | --- |
| | Concept: Water goes into the air |

163
(1)

| | |
| --- | --- |
| | Concept: Water can change forms reversibly |

164
(3)

| | |
| --- | --- |
| | Concept: Water is a solvent for many materials |

167
(1)

| | |
| --- | --- |
| | Concept: Water clings to itself |

168
(2)

| | |
| --- | --- |
| | Concept: Water clings to other materials |

170
(1)

| | |
| --- | --- |
| | Concept: Water moves into other materials |

171
(1)
172
(6)
172
(1)

| | |
| --- | --- |
| | Music (Resources in Appendix A) |

172
(1)
173
(1)

| | |
| --- | --- |
| | Poems (Resources in Appendix A) |

174
(1)
174
(1)
175
(1)
175
(2)
177
(1)
177
(1)
177
(1)

| | |
| --- | --- |
| | Promoting Concept Connections |

178
(1)
178
(1)
178
(1)

| | |
| --- | --- |
| | Family and Community Support |

179
(1)
179
(2)
181
(20)

| | |
| --- | --- |
| | Concept: The sun warms the Earth |

181
(1)

| | |
| --- | --- |
| | Concept: Changing air temperatures make the wind |

182
(2)

| | |
| --- | --- |
| | Concept: Evaporation and condensation cause precipitation |

184
(3)

| | |
| --- | --- |
| | Concept: Raindrops can break up sunlight |

187
(1)

| | |
| --- | --- |
| | Concept: Weather can be measured |

188
(2)

| | |
| --- | --- |
| | Concept: Lightning is static electricity |

190
(2)

| | |
| --- | --- |
| | Concept: Charged electrons make sparks when they jump |

192
(1)
193
(5)
193
(1)

| | |
| --- | --- |
| | Music (Resources in Appendix A) |

194
(1)
194
(2)

| | |
| --- | --- |
| | Poems (Resources in Appendix A) |

196
(1)
196
(1)
197
(1)
197
(1)
198
(1)
198
(1)

| | |
| --- | --- |
| | Promoting Concept Connections |

198
(1)
198
(1)
199
(1)

| | |
| --- | --- |
| | Family and Community Support |

199
(1)
199
(2)
201
(16)

| | |
| --- | --- |
| | Concept: There are many kinds of rocks |

202
(1)
203
(1)
204
(1)

| | |
| --- | --- |
| | Three Types of Rock Formation |

204
(1)

| | |
| --- | --- |
| | Concept: Rocks slowly change by wearing away |

204
(2)

| | |
| --- | --- |
| | Concept: Crumbled rocks and dead plants make soil |

206
(1)

| | |
| --- | --- |
| | Concept: Old plants and animals left prints in rocks |

207
(1)

| | |
| --- | --- |
| | Concept: Minerals form crystals |

207
(2)
209
(6)
209
(1)

| | |
| --- | --- |
| | Music (Resources in Appendix A) |

209
(1)
210
(1)

| | |
| --- | --- |
| | Poems (Resources in Appendix A) |

211
(1)
212
(1)
212
(1)
213
(1)
213
(1)
214
(1)
214
(1)

| | |
| --- | --- |
| | Promoting Concept Connections |

215
(1)
215
(1)
215
(1)

| | |
| --- | --- |
| | Family and Community Support |

215
(1)
216
(1)
216
(1)
217
(14)

| | |
| --- | --- |
| | Concept: Magnets attract some things, but not others |

217
(2)

| | |
| --- | --- |
| | Concept: Magnets vary in strength |

219
(1)

| | |
| --- | --- |
| | Concept: Magnets pull through some materials |

220
(1)

| | |
| --- | --- |
| | Concept: One magnet can be used to make another magnet |

221
(1)

| | |
| --- | --- |
| | Concept: Magnets are strongest at each end |

221
(1)

| | |
| --- | --- |
| | Concept: Each end ofa magnet acts differently |

222
(1)
223
(5)
223
(1)
224
(1)
224
(1)

| | |
| --- | --- |
| | Storytelling with Magnets |

225
(1)
225
(1)
226
(1)
227
(1)

| | |
| --- | --- |
| | Promoting Concept Connections |

228
(1)
228
(1)
228
(1)

| | |
| --- | --- |
| | Family and Community Support |

228
(1)
229
(2)

| | |
| --- | --- |
| | 12 The Effects of Gravity |

231
(14)

| | |
| --- | --- |
| | Concept:Gravity pulls on everything |

232
(6)
238
(4)
238
(1)
238
(1)
239
(1)

| | |
| --- | --- |
| | Poems (Resources in Appendix A) |

240
(1)
240
(1)
240
(1)
241
(1)
242
(1)
242
(1)
242
(1)

| | |
| --- | --- |
| | Promoting Concept Connections |

242
(1)
242
(1)
242
(1)

| | |
| --- | --- |
| | Family and CommunitySupport |

243
(1)
243
(2)
245
(20)

| | |
| --- | --- |
| | Concept: Friction can heat, slow, and wear away objects |

245
(3)

| | |
| --- | --- |
| | Concept: A lever helps lift objects |

248
(1)

| | |
| --- | --- |
| | Concept: A ramp shares the work of lifting |

249
(1)

| | |
| --- | --- |
| | Concept: A screw is a curved ramp |

250
(1)

| | |
| --- | --- |
| | Concept: Simple machines help move things along |

251
(1)

| | |
| --- | --- |
| | Concept: Some wheels turn alone; some turn together |

252
(2)

| | |
| --- | --- |
| | Concept: Single wheels can turn other wheels |

254
(1)

| | |
| --- | --- |
| | Concept: Single wheels can help us pull down to lift up |

254
(2)
256
(6)
256
(1)

| | |
| --- | --- |
| | Music (Resources in Appendix A) |

256
(1)
257
(1)

| | |
| --- | --- |
| | Poems (Resources in Appendix A) |

258
(1)
259
(1)
259
(1)
259
(1)
260
(1)
260
(1)
261
(1)
261
(1)

| | |
| --- | --- |
| | Promoting Concept Connections |

262
(1)
262
(1)
262
(1)

| | |
| --- | --- |
| | Family and Community Support |

263
(1)
263
(2)
263
(2)
265
(16)

| | |
| --- | --- |
| | Concept: Sounds are made when something vibrates |

266
(1)

| | |
| --- | --- |
| | Concept:Sound travels through many things |

267
(2)

| | |
| --- | --- |
| | Concept: Different sizes of vibrating objects make different sounds |

269
(4)
273
(5)
273
(1)
273
(1)
274
(1)

| | |
| --- | --- |
| | Poems (Resources in Appendix A) |

275
(1)
275
(1)
276
(1)
276
(1)
276
(1)
277
(1)
278
(1)
278
(1)
278
(1)

| | |
| --- | --- |
| | Promoting Concept Connections |

278
(1)
278
(1)
279
(1)

| | |
| --- | --- |
| | Family and Community Support |

279
(1)
279
(2)
281
(16)

| | |
| --- | --- |
| | Concept: Nothing can be seen without light |

281
(2)

| | |
| --- | --- |
| | Concept: Light appears to travel in a straight line |

283
(1)

| | |
| --- | --- |
| | Concept: Shadows are made when light beams are blocked |

284
(1)

| | |
| --- | --- |
| | Concept: Night is Earth's shadow |

285
(1)

| | |
| --- | --- |
| | Concept: Everything we see reflects some light |

286
(1)

| | |
| --- | --- |
| | Concept: Light contains many colors |

287
(2)

| | |
| --- | --- |
| | Concept: Bending light beams make things look different |

289
(1)
289
(6)
289
(2)

| | |
| --- | --- |
| | Music (Resources in Appendix A) |

291
(1)
291
(1)
292
(1)

| | |
| --- | --- |
| | Poems (Resources in Appendix A) |

293
(1)
293
(1)
294
(1)
294
(1)
294
(1)

| | |
| --- | --- |
| | Promoting Concept Connections |

295
(1)
295
(1)
295
(1)

| | |
| --- | --- |
| | Family and Community Support |

295
(1)
296
(1)
296
(1)
297
(22)

| | |
| --- | --- |
| | Concept: There is an interconnectedness among things: plants, animals, air, water, weather, rocks, and ourselves |

298
(2)

| | |
| --- | --- |
| | Concept: The environment is where we are. We can study it, as well as live in it |

300
(3)

| | |
| --- | --- |
| | Concept: We can work together to sustain the environment by restoring, reusing, repairing, and recycling |

303
(3)
306
(5)
306
(1)

| | |
| --- | --- |
| | Music (Resources in Appendix A) |

307
(1)
307
(2)

| | |
| --- | --- |
| | Poems (Resources in Appendix A) |

309
(1)
309
(1)
310
(1)
310
(1)
310
(1)
311
(1)

| | |
| --- | --- |
| | Promoting Concept Connections |

311
(5)
311
(1)
312
(1)

| | |
| --- | --- |
| | Family and Community Support |

312
(1)

| | |
| --- | --- |
| | Rehabilitating Schoolyards for Children's Learning and Play |

313
(3)
316
(3)
318
(1)
APPENDIX A Resources for Music, Recordings, Poetry, Creative Movement, and Equipment Ordering
319
(4)
Music
319
(1)
Cassettes
319
(1)
Compact Disks
320
(1)
Music Books
320
(3)
Resources for Ordering Cassettes
320
(1)
Poetry
320
(3)
Creative Movement
321
(1)
Equipment Sources
321
(2)
APPENDIX B Exploring at Home Activities
323
(16)
Plants
323
(2)
Animals
325
(1)
Human Body
326
(1)
Air
327
(1)
Water
328
(1)
Weather
329
(1)
Rocks and Minerals
330
(1)
Magnetism
331
(1)
Gravity
332
(1)
Simple Machines
333
(1)
Sound
334
(1)
Light
335
(1)
The Environment
336
(1)
References for Families
337
(2)
Free Resource
337
(2)
APPENDIX C Relating Concepts to Established Benchmarks
339
(4)
INDEX
343