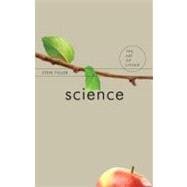 List Price: $15.95

More New and Used
from Private Sellers
Summary
Steve Fuller's provocative book explores what it might mean to live 'scientifically'. Can science give a sense of completeness to one's life? Can it account for the entirety of what it is to be human? And does science add value to anything one does in life?
Author Biography
Steve Fuller is Professor of Sociology at the University of Warwick. His most recent book is The Sociology of Intellectual Life: The Career of the Mind in and around the Academy.
Table of Contents
Introduction
p. 1
The gospel according to Dr Strangelove
p. 5
Can science live with its past?
p. 22
Styles of living scientifically: a tale of three nations
p. 48
We are all scientists now: the rise of Protscience
p. 61
The scientific ethic and the spirit of literalism
p. 72
What has atheism - old or new - ever done for science?
p. 86
Science as an instrument of divine justice
p. 113
Scientific progress as secular providence
p. 122
Science poised between changing the future and undoing the past
p. 134
Further reading
p. 147
Index
p. 167
Table of Contents provided by Ingram. All Rights Reserved.