Note: Supplemental materials are not guaranteed with Rental or Used book purchases.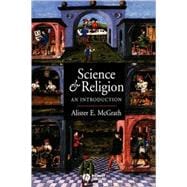 Summary
This text introduces readers to the fascinating interaction of science and religion. It is specifically designed for students on science and religion courses who have little or no prior knowledge in either area .The book offers unusually wide coverage, looking at the historical, theological, philosophical and scientific aspects of the interaction of science and religion. It is also thoroughly up-to-date, and includes interaction with issues raised by Richard Dawkins concerning evolution, and the 'anthropic principle' in relation to cosmology. Although focusing mainly on Christianity, the text also indicates the importance of other religions. Alister McGrath, the best-selling author of Christian Theology: An Introduction and other successful theological texts, is known for the clarity of his writing. He has studied widely in both science and religion and is therefore well-placed to write the ideal text for science and religion courses.
Author Biography
Alister E. McGrath studied natural sciences at Oxford University, gaining a doctorate in molecular biology, before turning his attention to the study of theology. He is Principal of Wycliffe Hall, Oxford and Research Lecturer in Theology at Oxford University. He is the author of numerous works in the field, including the best-selling Christian Theology, An Introduction (second edition Blackwell Publishers 1996). He also serves on the editorial board of the journals Science and Religious Belief and Science and Spirit magazine.
Table of Contents
Historical Landmarks
The Medieval Synthesis
The New Astronomy: The Copernican and Galileian Controversies
The Mechanistic Universe: Newton and Deism
The Origins of Humanity: The Darwinian Controversy
For Further Reading
Religion: Ally or Enemy of Science?
Defining 'Religion': Some Clarifications
Varieties within a Religion: The Case of Christianity
Models of the Interaction of Science and Religion
Religion and the Development of the Natural Sciences
For Further Reading
Religion and the Philosophy of Science
Rationalism and Empiricism
Realism and Idealism
The Duhem-Quine Thesis
Logical Positivism: The Vienna Circle
Falsification: Karl Popper
Paradigm Shifts in Science: Thomas S. Kuhn
Knowledge and Commitment: Michael Polanyi
For Further Reading
Science and the Philosophy of Religion
Philosophical Arguments for the Existence of God
Science and Arguments for the Existence of God
God's Action in the World
For Further Reading
Creation and the Sciences
Some Themes of the Concept of Creation
Creation: A Brief Theological Analysis
Three Models of Creation
Creation and Time
Creation and Ecology
Creation and the Laws of Nature
For Further Reading
Natural Theology: Finding God in Nature
Objections to Natural Theology
Three Approaches to Natural Theology
Natural and Revealed Theology
For Further Reading
Models and Analogies in Science and Religion
Models in the Natural Sciences
Analogy, Metaphor and Religion
The Ambivalence of Analogy: Case Studies in Science and Religion
Models, Analogies and Metaphor: Science and Religion Compared
The Concept of Complementarity
For Further Reading
Issues in Science and Religion
Physics and Cosmology
Biology
Psychology
For Further Reading
Case Studies in Science and Religion
Ian G. Barbour
Charles A. Coulson
Wolfhart Pannenberg
Arthur Peacocke
John Polkinghorne
Pierre Teilhard de Chardin
Thomas F. Torrance
Conclusion
For Further Reading
Bibliography
Sources of Citations
Index
Table of Contents provided by Publisher. All Rights Reserved.