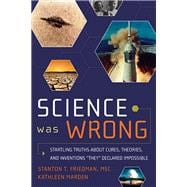 Science Was Wrong: Startling Truths About Cures, Theories, and Inventions "they" Declared Impossible
by
Friedman, Stanton T.
List Price: $16.99

More New and Used
from Private Sellers
Summary
Two months before the Wright brothers' historic flight at Kitty Hawk, a top scientist declared that no possible combination of known substances, known forces of machinery and known forms of force can be united in a practical (flying) machine..." Germ theory was first advanced in ancient Sanskrit texts thousands of years ago, but wasn't widely accepted until late in the 19th century. Space travel was declared utter bilge" in 1956 by the British astronomer Royal, one of a long line of scientists who proved" it was impossible. Throughout history, it has been difficult, even impossible, to promote the acceptance of new discoveries. Yet during the last two centuries, there has been a veritable explosion of new cures, theories, techniques, and inventions that have revolutionized aviation, space travel, communications, medicine, and warfare. Most of them, of course, were deemed impossible." Science Was Wrong is a fascinating collection of stories about the pioneers who created or thought up the impossible" cures, theories, and inventions they" said couldn't work. How many have suffered or died because cures weren't accepted? How many inventions have been quashed? How much progress was delayed or denied? You will end up shaking your head in disbelief and even disgust as you learn the answers.
Author Biography
Stanton T. Friedman was employed for 14 years as a nuclear physicist by major industrial companies working in highly advanced, classified nuclear programs. He is the author of Flying Saucers and Science and coauthor of Captured!. Friedman has appeared on hundreds of radio and TV programs, including four times on Larry King Live.
Kathleen Marden was trained as a social scientist and educator. For 10 years she served as the international director of field investigator training for the Mutual UFO Network. A coauthor of Captured!, Marden has appeared in many television documentaries and radio programs and lectured throughout the United States.
Table of Contents
Introduction
p. 9
Aerospace
Aviation
p. 15
Space
p. 29
Jupiter and Earth
p. 41
Technology
Communications
p. 55
Cold Fusion or Fraud?
p. 67
Medicine
Politics, Personalities, and Childbed Fever
p. 81
The Smallpox Wars
p. 95
The Hemophilia Holocaust
p. 109
Politics
The Eugenics Movement in America
p. 125
Methyl-Mercury in the Food Chain
p. 139
Global Warming: Man or Nature?
p. 155
Frontiers of Science
Extraordinary Visual Feats: Psi Phenomena
p. 169
UFOs
p. 183
The Conundrum of Alien Abduction
p. 197
Afterword
p. 211
Notes
p. 213
Bibliography
p. 223
Index
p. 247
About the Author
p. 253
Table of Contents provided by Ingram. All Rights Reserved.