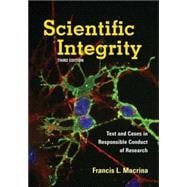 Scientific Integrity: Text And Cases In Responsible Conduct Of Research
by
Macrina, Francis L.
Amer Society for Microbiology
Questions About This Book?
What version or edition is this?
This is the 3rd edition with a publication date of 3/30/2005.
What is included with this book?
The eBook copy of this book is not guaranteed to include any supplemental materials. Typically only the book itself is included.
Summary
Scientific Integrity: Text and Cases in Responsible Conduct of Research, 3rd Edition, presents an important revision of a best-selling text in the expanding field of responsible conduct of research training. Presents the core topics for graduate and postdoctoral trainees and professional researchers on the principles of scientific integrity Contains highly relevant interactive case studies, 30% of which are new to third edition, written by practicing scientists on the front lines of ethical issues Covers essential topics related to the conduct of scientific investigation, such as guidelines, policies, standards, and codes Offers a companion Web site, maintained by the author, containing a rich collection of Internet resources Includes discussion questions to promote critical thought Provides updates to most appendix material
Table of Contents
Contributors
xi
Foreword
xiii
Preface
xvii
Acknowledgments
xix
A Website Companion for Scientific Integrity: Text and Cases in Responsible Conduct of Research, Third Edition
xx
Note to Students and Instructors
xxi
chapter 1 Methods, Manners, and the Responsible Conduct of Research
1
(18)

| | |
| --- | --- |
| | Responsible Conduct of Research |

chapter 2 Ethics and the Scientist

| | |
| --- | --- |
| | Bruce A. Fuchs and Francis L. Macrina |

19
(20)

| | |
| --- | --- |
| | Underlying Philosophical Issues |

| | |
| --- | --- |
| | Critical Thinking and the Case Study Approach |

| | |
| --- | --- |
| | Moral Reasoning in the Conduct of Science |

chapter 3 Mentoring
39
(22)

| | |
| --- | --- |
| | Characteristics of the Mentor-Trainee Relationship |

chapter 4 Authorship and Peer Review
61
(30)

| | |
| --- | --- |
| | Scientific Publication and Authorship |

| | |
| --- | --- |
| | The Need for Authorship Criteria |

| | |
| --- | --- |
| | Guidelines for Authorship |

| | |
| --- | --- |
| | The Workings of Peer Review |

| | |
| --- | --- |
| | Emerging Trends and Policies |

chapter 5 Use of Humans in Biomedical Experimentation
91
(36)

| | |
| --- | --- |
| | Are You Conducting Human Subject Research? |

| | |
| --- | --- |
| | The Issue of Informed Consent |

| | |
| --- | --- |
| | Institutional Review Boards |

| | |
| --- | --- |
| | The Institutional Review Board and the Informed Consent Issue |

| | |
| --- | --- |
| | The Institutional Review Board and Expedited Review |

| | |
| --- | --- |
| | Human Experimentation Involving Special Populations |

| | |
| --- | --- |
| | The Health Insurance Portability and Accountability Act (HIPAA) |

| | |
| --- | --- |
| | Fetal Tissue and Embryonic Stem Cell Research |

| | |
| --- | --- |
| | The Declaration of Helsinki |

chapter 6 Use of Animals in Biomedical Experimentation

| | |
| --- | --- |
| | Bruce A. Fuchs and Francis L. Macrina |

127
(32)

| | |
| --- | --- |
| | Ethical Challenges to the Use of Animals in Research |

| | |
| --- | --- |
| | Practical Matters: Constraints on the Behavior of Scientists |

| | |
| --- | --- |
| | Political Realities: Then and Now |

chapter 7 Managing Competing Interests
159
(28)

| | |
| --- | --- |
| | Managing Competing Interests |

chapter 8 Collaborative Research
187
(24)

| | |
| --- | --- |
| | The Nature of Collaboration |

| | |
| --- | --- |
| | A Syllabus of Collaboration Principles |

chapter 9 Ownership of Data and Intellectual Property
211
(36)

| | |
| --- | --- |
| | Review of Ownership of Research Data |

| | |
| --- | --- |
| | Rights in Tangible Personal Property |

| | |
| --- | --- |
| | Patent Law in the Age of Biotechnology |

chapter 10 Genetic Technology and Scientific Integrity
247
(22)

| | |
| --- | --- |
| | Genetic Screening and Diagnosis |

chapter 11 Scientific Record Keeping
269
(28)

| | |
| --- | --- |
| | Data Storage and Retention |

| | |
| --- | --- |
| | Laboratory Record-Keeping Policies |

| | |
| --- | --- |
| | Suggestions for Record Keeping |

| | |
| --- | --- |
| | Electronic Record Keeping |

appendix I Surveys as a Tool for Training in Scientific Integrity
297
(24)
appendix II Student Exercises
321
(12)
appendix III Standards of Conduct
333
(10)
appendix IV Sample Protocols for Human and Animal Experimentation
343
(30)
appendix V Example of a U.S. Patent Specification
373
(14)
appendix VI Laboratory Notebook Instructions
387
(6)
Index
393